The Akash (45A Sinclair Street, Helensburgh, G84 8TG) has been re-opened for a month, time to bed in. Hector was the Lone Diner at 18.00 this evening. Determined to have the Dish that was presented – eventually – on the last visit, I showed The Waiter a Photo of the version of the Methi Gosht Karahi. A Keema Paratha, for a change, was inspired by the fond memories of Keema Padora as served at the Punjabi Charing Cross.
The Waiter was keen to tell me that the Akash is registered on a Social Website and they are welcoming me to– Friend – them. Perhaps.
Having declined the offer to order Poppadoms I was surprised when one was presented, to keep me amused whilst The Chef had to prepare a Dish that would not be simply spooned out of the ubiquitous Ever-Ready Curry-Pot. Alas, no Dips.
The Waiter appeared minutes later with a small plate and a teaspoon. Here was a sample of the Masala to be served to Hector, for approval. Now this was a first!
Hector needs a new Sim
Only two Photos in this Report, more were taken.
The Methi Karahi Gosht looked the part, Dry and Thick with next to no Oil visible. First tastings noted a distinct lack of seasoning, a rather Uncomplicated Flavour. Already I realised that I have cooked this myself, and may well do again very soon.
Ersatz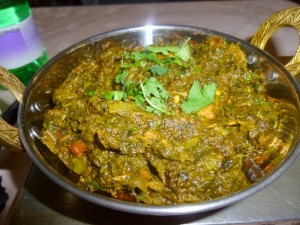 When does the volume of Spinach substituting for Fresh Methi mean that one is in fact eating a Spinach Curry? Methi adds a distinctive Flavour to a Masala that was not evident here. I kept waiting and hoping, sadly the monotonous Flavour persisted. The Lamb was very Chewy, excessively so. There was enough, or did it last so long because I could not devour it with the customary vigour?
The Keema Paratha did have sufficiently distinctive taste such that it stood out. The Lamb Mince was very pleasant and the Bread was of a decent Thickness. Pity, there is no photograph.
The Waiter checked on my progress more than once, offering me Rice and Chapattis when I was halfway through. I had sufficient food, I chewed on.
Five Chaps sat an adjacent table and discussed the Menu. Evidently one was a (former) Regular. What is Chicken Chat? – one asked. The Regular insisted his friend try it. Pity it is no longer the much celebrated Akash Chicken Chat 1981 – 2012.
The Akash (New-co) still has some way to go.
The Bill
£13.50. This is the Classic Hector Curry Bill.
The Aftermath
The less said about my evening commitment the better…