Dr. Stan is at a Birthday Party, with Jelly and Birthday Cake and Balloons…NOT! Dr. Rick has flown in from Geneva to have Curry-Heute – True! Apparently the Swiss do have Curry Houses, but nothing that compares to Glasgow. Such was the honour of having such distinguished company, Hector insisted that Dr. Rick choose the venue.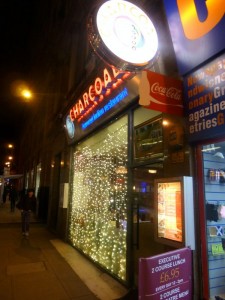 Charcoals (23a Renfield St, G2 1LU, Glasgow) was the choice after Dr. Rick had read my humble pages. A new venue for him, and one that Hector has not particularly raved about. We arrived just after 18.00 to find a new Façade. The entire Shop Frontage has been re-designed, the place finally looks like a Restaurant from the street and not just a Takeaway. The place was always larger on the inside than it looked from the outside, but now there is a single large bright open space. For the first time in three visits Hector could see other customers present. There were empty tables of course and I was surprised when we were asked by a familiar looking Waiter if we had a Reservation. (Why do Indians always ask if you have a Reservation?) I was even more shocked to be turned away. WTF?
The Redevelopment coupled with the Pre-theatre Menu has clearly attracted a new Clientèle, I will return.
 Another Venue
Dr. Rick knew that I would have a fall back. Asmaan Indian Restaurant (22 Bath St., Glasgow, G2 1HB) impressed both Jonathan and Hector last year on a first visit. Well Food-wise. I did end up paying for both meals, twice! Their Card Reader apparently malfunctioned and I ended up paying The Bill twice. Stupidly I managed to lose the receipts in the time it took the Bank to send out the required Paperwork. So, my fault as much as theirs.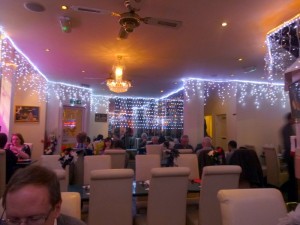 Again the Restaurant was far busier than on my last visit but we managed to get a small table at the far end of the room. Fine. I had to consult a Reliable and increasingly Well-known Glasgow Curry Blog to remind me of the Dish that impressed last time. Zaik-E-Dar was that Dish in Tender Lamb, for a change. I asked the Waiter for it to be served in my preferred style, no problem. Two Chapattis (£1.00) as ever would Accompany. Dr. Rick asked why I tend to go for Chapattis and not Rice. More Authentic and leaves more room for the following Ale – was the reply. He took the lead and ordered the same.
The Waiter returned moments later to check on the required strength. Medium with a Kick – was my customary reply, Medium – for Dr. Rick.
Is this all?
The first feelings were of disappointment. The Karahi must be the smallest employed in the City of Glasgow. London portions is how I would describe this.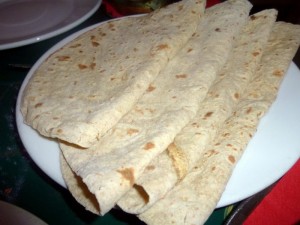 The Lamb was covered in Slivers of Onion topped with thin sliced Mushroom. The presentation is Fine, despite the Minimalism. The Masala was suitable Thick and tending towards Dry. A welcoming Ghee base was visible. Whilst the Flavours did not burst on to the tongue this was a suitably complex Dish, I was enjoying it. The Lamb was indeed Tender, I wish there had been more, much more. Compared to what was served last evening in Helensburgh, this was way better.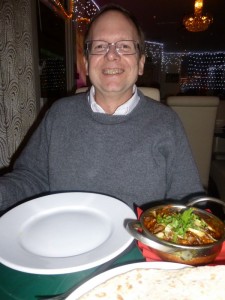 Dr. Rick always chooses his words carefully so I was quite taken aback by his verdict. Interesting Lamb Stew before an Evening of Drinking. The Worst Curry I have had with you! He should have been with me last night, and getting the 'Plogies in first, wait until tomorrow.
The Bill
£26.00. This included three Soft Drinks. Charge me more, give me more. Last time they did over-charge. Overall I have now paid for Four Curry Portions at this venue over two visits, whilst the Portions eaten by Hector feels more like One and a Half.
The Aftermath
The Texts were now flying in – Where is Hector? On his way to The Laurieston for some Fyne Ales.
Update 2017
The Great Industrial Curry Shop of the North – has permanently closed.