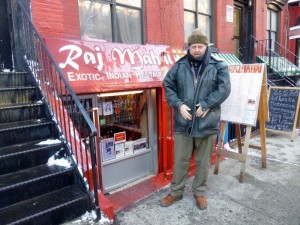 Hector and Marg find themselves in New York, seriously cooler than this week last year when we literally walked into the Demonstrations in Athens, Tear Gas et al.    Marg has notions about going to a Musical – No chance! Hector has Curry-Heute in mind. Last night we ate American (?) at Carnegie's Delicatessen. By lunchtime today the stomach was screaming –  Curry! That it was now Dinner Time back in Blighty and there had been no Curry-Heute since Wednesday, well…. Hector even agreed to go to the Central Park Zoo on condition that we jump down to the New York Curry Strip straight afterwards.
I have read many reviews of Curry Outlets in New York, none have been conclusive. If people are still looking for Chicken Tikka Masala and judge a Venue by this Fake Dish, then that is their choice. Hopefully the more discerning look for something nearer Authenticity.
The array of Photos posted at the end of this Blog shows the Curry Outlets surveyed before the choice was made. One Chap described his Menu to us as we passed, the ubiquitous Tikka Lamb put us off. Mein Host from the Raj Mahal (322 E 6th Street, Manhattan, New York) stuck his head out from the Basement Premises and said enough to entice us in. The Complementary Poppadom and Dips, which he hadn't mentioned,  were on the table as soon as we sat down. We were only Diners this early on a Sunday.
Marg, who had been considering only a Snack, came up with Salmon Fish Karahi and an accompanying Chapatti ($3.50) as her order. The Dish promised to Sizzle. (Salmon Fish? – Is there any other type?)
Ponir (Paneer) Karahi caught the attention of Hector. By including Cheese, it logically lends itself to Dry. I enquired, as the Menu suggested I should. Mein Host immediately asked if we were from England.      No, Scotland – was the proud reply. A Dry Lamb and Panir Karahi was agreed upon with Minimal Masala. Mein Host understood what was required. An Alu Paratha looked the best value given that every Bread style was charged about the same.
More Poppadoms were brought, time to settle in. The room we sat in was long, a larger room sat adjacent. The Raj Mahal suddenly felt like a substantial venue, not the Small Basement Premises I thought I had noticed walking along East 6th Street.  Over 100 Covers must be possible, simultaneously.
The Plates were presented then moments later a surprise  Bowl of Dal Masala and the Breads. The Alu Paratha looked substantial and in the Calzone style. The Bread had been cooked, the Vegetables spread on and then folded. This was a substantial Paratha. Marg's Chapatti was also folded and served in Tin Foil. A Portion of Boiled Rice then followed which Mein Host had spooned some of on to Marg's Plate before she could challenge the act. On the House – was Mein Host's way of calming Marg who thought the order had been mistaken. Two Sizzling Karahi were then brought. These looked very interesting. The Feast was under-way.
The Paratha was stunning, it had Peas as well as Potato,  Piping Hot and would Complement any Curry Dish.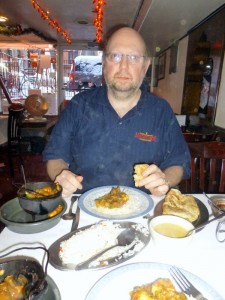 The Ponir Karahi was Dry as promised, there was a Minimal Masala Base, just enough, Perfect.  The Cheese was not too intrusive, this was a Meat Dish.  The Onions had been cut Large, Marg does not like this, but I find it Fine. A few pieces of the dreaded Capsicum found their was into both Dishes, but there was more than enough in the Karahi for this not to be an issue. The Cheese had done the trick, Hector thought this would guarantee a sufficiency of Salt, indeed the Seasoning was also Perfect. The Lamb was in a Suitable Quantity and was of Sound Quality. The Lamb may have been waved over a Tandoori Oven but was certainly not Tikka. This was a Very Satisfying Curry!
Marg as one might anticipate from the positives so far, thoroughly enjoyed her Salmon Karahi. She particularly likes Fish Curry, the Flavours always hold their own. It is rare to find a Bland Fish Curry. The Large Onions aside, Marg also found the Minimal Masala to be to her liking – The Fish was Very Tasty, Strong Flavours throughout – were her very words. I was permitted to sample the last Piece of Salmon, indeed, very well presented.  The Chapatti was reportedly – Hard – in places.
When Mein Host came over for the Customary Check, I had to tell him – Very Good!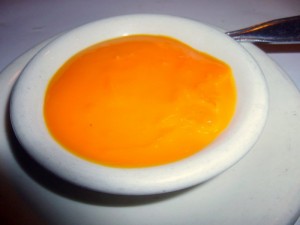 The Dal was simply a Bowl of Soup, the Gesture appreciated, had it been Dal Makhani I would have been carried a way. The Rice in the end did get mostly eaten.
Two Mango and Coconut Custards were brought as Complementary Dessert, we maintained honour and declined the further offer of Complementary Tea or Coffee.  I tasted the tiniest bit of the Mango Dessert, Marg ate them both.  I prefer to let the taste of the Curry linger.
Now, I deliberately did not go out to find a particular venue today, I thought I would survey the scene and take my chances. This was sheer Serendipity. Very good Curry, served in an amiable manner and comfortable surroundings. Hector won the Proverbial Watch today.
The Bill
$36.40. This is a couple of Quid less than one might pay at Home. Good value indeed.
The Aftermath
The Calling Card was handed over, I cannot translate what was said, but Mein Host sounded excited.  He did not report back.
The Raj Mahal, the first 'American' entry to Curry-Heute. I  recommend it.
Fourteen Restaurants around East 6th Street at 1st and 2nd Avenue.  Check the last Photo, three outlets…