With a South-side rendezvous planned for late afternoon, surely Dr. Stan and/or Jonathan would be joining Hector today for Curry-Heute? In the end I had to confirm with Shkoor, Liaison Officer, at Yadgar (148 Calder St, Govanhill, Glasgow, G42 7QP), that I would once again be The Lone Diner. A Hector Portion of Boneless Lamb was the Order, no further specifications offered. As ever The Chef will prepare a Curry that will be outstanding.
On entering I confirmed with Naveed that a Solitary Chapatti would be sufficient today. I rarely finish the second such is the generous size of Bread served here. The Mango Rubicon (still no Sparkling Water) and the Complementary Salad were brought without a word. None was required. Eating at Yadgar is a Ritual Experince, with the food always ordered in advance one just sits and waits for the final few moments to pass whilst The Chef does the finishing touches to a Dish that has been cooked to order, from scratch.
Today was different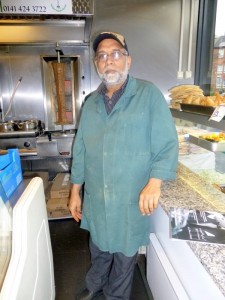 The Chef greeted me on arrival. I had to ask his name. Arshad is what I was told. Now this is the name I was given years ago on my first visits to Yadgar. If Mr Shah was not on the premises, then Mr Arshad was. So who is the other Chap I have been seeing all this time and thought was Arshad? How can I be closing in on Fifty Visits and not have met the Real Arshad until today. Perhaps Shkoor will shed some light on this?
As is previously written, one can comfortably share a Kilo of Goshat Karahi when it is on-the-bone, the boneless version needs three, or more Mouths. What was set before me was an indeterminate quantity of Lamb with Okra Karahi, it was immense! There's more. The Irresistible Vegetable Curry was also laid before me as a Side. I had enough Food to feed a Family. Where were my Co-Diners?
This would be a Test. A Very Pleasant Test. The Okra was a Variation from the Norm, I enjoy an Interesting Vegetable with my Curry. Getting Okra right takes skill, it is too easy to let go to Mush, this was perfect. It also added a few more Grams to the size of the Dish. The Lamb was cut into small pieces, dare I say it, in The Bradford Style. It did require a bit of Chewing which was just as well. I was forced to take my time. The Masala was Thick with Tomatoes and Onion and covered in the customary Slivers of Fresh Ginger. There is a very distinctive Yadgar Flavour, a Familiar Warmth that Prevails on the Palate. There's more.
The Vegetable Curry is not always available; it is always worth asking for. Today was the first time in a while that I hadn't. The Potato, Carrot and Pea Melange would satisfy in its own right, as a Side to the Lamb Karahi it is the Cherry on the Icing on the Cake.
There ain't no Obscenity Clause…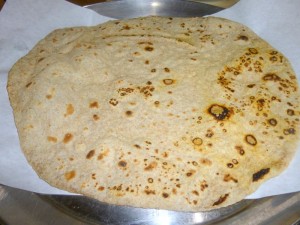 It took me thirty five minutes to eat all of the Lamb. Some pieces of Okra had to be left along with a bit of the Vegetable Side. The Chapatti was abandoned halfway. At that point I could have easily thrown in the towel and had the rest as a Takeaway. I was enjoying the Curry too much. There was no Breakfast or Lunch prior to this Eating Experience, there would be no more food intake for another Twenty Four Hours. What was before me was a Wonderful Quantity of Meat and Vegetables cooked to perfection. This was a Dish I shall never forget.
The Bill
£15.00. This is what we pay each when we share a Kilo. Generosity to match the Portion.
The Aftermath
The Hand of Arshad was shaken, the Photo taken. Do I not recognise him because of the Beard, or has he been hiding in the Shadows for the last three years?