A late evening in Helensburgh is the last thing Hector needed today, a lot of things on my plate, maybe a Curry-Heute was a fine interlude. The Akash (45A Sinclair St, Helensburgh, G84 8TG) as previously reported, opened late December after an enforced closure and subsequent buy out. On the day Glasgow Rangers officially lost No Titles, perhaps I should reconsider reporting the New Co Akash as a separate entity and give them back their Titles? No chance.
The Methi Gosht has been my Dish of choice in the last two visits. Rather than flog the proverbial dead horse, I thought I would try something more Mainstream this evening. The Chefs Specialties list an array of Chicken Dishes, it does not say these are also available in Lamb. Are they? Hector does not order Main Course Chicken. Lamb Mirchi Madras and two Chapattis (75p) felt Mainstream enough.
The offer of Poppadoms and Onion Chutney was declined. I had looked for an Interesting Vegetable Side and had nearly ordered the Potato Spinach at £4.50. Was this really a Main Course? I like venues where they offer Vegetable Side versions of the Mains for £2.50.
The wait was by no means long, indeed I was surprised my Dish came so quickly. There was way more Masala than I would normally seek, however I was prepared for this. The Masala had a decent Texture, on Tasting I was convinced there was Daal in there too. The Waiter and Mein Host came over. The Waiter insisted that Dansak was another Dish and offered to let me try it. Dansak, Daal, are we not talking the same thing?  What made the Masala Thick?
Chapatti #1 was disappearing fast. The Maslaa was most enjoyable, I had hardly touched the Meat. There was sufficient Lamb and it was really Tender, well all but one piece which was a Chewy as last time. Let's say the majority of the Lamb was indeed Excellent.
I ordered Chapatti #3, I knew I would need it. So much for my efforts of late to minimise the intake to the Solitary Chapatti.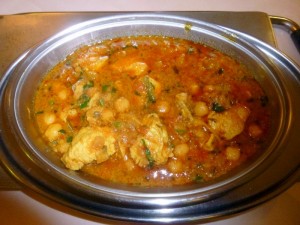 Mein Host appeared with a an Oval Platter and placed on the Hot Plate – Chicken and Chickpeas. His Brother was working in the Kitchen and prepared this for me to try, appreciated.
I finished the most pleasing Lamb Mirchi Madras and having kept back Chapatti #3 dipped into the Chicken Curry. Yes, Folks, Hector has finally been trapped and Chicken Curry will cross the Palate. The first reaction was to the BLAST of Fresh Coriander, it was so Fresh, I had forgotten the advantages of adding it so late to a Dish. The Coriander still had a Crunch. The first Flavour from the Masala was Patia yet there was no obvious Redness associated with that Dish. Chicken Patia features in the above Hector's Curry Recipes, yes I have cooked Chicken Curry, but not in ages. There was a definite Sweetness from the Masala, the Chickpeas were well cooked but not to Mush. My Interesting Vegetable! The Chicken was em, Chicken.
I told Mein Host that I had not ordered a Chicken Curry in maybe Twenty Years and that Lamb and Fish are my norm.
The Bill
 £12.75. Well within acceptable parameters, and a Free Side.
The Aftermath
The Waiter asked if I would have preferred my Dish to be Spicier. I informed him that it is Flavour I am after, Spice is not everything. He told me that my Comments are important to them. They do try hard here.
So, what exactly is Mirchi?
Mirchi – Chilli, the fruit of plants from the genus Capsicum… Typical! Chicken and Capsicum (Extract) in one night!
Bradford here I come…