Six of us travelled down from Glasgow for the Bradford Beer Festival organised by our own Man in Bradford – Ricky. Only one of us went for the Mandatory Bradford Curry-Heute. John The Bradford Curry Blogger knew of Hector's plan for Midnight Curry and Breakfast Curry this weekend. Friday Midnight was the only time he could meet up. The Sheesh Mahal (6 St. Thomas's Rd, Bradford, BD1 2RW) was the obvious Rendezvous. And so John travelled in on the last rain from the Outskirts whilst Hector was Chauffeur Driven by Judith, who with John, had come up from Huddersfield for the evening. Even they were not up for a Midnight Curry, strange.
Hector and John arrived at Midnight, Omar was straight out the door to greet us. Marg took this inopportune time to phone.
The Sheesh was busy. Suffice to say the Clientèle have changed markedly since my first visit exactly two years ago. Then it was full of Chaps of a certain age who may have been having a Festive Evening in a Local Hostelry. Now there are fewer Local Hostelries and a much more Gemütlich Crowd. Suffice to say this observation was blown out of the water when a group of about ten of the Volunteers from the Ale Fest arrived halfway though our meal.
The Poppadoms and Dips, Complimentary of course, were on the table in an instant. We discussed Starters but then Omar said he would bring us something.
John ordered a Lamb Dhansak, he tends towards the Traditional. As ever I put myself in Omar's hands. When he is serving I never look at the Menu. Tonight Omar decided that my Lamb on-the-bone would highlight Spinach instead of my usual Methi. John was up for Roti, I opted for Chapattis. As ever three of each of these would be inclusive, that's a saving of typically £10.00 already.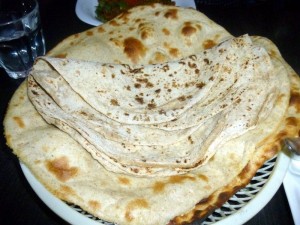 The Starter was presented, half a plate of Onions in Batter, a Poor Man's Pakora, accompanied by Micro Chicken Pakora. Chicken again, what is happening? With the Poppadoms, Dips, and inevitable bits of Salad, this was already building up to be a Feast, and all inclusive. Eating Curry in Bradford is gentle on the Pocket.
Taj, The Owner, stood and chatted with us whilst we nibbled our way through the Starters. He knows who broke in on the day of our last visit in January. A sad story.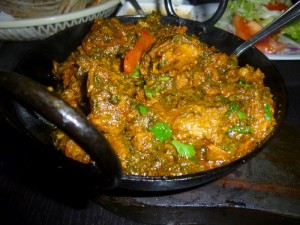 Omar brought the Meals himself, he enjoys the Photographic Opperchancity, I enjoy what he brings. Without the Methi there was not the customary Sheesh Mahal Ultra-Sensation, however, this was still a very fine Bradford Curry. The Lamb was on-the-bone. The Portion was significant, so even with the accumulating Pile of Bones, there was still more than enough of the very Tender Lamb. Having limited my Chapatti intake of late, I was astonished to see the pile go down so quickly, maybe I was hungry?
John's Roti were appreciably larger. His Dhansak looked nothing like what would be served under that Moniker in a Glasgow Curry House, this looked very enticing. John enjoyed this, I noted his quote immediately – This is quite possibly the best Dhansak I have ever had. The Bradford Curry Blogger has spoken, you read it in a Glasgow Curry Blog first!
The Bill
£14.50. By Glasgow standards this is of course ridiculous! So was The Tip. This is the Bradford way.
The Aftermath
There had to be a first Photo with the Two Bloggers and Omar. Taj, who had said goodnight ages ago was still outside. He declined to drive us home, what sort of service is this?
We shall return. For John the Sheesh Mahal is virtually on his doorstep, for Hector the drive is a bit longer.