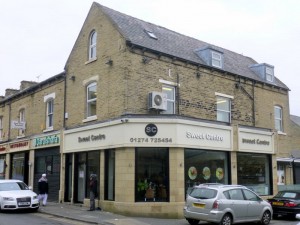 The Sweet Centre (110-114 Lumb Lane, Bradford, BD8 7RS) was the agreed venue for Breakfast-Curry before the drive North. Ricky, who had been incommunicado for twenty four hours was not happy with this and suggested another Venue on Great Horton Road. It transpired Ricky had been at The Sweet Centre on Tuesday. It was agreed he and Dr. Stan would not join us.
The Two-Car-Convoy pulled up outside The Sweet Centre not long after the official opening time. The place was stowed, the handful of tables occupied, seats at the bar full, one could hardly move. Yvonne came in, we both went out. Time to phone Ricky.
Ricky suggested Mughals (790 – 792 Leeds Road, Bradford, BD3 9TY), so what happened to Great Horton Road? As Jonathan led the way, further along Lumb Lane than either of us had ever driven, what does Hector spot? The Sweet Centre Restaurant. Now Ricky could have mentioned this. A sign in the Café might have conveyed this information. Why were so many crammed in to the Small Café?
Leeds Road is also home to Akbar's the Bradford Curry Chain which now has a branch in Glasgow. There are many Venues along the stretch from the Ring Road towards Leeds. Only a couple were open, I think.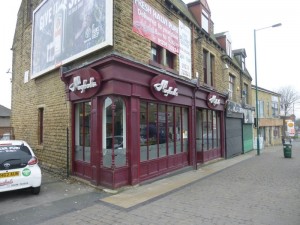 Seven of us arrived at Mughals almost simultaneously. Only a few diners were there before us. We would later learn that two Young Chaps were enjoying the Breakfast of Chickpeas and Chapattis. This was something new. There was a Large Display of Sweets under the Counter, all very Bright, Colourful and Sugary.
With the exception of Robin, it was agreed that Starters were in order. Hector was having Masala Fish to Start and Lamb Karahi for Control/Comparison purposes. Yvonne knew she wanted Lamb Chops. Two Rounds of Shammi Kebab and Sikh (more normally spelled Seekh) Kebab were ordered for the other four to share. This is The Breakfast Starter?
I asked for extra Methi with the Lamb Karahi. Craig took this lead and asked for Chicken Methi (Mild), the Waiter was Happy to accept this order. Yvonne asked for the normal Chicken Karahi, enough Chicken. Ricky went for Kofta Spinach and Jonathan the Kofta Desi Karahi. The Diversity was enhanced by Robin with Fish Karahi and as ever Dr. Stan was off the wall with Nihari. Chapattis had to be ordered at 35p each. A Keema Nan and a Roti completed the Bread order. There was quiet Booing when Craig and Yvonne ordered Rice to share.
Soup in a Basket?
A plate piled high with Poppadoms was set before me. Then two Dishes of Dips, one for each end of the table. No Napkins, but we did have Plates. I asked for Napkins. Yvonne and I considered the possibility that this was a No Cutlery Venue, however, a Lady on the far side of the room was having Soup. She was cheating, a Spoon was in use. Just as we were finishing a Bowl of Onion Chutney arrived, then Cutlery rolled in a Napkin.
The Masala Fish came in an impressive Portion size. Freshly cooked and with a Dry Spicy Crust this was indeed worth ordering. Yvonne destroyed her Lamb Chops with a little help from Craig. If only Maggie had been here to see the guard down. Those partaking were of one voice, the Shammi Kebab was unexpectedly better than the Sikh, apparently this is not The Norm.
With one Chef visible through the glass, he was working hard to produce Seven Mains simultaneously. A Chicken Dish came out which Yvonne assumed was hers. The other Chicken Dish did not sound like Craig's. It was taken away. It was brought back with the pronouncement that they don't do Chicken Methi. So why take the order? This also meant that no doubt there would be no extra Methi in my Karahi, there wasn't.
Dr. Stan's Nihari looked much better than the Watery Stew I have had served up on the odd occasion. Robin's Fish was presented Seriously Dry in Small Flakes. The Kofta Dishes looked tempting.
The Lamb Karahi was served in the Classic Bradford style. A little bit more Seasoning and well… The Lamb did take a wee bit of Chewing. However, compared to Glasgow Mainstream Curry, this is why I was in Bradford. Once again I was back to an Elegant Sufficiency of 1.5 Chapattis.
Craig and Yvonne enjoyed their Chicken, Chicken. Robin's Fish was passed around the table once he had had his fill, it was appreciated by The Many. Dr. Stan was really impressed by the Flavours from his Nihari. The accumulating Bones did not look like Shank, this was an Intriguing Dish. The Kofta Boys were also impressed by their choices. Jonathan did state there was a bit too much Masala but that tends to be how Meatball Curry is served. He could also have done with more Mince in his Keema Nan.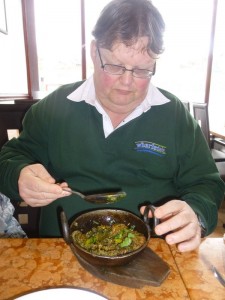 The Bill
£74.50. Curry for Seven, Six Starters, various Breads and a shared Mango Lassi.
Dr. Stan found this to be excessive. He put in a £20 note, took £10 change and then pocketed the £20 note he had put down. There was a momentary hiatus. Guilty!
 The Aftermath
Ricky suggested I buy some Dessert for Marg, I complied. This Sweet Relative of Carrot Cake is most enjoyable.
By now the Calling Card had been presented and was well received. Mein Host was happy to pose for a Photo.  Some Sweet Samples were set on the table.
Mughals is a Venue we shall definitely return to, for the aforementioned Breakfast, at least. The Nihari and the Kofta look tempting too. Mein Host bade us a fond farewell as five of us headed back to Scotland. Dr. Stan would be along later.