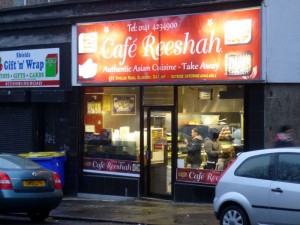 Walking up from Shields Rd. Subway station looked the easiest way to get to Café Reeshah (455 Shields Rd, Glasgow, G41 1NP), not the most accessible of places being on the corner of Maxwell Drive. This also meant having to walk past the excellent Khyber, which Hector has not visited in ten months.
Entering what is primarily a Takeaway just on 17.30, I pointed to one of the two tables and asked if I could sit. There were seats for eight, but a ninth chair was set aside, just in case. I wonder how many people ever sit in. I tried my opening line from two weeks ago – I hear you sell good Curry here? Mein Host behind the counter was immediately engaged, and asked how I had come to know of the place. I had an email (from Jon, a new Curryspondent) from an acquaintance suggesting I should try the Curry here. The Curry was on display under the glass counter, Mein Host took me through the options. The Chicken was dismissed but beside it were two interesting choices, Lamb on-the-bone with Potato (Shorba) and a very Dry looking Keema Mutter. Other Vegetarian options were present too, but I had already decided. I'll take the Lamb and a Half Portion of the Keema Mutter, and two Chapattis. The Half Portion was not a problem, in fact he spooned out a very generous Half.
As I sat I was asked from where I had come and was assured I would be experiencing something different. The Takeaway business was continuous, I never did manage to take a photo of the interior of the premises, there was always someone standing waiting for their order. Mein Host was a sheer delight, he welcomed everyone with enthusiasm. Two Ladies stood and were treated to a Sample of one of the Vegetarian Dishes. Amongst the Urdu I heard – email – they must have asked who this guy was sitting in. Well, that's my interpretation, I was there.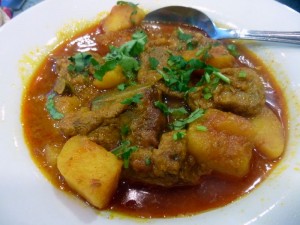 A Chap, who could have been the Chef, brought out the Curry, Chapattis, and a Plate of Raita with some Salad therein which I didn't touch. I declined the offer for any Liquid Accompaniment and this was greeted with a smile of approval.
Given the minimal prices being charged one was not expecting Large Portions, what was given was certainly more than enough. There was a balance of Potato to Lamb in favour of the Potato, fortunately the Bone content was minimal.
 The combination of Lamb and Potato is always well received, the Potatoes were perfect and bore no resemblance to a certain horror story. The Tender Lamb was cooked thoroughly. Although there was a Kick, there was not a huge amount of Flavour coming from the Thin Shorba-style Masala. Still, this was a pleasant Curry.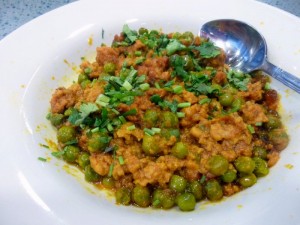 Having finished the Lamb, the Keema Mutter looked plentiful. Now here was a Treat! With no Masala as such this was Classic, Bradford-style, Dry. The Lamb Mince was very Light in Colour, Brains came to mind as I ploughed my way through the Dish with the ample sized Chapattis. Who would have thought (before I did my Curry Course) that Mince and Peas could make such a Wonderful meal? With Fresh Coriander Stem and Leaf liberally sprinkled over the again Spicy Dish, this was superb. The Residue on the plate was virtually non-existent. Very little Ghee. I know someone who would love this.
Mein Host looked over to see that I was enjoying all received what I had asked for, the thumbs up was the response. I was offered more to try but had to decline. The Hector had been Sated.
 Lord Clive should have been here
As mentioned, the Takeaway Business was ongoing. One Chap was on the phone to his mate and was becoming irate with whoever was on the other end. To say the Language was Choice (and in English, well Broad Glaswegian) would be understatement. Mein Host asked him to calm it down as they had a Diner. In a mixture of Urdu and English this request was ignored, had I been Female he would have reconsidered, apparently. Mein Host smiled, he had tried, I acknowledged his efforts. Was it my imagination or did I spot a hint of a Selliktap secreted under his Asian Garb? This was just what Cafe Reeshah did not need with a Critique being compiled.
The Bill
£9.20. As one of my Curryspondents would say – A place to eat, not to dine. This was great value.
The Aftermath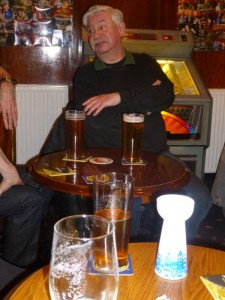 I asked if the Keema Mutter was always available and was assured that it was, and that they prepare their Dishes freshly everyday.
The Takeaway Menu features Standard Curry Dishes, and even Karahi. I shall certainly return here one day.
The walk to the Laurieston burned up some of the Calories, Robin et al were assembled, awaiting the Baton.