Approximately ten years ago I has my first Lancaster Curry. The Venue was as close as thirty metres to the Canal, or possibly the River Lune. The Bridge had Black Riveted sections on the sides…it has gone.  Kirstie, a resident of nearby Morcambe, would tell me later that it may have been Nawaabs.  That Curry was a Son of Bradford. For that reason I looked forward for the Opperchancity to return to Lancaster.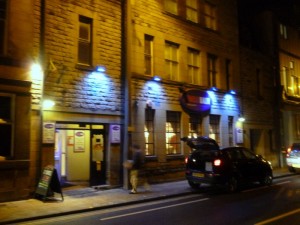 Last year I had a day here without Curry. Nowhere was open within my time parameters. I phoned a few. Tonight would be different. However, Hector was still wondering why it took until after 20.00 to find a random Curry House. Google Maps, regular readers know what is coming, had suggested Imran's which was near The Travelodge. Alas it was not revealing itself. This information out of date.  I moseyed up towards King St. and beyond. The Bombay Balti (16 China St., Lancaster, LA1 1EX) was the first Curry House to be both Open and Reveal itself in Lancaster in Ten Years, a long wait
There was the Reception Area I associate with Venues who want to make profit from Drinks. I had deliberately ignored all tacit invites to join the Family of Jonathan this evening. A solo Diner can go in quick, eat, and get out. They were a day at a Beer Festival ahead of me. Morgen Vielleicht.
I was given a Table on the extreme right of the premises, a partition to my left, a table of four to my right. Out of sight, The Naughty Corner.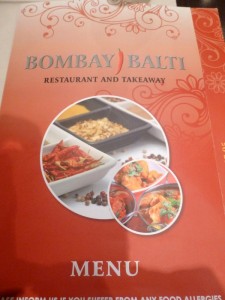 The Menu was Bright Red, quite Stunning. I ordered the Sparkling Water (£2.45 for a small bottle.??). Perhaps in terms of Labour Costs it may have justified the cost. Water, with gas, is served free in many Venues.
The Menu
OK, I was not expecting much so when I spotted the Karahi I was nearly tempted. The Chef's Specials, an always amusing term, a Final Tweak to something that has come out of the same Curry Pot as every other dish. Does Chef cook them himself, come out and take a bow? (Sorry, Glasgow reminiscences again.) The Achari caught my eye and then Zak-Jool, an Achari with Fermented Chillies? It might be HOT, I can handle it, whatever. Two Chapattis (£1.00) would turn out to be a mistake. A Waitress Buzzed about and monitored my progress. She could not take the order.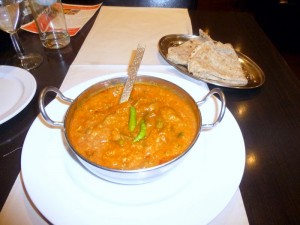 Ordering deliberately Spicy Curry takes one back to one's youth. It also is my fall back when nothing on the Menu really takes my fancy. What came was the classic Curry Soup, and so I ate the entire Dish with the provided Spoon! The Chapattis were Dipped in the traditional manner and revealed virtually no Flavour. The Masala was not too thin but there was an awful lot of it. Rice would have been the better Accompaniment. Strange how the much thinner Shorba Masala requires Chapattis but this consistency needs Rice. The Lamb was cut small, then I realised there was very little Meat in the Dish. Suddenly The Village portions felt generous.
As I ate on the Sweat was forming on the Pate, this was seriously Spicy. Flavours eventually began to emerge, there was a hint of Pickle, I started to enjoy the Curry. It was far from what I would normally expect to eat, but not too far from my normal order. Their interpretation of Curry is not necessarily Mine. It was Curry, I like Curry.
The Bill
 £12.45. The small Bottle of Sparkling Water was £2.45, ouch.
 The Aftermath
I had presented myself at the counter to pay The Bill so as to increase my chances of meeting whoever was running the show. The Calling Card was presented and well received. I had to tell them, because they asked, that their Curry was – OK, nothing Special. Another Chap asked for a Calling Card too, he claimed to have cooked my Dish. I described my Amateur Status, and when I mentioned Curry-Heute was approaching One Million Hits they took notice. Pleasant people, serving OK Food.
The Hector Curry-Hound desired Curry, he was fed…. time for a Bier…