After two very Mainstream Curry-Heute Experiences, it was time for Hector to return to the Tried and Tested, and usually Excellent.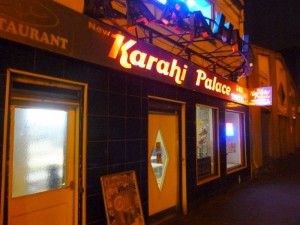 The New Karahi Palace (51-53 Nelson Street, Glasgow, G5 8DZ) was long overdue a return visit. The relaunching off the nearby Village must have set them back again. Only someone who truly knows their Curry would chose to enter these very modest premises.
Shahed was still behind the counter, so Hector was recognised on entry. Rasheed, the Chef was still in situ and acknowledges me too, all was well.
Shahed looked at me and uttered Lamb Karahi, he then upgraded this to Karela. The Lamb Karahi Karela at this venue is not to be missed. I have been given a lot of Soup-like Curry in my most recent Elsewhere Curry Sojourns which would have been better with Rice. After the wonderful Vegetable Rice at Yadgar last Saturday this Accompaniment has bubbled up once again in Hector's preferred Standard. No Vegetable Rice was on offer and so I negotiated a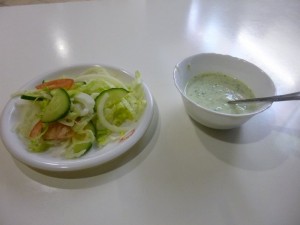 Half-Portion of Aloo Mutter, this would enhance the overall Vegetable Experience.
I took my usual seat, again the Lone Diner, the Takeaway business was continuous. Shahed came over with the Complementary Salad and Raita. He confirmed that I did not need a Chapatti, he has never known me to have anything else.
Where have you been?
I had to explain my three month absence. I have many other places to visit and I must try new venues too. What I have found out is that when I do come to the Karahi Palace, I tend to return for a second visit soon after.
The Boss
A Chap I had never seen before came in and looked as if he knew his way about. He also nodded at The Lone Diner. He was straight behind the counter and was dishing out the Takeaways. He also helped himself to what he must have phoned in and disappeared. I was told later this was Ayaz, I had guessed correctly as to his status.
I sat with the Salad for a few moments with no weapons with which to eat it. As I called Rasheed he turned around with Cutlery in hand. I was only halfway through the Salad when Rasheed then brought my Mains. Not enough time had elapsed since giving the order. No way could this be up to the usual standard, it wasn't.
The plate of Rice was Huge and Steaming Hot. The Rising Vapours from the Aloo Mutter are caught on photograph. The Karela Lamb looks wonderful too. Served as comprising of a Lamb Chop, more pieces of Lamb on-the-bone and plenty off, this could have been sublime. Clearly this was Lamb. Superficially everything about this looked perfect, alas there was an underlying Wateriness to the Masala. The Kick was there, the expected Flavours not. It was only when the thin strips of Karela were encountered that any real Flavour emerged, the classic Dry Bitterness. The taste-buds were working as was confirmed by the wonderful Potatoes and Peas. The Curry was not right. Next time back to basics, Lamb Karahi, Methi, Dry… I thought that was why I chose to come here tonight.
The Bill
£12.60.  For consecutive Curry Reports, The Boss was on The Premises, surely this does not make a difference?  I shall be back, one Off-Day is permissible, and I know what they are capable of.
The Aftermath
Rasheed to asked where I had been for the last few months. Two visits ago was sheer perfection, I could easily have moved in here. There are always more Curry Houses to try.