Neil was once again joining Hector for the Saturday afternoon Curry-Heute Ritual. Having made his first genuine visit to Yadgar (148 Calder St., Govanhill, G42 7QP) only two weeks ago, it was time for Neil to experience their Signature Dish, the Goshat Karahi. With the appetite not still fully restored after the Orcadian Ordeal and Neil's food intake not as gargantuan as others Co-Diners, Hector contacted Shkoor, Mein Host, in the usual manner. Two normal sized potions of Boneless Yadgar Goshat Karahi in their Classic Style were pre-ordered. The order was confirmed in seconds.
Yadgar was quite busy for a mid Saturday afternoon. An extended family occupied the largest tables in the middle of the room. Neil arrived moments after I had chosen a window seat. This time it was my choice to sit in the window. In all about twenty covers would have been served during our stay, one couple I recognised, He watches, she enjoys a Kebab.
The Sparkling Water was celebrated again, Hector's perfect Curry Tipple.
I had not ordered any Accompaniments and so having checked with Neil I went up to he counter and ordered two Vegetable Rice from Ahmed. No Chapattis? – he enquired. The Rice would be a good test of the extent of the restoration of the Appetite.
Onion and Mango Chutney were brought, a few more moments three freshly fried Poppadoms were set before us. As we began nibbling on these a bowl of Raita and another of Heated Chilli Sauce were brought then the Yadgar Salad. All of this is Complementary.
Having made the order for two Standard Portions I expected the standard plates of Curry to be next out. Instead the Large Karahi of Boneless Goshat Karahi made another appearance. This was not two Standard Portions, it was nearer the Kilo! Two Steaming Hot and Mountainous Plates of Vegetable Rice completed the order. No Chapattis? – I was asked again.
Two things were now obvious, Neil was beaten before he started, I would be hard pushed to make a decent impression in what sat before us. Spooning a very healthy portion straight on to the plate of Vegetable Rice felt the way ahead for me. Neil, however, spooned some Rice and then some Curry on to the spare plate. The Rice contained a decent quantity of Potato, plus Cauliflower, Carrots and Peas, almost a Meal in its own right. But it is The Curry we are here for.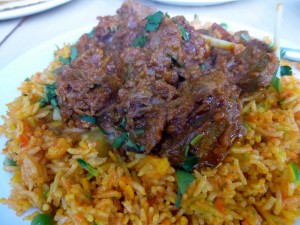 Before one begins one can tell it will be Special. The decent sized pieces of Lamb, too many to count, shrouded in a beautiful Thick Masala that one knows is just going to ooze Flavour. Then as one gets to the bottom of the Karahi, the Ghee that has collected has to be spooned also, even more Flavours wrapped up in the Liquid. Mr. Arshad, The Chef had nodded when I arrived, now he came over to enquire that all was well. I told him how wonderful his creation was and that there is obviously something in there that I cannot identify. He is not up to revealing the Secret of the Yadgar Goshat Karahi. He did mention that he thought the Fresh Green Chillies were of particular note. They may add the definite Kick, from where the Distinctive Yadgar Flavour comes from…
Neil was of course impressed, how could he not be. It was 1974 when Neil and I first started eating Curry together, The Businessman's Lunch at Akbar in Cochrane St. Another stand out Curry venue after that was @ 1977 when Neil invited me through to Dundee to visit the Gungadin. The Murgh Masala Bad Shuli (spelling improvised) had Flavours never encountered before. It is reported that some of the original people still operate in Dundee, any information much appreciated. (Yes, Hector did try a Chicken Dish, just that once!)
I was able to eat half of the Curry that had been delivered. Neil ate way more than he normally does and there was still more than a portion left for a Doggy Bag. Neil will be eating Yadgar Curry into the middle of next week.
The Bill
£30.00. This appears to be the fixed price, per person, I pay no matter what I eat.
The Aftermath
There was a Rendezvous in the very busy Allison Arms, something to do with a horse race. The New Fridge was in situ, the contents more Weizen and Dunkles than one would hope for. Serious Bock Biers were left alone by Hector who has an early rise tomorrow.
With a new manager, we have to start all over again.
Why can't things just stay the same?