In a near Fit of Pique, Ricky, The Man from Bradford, had agreed to rendezvous at 13.00 for Curry-Heute. Ricky does not normally eat Curry Abroad, his Level of Expectation was certainly Low. I left Marg in a charming Krakow Café having Lunch and met up with Ricky and Mick, another Man from Bradford. One Glasgow and two Bradford Curry Critics, the Indus Tandor (ul. Krowoderska 23, 31-000 Kraków) was certainly about to go on trial.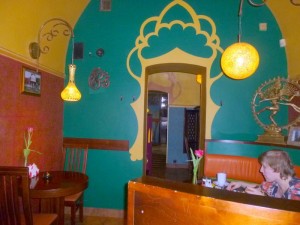 Ricky has walked past this place many times and thought the entrance was around the corner. There lies a wooden hut, an overflow? The Restaurant is Long and Narrow with strange little Alcoves constructed at angles throughout. I walked through in effect three rooms to find a Waitress. I thought we would be allocated a Spacious Alcove, in the end we were wedged into a table for three, why? One Female sat alone in one, a couple of Females sat in another. We were wedged.
A Laminated Sheet described various Set Lunches in the Thali-style. Mick chose Meal 3 at 28 PLN, around £5.00. The Rickmeister and The Hector wanted the Full Bhuna and cast this aside in favour of The Menu. The layout was novel, it went on a bit. Today it had to be Lamb, the Kadhai caught my eye early and was not usurped. Behold the Daal Makhani! It had to be ordered. Strange how I have come to find this in Europe more than I find it at home, perhaps once again because this is an Indian Restaurant, not the U.K.'s normal Bangladeshi/Punjabi? Vegetable Pulao felt like a Safe Accompaniment, but ten minutes later after the order had been given I realised that if I was ordering the Daal, I needed Bread, a Roti was added.
Ricky spotted Chicken Samosas which he had never experienced. Keema Peas and a Plain Nan was his Main Choice, staying close to home then. He was obviously doing his best to reduce the chances of being brought Soup.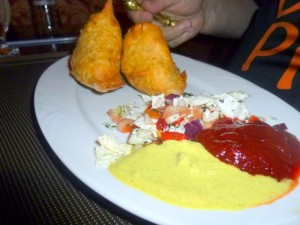 We waited. We waited more. Ricky was the first to state that the Food was evidently being prepared not just reheated. When an order arrives too soon it is usually a poor sign. After a half hour the Samosas arrived. Dry, and not much Flavour – was Ricky's verdict. This was further complemented by – Not a Disaster! We waited some more.
The Thali arrived first and Mick correctly got tore in. Three small Tapas Dishes with Meat and Lentil featuring in small portions. The Bread, somewhere between Nan and Roti took up half of the tray. Reasonably Good – and – Not Outstanding – were Mick's thoughts on what he had consumed.
The two Main Curry Dishes then arrived. The small Karahi were placed on individual Candle Burners, a good idea, this would maintain the edge of the heat. Both Rick and Hector's spirits were raised, this looked as if it could be worthwhile. The Keema Peas (Mutter) was suitably Dry. The Nan was – …on the Thin Side – remarked Ricky. Surprisingly Good – was Ricky's remark about his Curry. Had worse, even in Bradford. He devoured the lot and went looking for more.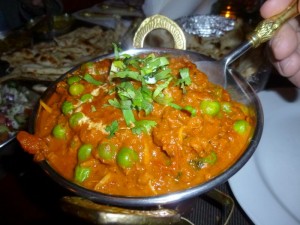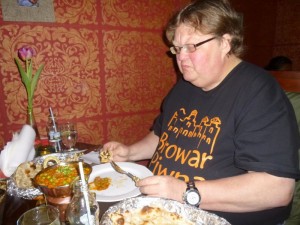 Hector's Feast
The Main Portions appeared to be small on arrival, they were not, there was a sufficiency of Lamb presented. The Masala was Dark Brown and contained the Dark Red Chillies usually used in South Indian Cooking. The Vegetable Rice was Plain Boiled with Carrots, Green Beans, Peas and Cheese (!) mixed in, this was excellent and there was enough for two people. The Daal Makhani also looked up to scratch. The Roti was half Roti half Chapatti, the best of Both Worlds? Where to begin? I had more food than I could eat. The Daal Makhani was also a full portion, but at £4.00 worth ordering as a Side. I did invite the others to try it, as I slowed down they became more interested.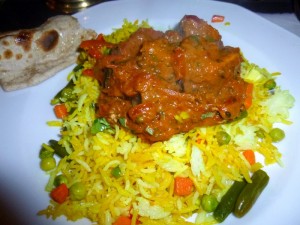 The Curry had a Gritty Texture and a Good Level of Spice. The Lamb was very well cooked. Although the Intensity of the Flavour Overall was a bit on the Low Side, one felt that this was indeed Authentic Curry. The Curry was not Bursting with Flavour but was most enjoyable. It was Curry.
The Daal was of course something else altogether. It is Soup, that is what one expects. The Creamy Texture guarantees Viscosity, one would assume Cheese is in there too. The near Bitter Taste was in direct contrast to that coming from The Curry. Even Ricky, who was well ensconced by this time, found this Pleasing.
Marg arrived. We had been on the premises well over the Hour. The limited space at the table now became a nuisance, Marg squeezed herself in beside Hector. She assured the Waitress that she was not eating, but moments later was Dipping Roti into Daal. She found it Spicier than she was hoping for. I had been offered it Spicy and so took the chance. By now Mick was helping out too.
The Appetite had been well and truly Sated. One was left with the distinct impression that they do know what they are doing at the Indus Tandoor, well worth a visit.
The Bill
152.00 PLN, around £30.00.
The Aftermath
When asked later, The Man from Bradford said he – …enjoyed it actually. Surprisingly Good for Abroad. Is it possible Ricky may seek out Curry Houses in his frequent trips to The Continent?