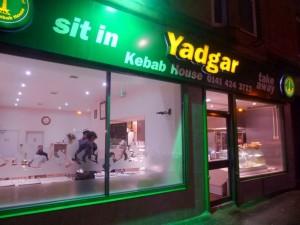 The Calendar originally stated – Barrel Party, April 13, Shawlands. As our Bier Driver flew on his last trip abroad this was changed to a Bottle Party. Craig and Yvonne had a number in their mind with which they are comfortable hosting, the Round Dozen. Shkoor, Mein Host at Yadgar (148 Calder St, Govanhill, Glasgow, G42 7QP) had been sounded out about delivering Curry en Mass to the Party Venue some time ago. The order for Twelve Goshat Karahi plus Chapattis and whatever quantity of Starters they could manage to make it up to £10.00 per head was placed from Kraków at the start of the week. On Wednesday evening Yvonne was persuaded (… how did we ever manage without Current Communication Technology?)  that as Ricky would be speeding from Kraków to Glasgow for some minor Football Match and would be a House-guest of Dr. Stan, he had to be included also. The order was increased by one. No sooner had this been sorted when it was decided that his Hibernian Partner in Crime, Mr. Boyd, should also be included as they would be at Hampden Park together. So, we were now an unruly fourteen. More Business for Yadgar!
Hector arrived first, and very early. Marg had a Hockey Match so we were down from Aberdeen in great haste. Most of the Usual Suspects would be in attendance, though such is the size of The Company, not all. Pyraser, Tucher and Augustiner Bier featured predominantly in various styles and various ages. We only consume the Very Best.
Shkoor arrived bearing Curry a few minutes after the arranged 17.30. We were eagerly anticipating the Curry, though by this time some were munching on Nibbles such was the voracity of The Appetite. Three Boxes in all.
The Bill
£140.00. Now let's see what you get for that…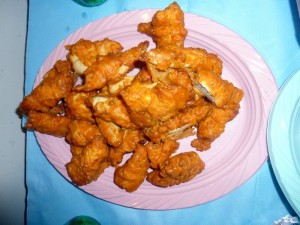 Ricky, the Bradford Curry Guru, and Hector set about carefully piling the Foil Trays, fourteen in all of Goshat Karahi.. Let me state that I am pleased to note the order was all Lamb. No Rice had been ordered, Yvonne was supplying this. A Large Pile of Chapattis was unveiled, enough for two each. Bags of who knows what were opened with vigour. Chicken Chat, Chicken Pakora, Vegetable Pakora, and Samosas. Hands started grabbing whilst we persuaded Yvonne to supply some serving dishes, The Mob was Ravenous.
Two Plastic Trays stood out in isolation… they were filled with Palak Masala. Oh yes!  This was for The Cognoscenti.
The Starters were demolished, yet there was still a mass left when Hector went back for his Main Course. Tracey had gone straight for the Goshat Karahi with no Accompaniments. Howard decided that since his back was hurting he would have his Curry tomorrow. He restricted himself to the Starters. It must have been the Medication causing him to make such a Bizarre Decision.
Mags chose the Correct Curry, Euan was having his first Yadgar Experience. In fact he was the only One of Fourteen who has not Dined at The Premises. The last photo I took of Euan eating Curry was at a Thursday Night Curry Club, well Wetherspoons call it Curry. Robin and Dr. Stan ate and as usual said nothing. Yvonne appeared still eating Chicken. We didn't know it yet, but Steve was being naughty. Meanwhile in the Kitchen, Jonathan, Craig and Mr. Boyd were well ensconced. Ricky took most time to make positive noises about what he was eating. He knows the pedigree of Yadgar well. Ricky and Hector had of course spotted the Palak at the outset. I chose not to mix them but appreciate the alternating Flavours. Ricky was busy mixing the Karahi and the Palak to make his own blend. The Curry was Excellent, and the Spinach was ……. said The Man from Bradford. Dr. Stan concurred. In the end, Everybody did.
The Aftermath
Euan came out with the line of the day as we all sat motionless afterwards. The Silence of The Lamb. It was very much like The Aftermath of an xmas dinner as we sat, conversation killed, stuffed.
Steve, who arrived last, left first. Steve, himself later realised he hadn't paid. Shkoor had made no comment when he took the cash, a Gentleman to the last. £10.00 was dropped off at Yadgar last thing this evening into the hands of Mein Host directly.
Can we do this again? – asked Hector. The reply was Positive.