Dr. Stan and Ricky disappeared mid afternoon, so no Curry-Heute for them. Yes, Hector is still on vacation and so was part of the Sunday Afternoon Bier Gathering known as the Bad Boys' Club. Fish Curry at Café Salma (523 Sauchiehall St, G3 7PQ) flashed though Hector's Consciousness. I was metres away enjoying some Festival Ale at Hengler's Circus, one of the better – By Far! – Wetherspoons Outlets in Glasgow. When Jonathan decided to join me the Food Option changed. Have you tried Cafe Salma's Kofta Bhuna? – I asked. The reply was negative, the intention became positive.
Another Group of Regular Chaps walked in at the same time, Hassan was beside himself. Jonathan remarked about the warmth of the welcome, for us all I presume. The Complementary Poppadoms, Onion Chutney and Dips were on the table in a flash. Kofta Bhuna was verified on The Menu, it had to be Chapattis (£1.00) with Kofta. The Prices at Café Salma have remained stable for some considerable time. The order was taken by Hassan who appeared to be running the show this evening along with his Charming Lady. His Principle Helper was absent, studying for exams. Medium with a kick? – Hassan knows how we like our Curry.
A New Addition
There was a Baby in the corner, Hassan and his Lady took turns at Maintenance. The Music was strange at times – Mendi by Barley Manenough, alternated with the Traditional Moroccan. So it goes.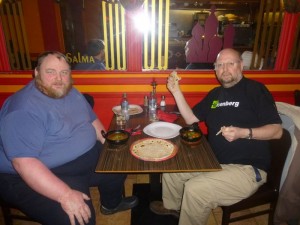 The Kofta Palak was presented, Four Large Balls of Lamb Mince. When halved, a Decent Portion by any standards. This Dish is all about the Masala. Having been Wowed by the Kofta Palak for years, this has become Hector's preferred Kofta Dish. The Flavours from this Masala are reminiscent of The Village at its best in years gone by. This is something to savour, Curry Pleasure at its best. There is a theory that one of the Original Salma Chefs was poached from The Village. I'm glad I chose this! – remarked Jonathan. Indeed.
The Bill
£25.00. With two Bottles of Sparkling Water still great value.
The Aftermath
The Baby Photos had to be taken. Hassan is a very proud man. He should be, he serves Excellent Curry.