There was a Celebration today, Jonathan's Birthday and a Farewell to Sandy at Hengler's Circus, anything else? Hector nearly made it home without a Curry-Heute, but having missed my train at Charing Cross by seconds, it was written. The Punjabi Charing Cross (157-159 North St, Glasgow G3 7DA) was overdue a visit. Tonight there was no Hari and no Ram, I would be looked after by Kevin and Adele. The latter did not know me at all when I entered, by the time I left she most certainly did.
Choosing a table along the window wall I was able to see into the Kitchen, Chef Gurmeet was on duty, wonderful. When Adele offered the Menu I declined and asked if I could talk to the Chef instead. By now she was no doubt wondering who would enter a Restaurant and request this.
Hector had a new Curry Experience on his mind. The Keema Padora has been written about in each of my last three visits at least. A Magnificent Starter of Dry Keema Lamb on a Puri. The plan was to ditch the Slightly Sweet Bread and maximise the Meat, could I have this as a Main Course.  Chef Gurmeet of course recognised The Hector and listened to my description – A Main Course of Keema with Extra Fresh Methi. No problem it appeared, and so The Keema Gurmeet was born! Two Chapattis would be the Accompaniment, this would not be suitable for Rice.
I could hear The Chef busy at work. Kevin came over to ask the inevitable question. I cannot be in every Curry House every week. Can anyone work out where my next Glasgow Curry will be consumed? Assuming the Mince was already cooked, it did not take long for the Delight to appear – Gosh! There was no Masala, none. This would be the Driest Curry I have been served in Glasgow since the fabled Mrs. Madjhu's. The Methi was most apparent, how could this fail?
Every Dip in the Well -Seasoned Mince was stunning. Although there was no Masala there was still a suitable Moistness to the Dish, and it is worth noting the Oil residue was also minimal. Could this be The Perfect Curry?
I realised I was slowing down, the Richness of the Flavours was taking its toll. It is possible that the Pleasure became so intense it was tending towards Excess? Enough already. Adele came over to ask if I had finished as I took a short break. There's a helluva lot of eating in this – I assured her. In the end the Dish was devoured and a Half Chapatti abandoned.
Maybe sharing this as a Starter would be the optimum, Dr. Stan may be my next Guinea Pig.
The Bill
£11.95. This included a glass of Sparkling Water.
The Aftermath
Adele and Kevin were getting ready to share a Dish, well it was now after 23.00 and the business for the day was probably over. Adele used to be a Biryani eater. Since starting work here her experiences have been widened.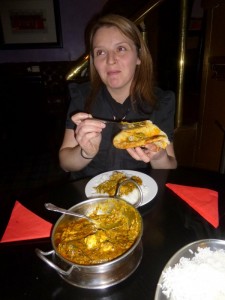 A Karahi with Chicken in a Spinach and Cream Masala was their choice, accompanied by a mean looking Cheese Nan. Chicken Makhani would be close to a reasonable description when the Curry and the Nan combine.