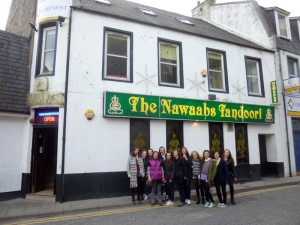 Hector finds himself in Aberdeen for the weekend in the company of Twelve Charming Young Ladies, including Marg. Having watched Hockey match after Hockey match, a Curry was well deserved. Marg had booked a table for 13 at The Nawaabs Tandoori (33 Summer St, Aberdeen, AB10 1SB) on Thursday evening which the Restaurant further confirmed by calling back at lunchtime today, they knew we were coming. This Venue has been on the List of Hector's Recommended Curry Houses  since the birth of this Website. Hector has been a few times but not in some sixteen months. Nearby Nazma had been considered, however, my own revue put me off. Nawaabs deserved another try, especially since my last verdict was quite open. Let's avoid the Lamb Tikka this time.
We trooped in at 19.05, five minutes after the pre-arranged time. Three tables had been joined to create a single long table, along the window. Every time I have eaten here this is where I have sat. There is an interior to this Restaurant towards the Bar, one day perhaps…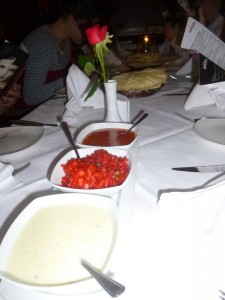 The table was most welcoming with separate servings of Onion Chutney, Mango Chutney and Raita set out strategically. As the Token Male, I was given the seat at the head of the table. We were offered Poppadoms, Thirteen were agreed. Various Soft Drinks were ordered with Jugs of Tap Water. One Bottle of Sparkling Water was included…
Twelve Females, is there enough Chicken in The House?
The Menu was a lengthy read, not always a good sign in my book. The Green Herb Curry, this time with Tender Lamb, was the intended order. Lamb Bhuna nearly distracted me, one wonders what the difference would be apart from being £1 cheaper. Marg had also spotted the Afghan Lamb, tempting, but surely it could not rival the excellent Khyber (Glasgow)? And so Green Herb Curry it was – Medium with a Kick and as Dry as Possible – with a Side of Aloo Gobi and two Chapattis (£1.50). Marg took the Afghan option and agreed to share a Peshwari Nan with Gaby.
Chicken Korma was the choice of Rebecca, Fiona, Emma and Megan. Only one Chicken Tikka Masala, by Miss X. Gaby and Caleigh went for Chicken and Lamb Pasanda respectively. Verity and Sophie believed the Chicken Zhalfraizi would be a Jalfrezi variant. Kim who had heard the Hector and Marg Menu Analysis chose Chicken Bhuna, meanwhile Eilidh was determined to have what I had. In the end her Green Herb Curry was in Chicken. At least we had one member of the Company who displayed her pedigree in the World of Curry. Rice for sharing and a further Peshwari Nan, Garlic Nan and maybe more were added. No Starters, we shall keep it simple. We retained a Menu to facilitate the End Game.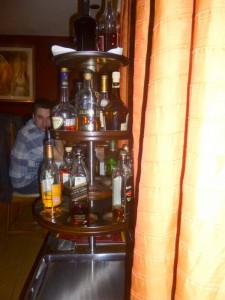 With the Poppadoms consumed the wait for the Mains began. The Restaurant was full, on previous visits this has never been the case. Nawaabs proudly display Framed Newspapers in the Vestibule of favourable Comments, Awards et al. They should know what they are doing. The wait however, went on and on. By 20.15 it looked as though the planned 21.00 Cinema Visit could be in jeopardy. The Waiters occasionally looked over to see if more drinks were required, they got the message, the Girls are on a Budget, hardly going to order more Soft Drinks at a steep £2.20 for Coke served in a glass. A Tall Trolley of Malts and Liqueurs was parked beside us, a safe place.
Eventually a Trolley was wheeled out laden with Curry. The Meals were distributed with some degree of efficiency, also helped by the fact that I had recorded everybody's Main Dish on the Trusty Samsung. The Breads and Rice followed quickly. I went into Hector mode and went around the table taking the necessary Photos.
The Review of 13 servings of Curry, here we go…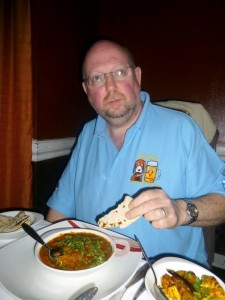 The Green Herb Curry was indeeed Tender Lamb, however, the Lamb was far too chewy. The Masala was a standard Thick-ish Masala but there was way too much of it, so much for Dry. The Flavour was dominated by a single Slight Sweetness. The Dish had been Topped with Fresh Coriander, there was little visible sign of other Herbs by Sight or by Taste. The Aloo Gobi side was served Cold. The Cauliflower was well undercooked, still it and the Potato did their job as being the Interesting Vegetable, just. The Chapattis were fine, the various components were mopped up with ease.
Eilidh enjoyed her Chicken version of the same Dish. She remarked on the – Coriander Infusion. Hector had been hoping for a much more Complex set of Flavours.
Marg, sitting on my left, had secured a Hot Plate to replace the Cold one offered originally. She then questioned the sense of this knowing that her Dish came with a Salad. The Afghan Lamb was to me a portion of Lamb Tikka covered in a too Red Masala and Topped with Green Leaves, none of which was the one I was hoping for either. When offered a sample I felt the Tikka  Lamb was too dominant.
Marg declared her Afghan Lamb had a definite – Kick – and went on to say –  The Lamb was not great.. The Salad cooled her down – An Interesting Combination. The Peshwari Nan was perhaps a new experience for Marg, she enjoyed the Sweetness and knows full well that I would never order such a Sweet Bread.
Kim, sitting on my right described her Chicken Bhuna as – Quite Flavoursome, well balanced Spice, and sweetness from the Tomato. I had to declare that these sounded like the words of our regular Curryspondent, Howard.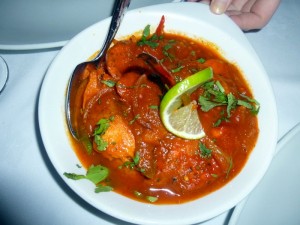 Sophie and Verity had different experiences with their Chicken Zhalfraizi. Sophie was – Brought to tears, too overwhelming, and couldn't eat the Fresh Green Chillies. Verity was expecting more Vegetables. She thought the Chicken was of – Good quality – but went on to describe the Garlic Nan as being more like a Butter Nan – Not enough Garlic. She also objected to being charged £2.20 for a Flat Coke.
Gaby's Chicken Pasanda was described as – A Very Sweet Korma with a Tiny Kick. Caleigh was disappointed with her Lamb Pasanda.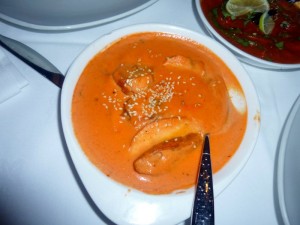 She – didn't expect it to be so Mild, and the Lamb was far too Chewy. So, three Lamb Dishes in total, and each one had Meat that was not up to the expected standard.
This leaves Chicken Korma, The Kiddy Curry. Emma considered this to be – Bland, more tasteless – than her usual Korma, whilst Fiona found it to be typical and what she expected. Emma thought there was too much Sauce and not enough Chicken. Megan enjoyed hers but also considered the Portion to be Small. She was very vocal about the length of time it took for the Meals to arrive. Rebecca spoke most favourably about the Korma – Really Tasty – but found a Bone in her Chicken. Miss X also thought there was too much Sauce in her Chicken Tikka Masala but found it Tasty enough. She also hoped for Pink Coconut on her Nan.
Those who shared Rice considered the Portions too small to do so and thought the Rice was on the Stodgy side.
So, out of 13 Covers, maybe 3 are really positive. Time was against us. Marg started sorting the Cash, I asked for The Bill. This took an age, why keep us all in? Why not expedite our departure and free up the space? Again, after an unnecessary amount of time The Bill was presented. We had amassed £210.00, cash.
The Bill
£235.55. What? For the record, Hector's share was some £20.20, around a Fiver more than I would pay for the same in Glasgow.
Scrutiny was required. £24.20 was for Soft Drinks. Only one Glass bottle had been brought to the table, the Sparkling Water. £13.00 for Poppadoms. They are having a laugh, the Dips were on the table when we arrived suggesting Complementary Poppadoms to follow as I believe they were on my last visit. I looked at The Menu, Interesting… And then I spotted The Killer £21.50, a 10% Service Charge, why? Again I studied The Menu.
The Aftermath
Marg assembled The Troops and started the march back to the Mini Bus, we had an appointment at The Movies. I went up to the Counter and asked to see whoever was in charge. The Waiter at the Counter looked at The Bill and I went into full Hector mode.
Can you show me the price of a Poppadom on your Menu please? He couldn't, it wasn't there. Charging £13.00 for Poppadoms is ridiculous – I told him. They are usually inclusive.
I pointed to the Service Charge. He told me there is a 10% Service Charge for groups of Five or more. Can you show me where it says that on The Menu, or anywhere else in the Restaurant please? Again, he couldn't. I feel a Campaign coming on. Why do restaurants think they can do this? One is doing them a favour by turning up in a single body rather than dribs and drabs Do they not want £200.00 of Business?
He played the – I only work here – card. I reminded him I had asked to see whoever was in charge. I have brought you a large Group of Kids, on a Budget, you seriously cannot expect to get away with this extra 10%. I have brought you Business.
The Bill was added once more without the Poppadoms and the Service Charge. £201.55. This was within acceptable parameters. There was now a Modest Tip.
I issued my Calling Card – A Review of this evening shall appear shortly.
Conclusion
Nawaabs is currently no more than a Mainstream Curry House selling Bog Standard Curry. I thank them for seeing sense with The Bill, however, they can no longer occupy a place on the Curry-Heute List of Hector's Recommended Curry Houses. Surely the City deserves an outstanding Venue? I am assured that it is worth driving to Echt in the depths of Aberdeenshire.