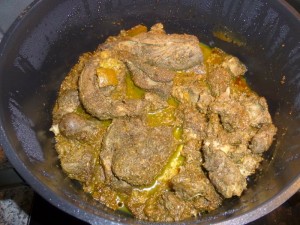 The local supermarket has not been selling its full quota of Lamb of late at full price. Hector has been walking out with some bargains. With three differing bundles, Gigot Chops, Neck Fillet and Diced, another Home-Cooked Curry was mandatory. Last night the Lamb was oven cooked in its own juices having been shrouded in Garam Masala and one third of a jar of Lime Pickle mixed through. After some ninety minutes a very Dry Curry Brew had been created.
It was then Marg announced she would not be home for food this evening. The Lone Diner, Home Alone.
The Masala was prepared as per the standard Lamb Bhuna Recipe. The advantage of pre-cooking the Lamb in this way is much less attention required on the day of serving. Fresh Coriander, Potato and some Yoghurt were the final additions. The results were visually stunning, so what about the Taste?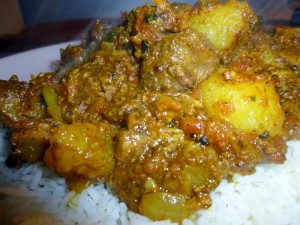 With the varied Lamb there was varied results. Some Lamb, the Neck, was decidedly overcooked but the majority was bang on. The Lime Pickle gave the required Tang. Not over-spiced there was a definite Kick, one wonders if Marg would have coped. A Dry Curry, Hector-style.
Now, what to do with the two large helpings leftover… Robin?