Eating Curry for Cherritty, what finer way to spend a Friday evening?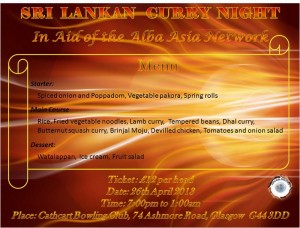 Long standing friends Graham and Maureen were once again part of the organising group behind this Charity Event raising funds for the Street Children of the Indian Subcontinent. Eleanor and Steve took little persuasion to return having enjoyed the event last year. Steve, Marg and Hector were amongst the first to arrive at The Cathcart Bowling Club. Eleanor was along soon afterwards. Hector was the only non-driver, so no Sparkling Water tonight!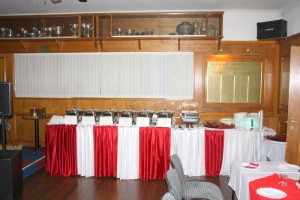 Being creatures of habit, we chose the same table as last year. Michael would arrive with Graham some time later, however, the highlight of the evening would be the rendezvous with a Curryspondent. Archie is a regular reader and commentator on this Blog. I welcome also his Environmentally Friendly Colleagues who I am told are led to this site every Monday morning. Having never met Archie, I put it to him that he would recognise Hector, he did. In fact Marg was outside on the phone and he spotted her on entry. No problem. Archie was in the company of his Dear Lady, Maureen, a night eating and talking about Curry – Heaven. Archie is a regular at Yadgar, The Village, Café Salma and the Punjabi Charing Cross. He has yet to visit The Khyber, I bet he does very soon! We both seek the same thing, Curry with genuine Flavour and not Soup. Whilst we both frequent our favourite places often, we also realise the need to keep searching for new Curry Experiences even though there is the inevitable realisation that many of the established Mainstream Venues tend to disappoint.
Archie arrived bearing a Gift – Alamgeer Curry Masala – which he picked up in a Grocer in Albert Drive.  I am assured this has the Wow Factor!  Now is this not what hosting this Blog for three years is all about?
Four of us were served the Starters as we sat down. More would come as the others joined us. Spiced Onion and Poppadoms, Vegetable Pakora and Spring Rolls were in plentiful supply. Last year we were somewhat tentative in asking for more as we did not know the score. This time we knew there would be loads available. We also knew there would be a sizeable gap in the serving of the Starters and the Mains, plenty of time to let the Pakora go down.
Graham was able to supply me with a list of the names of the organisers, apologies to anyone whose name is misspelled, this can be corrected, if advised, later.
The Alba Asia Network
There's more…
those who made it possible
Sulochana Asmone, Ashe Asmone Maureen Anderson, Damian de Silva, Roshell de Silva, Anura Silva (Sulon?), Gamini Hettiarichi, Amal Kumarage and finally the Chef: Suneth Waidyrathana. I photographed as many as I could without being intrusive.
It was time for the Mains, we were invited to queue along the corridor outside, this gave space for those sitting nearer the food. The Lamb Curry was the Big Attraction, however, the array of Interesting Vegetables were also scooped on to the plate with great anticipation. The Devilled Chicken was not sampled yet it looked Delightfully Dry. Best to leave some for those who prefer Chicken.
Lamb Curry, Devilled Chicken, Brindjal Moju, Dhal Curry, Tomato and Onion Salad, Tempered Beans, Butternut Squash Curry Rice and Fried Vegetable Noodles were in plentiful supply and were constantly topped up. Nobody would leave without an Elegant Sufficiency, indeed many went back for more.
One has to accept that Buffet Curry will never be too taxing, the masses must be able to eat it. The Lamb although very Tender was served in a pleasant but towards Bland Masala. More seasoning and more of a Kick would have made it wonderful. The Kick would come from the Dhal Curry. This was also Dry and received positive comments by us all. I had spotted the Brindjal Moju as I queued in the corridor. A blend of Onion and Aubergine this was a first time experience and most impressive. I shall look for this in future as a suitable Accompaniment or Side Dish. The Butternut Squash was also a first, similar to Khadu this was a suitable base for a decent Vegetable Curry. The Green Beans also gave a lovely Crunch and added to the array of textures on the plate. Splendid, Hector went back for more Lamb Curry to mix with more Dhal, now we are talking…
and even more…
more still…
The Raffle
Steve left straight after the meal, the rest of us spread our raffle tickets across the table. Michael won twice, and Eleanor who never wins anything won some Chocolates. At the very end of the draw, Hector went up to blindly choose a package – Fork Handles.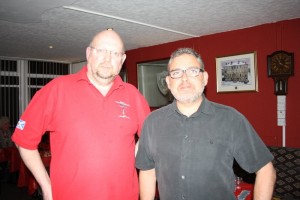 And so farewells were exchanged, Marg and Hector will certainly meet Archie and Maureen again. In the meantime Archie has expressed a desire to join The Brave who visit Yadgar and ask – To be fed...
One hopes that a significant sum was raised. Graham's Sweeties would no doubt top this up. Same time next year?