T'is the Eve of The Great Day, what better way to raise the level of Anticipation by reporting on a second new Curry Venue on Curry-Heute? With Dr. Stan at the Bedford-Bamberg Bier Festival, and no 'Plane available at a sensible time to Luton, Hector was once again a candidate for the Lone Diner. This evening's venue is Rishi's Indian Aroma (61 Bath St., Glasgow, G2 2DG). A runner up in a category at last year's Curry Awards this place is long overdue a visit. I tend to write often about places being long overdue a visit. That reminds me, there has been no contact from a certain Promotional Company this year, we have no mutual needs this year it appears.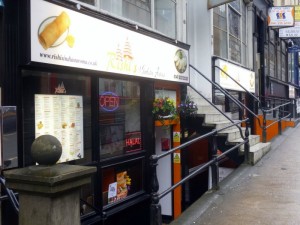 From the exterior Rishi's looks more Café than Restaurant. It is a basement location so hard to tell. On entering I was greeted immediately and taken to the right in the window area and shown a small corner table. I could have got into the squeeze but I would have been a metre from an adjacent couple. I communicated facially that this was not a good location. The Waiter then offered me an small table in the middle of the various couples dining. He then had a brainwave and took me down a few stairs to the main Dining Room. This was large and spacious. I was given another small table in the middle of the room. There were dozens of empty tables, why do they do this?
The Waiter gave me a moment then came over to take my order. A Menu would be useful – I suggested. He brought a Menu then stood, pad in hand, ready to take the order. Now the Menu had to be considered, carefully. There were many Indian Dishes not available in Glasgow's Northern Indian/Pakistani Restaurants. Suddenly the Waiter realised he had to give me more time. That was the last I saw of him.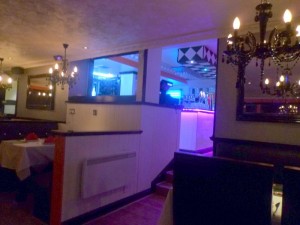 Hector spotted Chettinadu, a Firm Favourite when served at The Indian Mango (München). Available in both Lamb and Fish I was put off by the Coconut, but it did claim to be Spicy. Next time. The Lamb Kadai looked as close to a Punjabi Dish as I could see, it claimed to have Herbs, a plus. No Chapattis were evident and the Breads were extortionate, Aberdeen Prices! There was a couple of Exotic Rice Dishes, each over £4.00. One was unpronounceable and sadly I could not record it accurately and so Shilababa (sic) is how it shall be referred to until a Curryspondent tells me correctly.
A new waiter appeared. I asked for the Kadai without, he said he would check with The Chef that the Capsicum could be withheld. Always an amusing moment, as if it was a Key Ingredient. I enquired about the Bababobby (sic) and was firmly told that this was a Dish in its own right and would not do well accompanying a Curry. I was directed to the Main Rice section on the Menu. I hadn't got there, the Menu was full of distracting names of Indian Puffy Dishes that have little interest to The Curry Hound. The Mushroom Rice was also over £4.00, £4.29, wtf? I was led down this path blindly and order Mushroom Rice. With hindsight I should have ordered the Babableba (sic), it might have justified the cost.
Whilst waiting for the Curry to arrive I had time to reflect on Glasgow' City Centre's ever changing appearance. A Landmark Building is being demolished, the Odeon, Renfield St. As well as being one of Glasgow's oldest cinemas, it also doubled as a live venue before it was converted to three screens in the 1970s. Famously the only ever Glasgow Performance by Beatles Band (1963/64) was at this venue. One assumes the Façade shall remain?
The Good Waiter brought the Food. The Kadai was served in the smaller of the Karahi pots that are prevalent in Glasgow, and are no doubt standard in say, London. The Rice was served in a Glasgow sized metal dish. Indeed the Rice looked Mountainous in comparison to the Curry, easily enough for two. The Mushrooms were Fresh and significant in their presence. I did not feel conned by the expensive Rice any longer, just puzzled as to why they would serve Rice in this manner at this price. In Bradford, Rice comes included.
The Kadai had large Lumps of Lamb shrouded in Large Slices of Onion. Am I not glad I managed to avoid the Mushy Green Vegetable? The quantity of Meat was sufficient, the Lamb slightly on the Chewy side but still very palatable. The Masala was Thin and definitely Mainstream. The Seasoning was sufficient and the Kick was tremendous. Slices of the Large Green Chillies had been added at the end. A couple of the Dark Red Chillies I associate with South Indian Cooking were cooked in the mix. Occasional Aromatic Flavours swept through, Cardamom. The task of eating was frustrated by the Cutlery. The Fork was easily the most useless Eating Weapon I have ever tried to use. Far too small. Fine if this was Nouvelle Cuisine, not for Wolfing down Curry.
Still, overall this was a worthy Curry, a worthwhile experience.
The Bill
£13.28. £8.99 and £4.29. No Sparkling Water, I felt I was paying out enough.
The Aftermath
The Calling Card was presented and no remark made. I will certainly try this Venue again, Fish Chettinadu…