The Aftermath of the Main Event of the day was drawing to a natural conclusion.  I refer to The Wedding of Craig and Yvonne, not the lunchtime Curry with Marg at Mother India's Café. Marg had retired thereafter, she needed some rest.
Ricky, The Man from Bradford, and his friend Mick who last featured in a Krakow Curry Report were hungry.  Where are we going for a Curry?  From The Laurieston there is one seriously close venue, especially when Mr. Boyd is going to be in tow.  The New Karahi Palace (51-53 Nelson Street, Glasgow, G5 8DZ) is one block away.  I phoned to ensure they would still serve four Diners at 23.00, no problem.  This is an ideal venue to take Two Men from Bradford.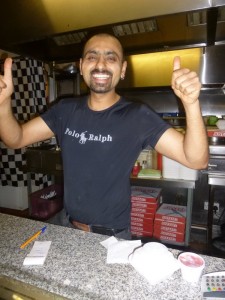 Shahed welcomed us with his now customary smile.  This is what The New Karahi Palace has badly needed.  We stood at the counter and inspected what was on offer.  The last couple of visits have not been at the ridiculously high standard I have come to expect at this venue.  I would take no chances this time.  Karela?  Fine, served as Dry as.. , well-Seasoned and with extra Methi.  Plus two Chapattis please.  Mr. Holden listened and decided this would his order too.  Mr. Boyd joined the gang but asked for a lower Salt content.  Mr. Boyd also insists on Rice.  Is this because he likes Rice or because Ricky always gets wound up?
As in Krakow, Mick had something off the wall, literally.  The Wall is where the Menu is posted.  Onion Rings followed by Tarka Daal with a Nan. I have seen Mick eat Meat.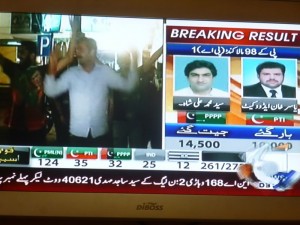 Rasheed, the Chef, was no doubt grateful that the order was this simple.  The Tarka Daal was on display and so just needed re-heating.  The Lamb (on-the-bone) Karahi Karela times three should surely be a labour of joy.
It was election night in Pakistan, I know a Voter, or two.  The results were coming in…
Mick's Onion Rings were first to appear.  Served with a Cold Sauce he was getting stuck in when some Chapattis appeared.  Shahed would top the Basket up as and when.  These Chapattis are the Real McCoy, Substantial and not the Wafer-Thin samples served in so many outlets.  And if one insist on charging for them the price is certainly within acceptable parameters.
Here come the Karahi!
When the Curry at The New Karahi Palace is on top form it is as good as anywhere else in the City of Glasgow.  Tonight it was up to standard.  The Bone content was not excessive, the Lamb cooked exactly right.  The Minimal Masala was well seasoned as asked for, save Mr. Boyd's.  The Karela was not just sliced and added in; it was part of the Beautifully Thick Masala as was the Methi.  This was a Bitter a Masala as I have ever experienced.   Methi and Karela, Hector's favourite combination, and Dr. Stan is still in Bedford…. It makes the Bitterness even Sweeter.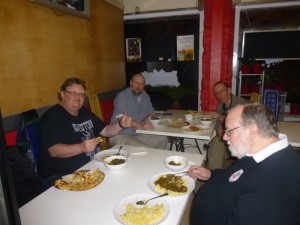 When it's this good it makes me want to go straight back for my next meal…
The Bill
£36.60.  No Starters, no Drinks, just Curry for Four.  And not just any Curry, one of The Best.
The Aftermath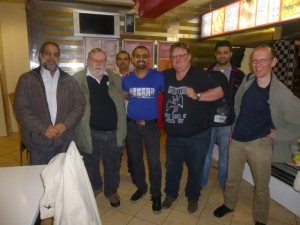 A Taxi was arranged as we were all headed North West.  The Staff were waiting for us to depart.  On our leaving there had to be a Mass Photo.  There are other Chaps behind the scenes.  Rasheed is The Man.