No sooner had the Weekend Trip to Cambridge been conceived than Lord Clive of Crawley was informing Hector of an potentially outstanding Takeaway near the Traveldoge where we would all be resident. Clive listens to Radio 4, here he gleaned the saga of Inder's Kitchen (43 Clifton Rd, Cambridge, Cambridgeshire, CB1 7ED) located in an Industrial Unit behind Cambridge Station. Clive had made contact with Mein Host by email, an invitation had been extended to visit. This was followed up with a phone-call yesterday. It was suggested we go at 15.00, ironically the exact time Hector would normally start a Saturday with a Late Lunch/Early Dinner. But we would be some distance away from base by this time, there was also the matter of allowing time for today's Midday Curry to settle.
Around 19.00, we hailed a taxi from Jesus Green and headed towards Inder's Kitchen dropping off Marg and Maggie en route at the Travelodge. Both needed a Time-Out.
With no Shop, I had to open the door of premises to secure a Menu. We went back outside to make our choices. By this time we were already in conversation with the Delivery Drivers. The Main Chap's moped was now off the road, he would spend a considerable time with us both inside and out. We were permitted to re-enter the Unit to place the order, by this time Mein Host had worked out who we were, but was far too busy to engage us. A well organised Curry Machine was in operation.
Lamb Rogan Josh looked the best dish for Hector, – Our ever popular Kashmiri curry, with lean leg of lamb diced and simmered in onions, ginger, garlic and tomatoes. Clive spotted Pork which is certainly rare on our (Punjabi/Bangladeshi) local Menus. Pork Sorpotel for Clive – A classic Goan Christmas dish which may have been partly created by the Portuguese settlers looking for ways to preserve meat. Sweet, sour and fiery! – it claimed. The Accompaniments were not a straightforward choice. Vegetable Rice was over £6.00 and so a share of Steamed Rice was more realistic. Cumin seed tava nan would back this up. Two pieces made up a portion, a fact we would forget and be partially enraged by later when we thought we had paid around £2.75 for one.
The Bill #1
The figure of £23.00 comes to mind. We may have received a discount for – Being there -, the quality of the conversation with the Main Driver kept us amused. In fact it had to keep us amused because we found ourselves waiting for a very long time.
We were stood at the laptop and watched the orders come in on-line. The phone rang every few minutes and so Doris was kept busy processing the orders. I asked the Delivery Chap what happened if they were very late or made errors. He then outlined a discount scheme or the choice of a Complementary Chocolate Brownie which he described as – to die for. Knowing that Marg and Maggie would certainly not welcome us back empty handed with this tale, two were requested. For legal reasons we had to go back outside as the Curry was not allowed to change hands indoors. We were then asked for another £6.50 to cover the Brownies. Better be good.
The Bill #2
£30.00-ish in total. Clive had also arranged for us to be supplied with Paper Plates and Plastic Cutlery as we could not expect to eat in the Travelodge dining area, and Fingers was the alternative.
Eventually
And it was a long time, near enough an hour because FC Bayern were already a goal up on Dortmund by the time we walked back. No plates or cutlery were supplied, even when I went back in to ask. We won't mention that Marg had locked herself out of the room in her excitement at me phoning to say I was on my way. (oops) Crockery Plates and Metal Cutlery were supplied by the Travelodge with no fuss whatsoever. Clean plates and utensils were returned afterwards.
The Unveiling of The Curry
WTF? The Nans were Tiny. Just as well I kept a Menu to verify that it was two for the price charged. The Curr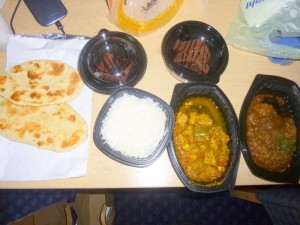 y was even Smaller! Is that it?
I immediately counted the Meat, 8 pieces of Lamb, it looked much less. Within acceptable parameters? Maybe not. When scooped on to a Half Share of the Rice the portion still looked Decidedly Small. This would not be a Feast. When once considers the quantity of Pakora alone one receives in a Glasgow Tea-Time Special Takeaway, never mind the Volume of Curry to follow, this was simply nonsense. Never mind, it might still be an outstanding Curry, after-all they were up for an Award.
Hector has absolutely nothing to report on the Taste Front. Three Green Cardamoms made an appearance on the side of the plate, to no effect. The Nan was decidedly Salty, just as well, it was the only part of the meal which had any strong Flavour. It was Curry, I love Curry. I have never had one, I don't know, but I imagine a Takeaway from Asda would on a par with this.
Meanwhile Clive was announcing his Disappointment, over and over. Quiet Noise (?) was his Overall Verdict. I think that's what he said.
If the Good People of Cambridge are happy to order from Inder's Kitchen then then don't let me stop them. Surely Mill Road has better to offer?
There's More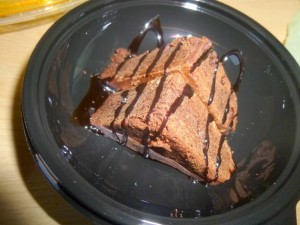 The Brownies. The smallest pieces of Cake  sat in the plastic container. £3.25 for this? I have a Pizza brochure sitting beside me as I write, offering four pieces of Chocolate Brownies for £3.29. Nothing special – said Marg. Quite solid, Brownies should melt in the mouth. Hector wouldn't know, he has never seen the attraction. No Chocolate in it whatsoever – was Maggie's verdict.
As Clive would later remark – At that price I expected a Girl Guide, not a Brownie.