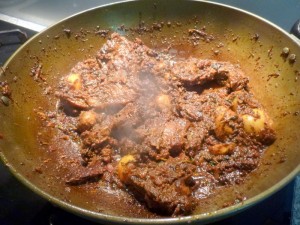 The Hector Curry intake in May reached Rock-Bottom. Today may may the eve of the weekend, more Curry-Heute Reports will make an appearance. This is now and 8 Lamb Chops were crying to be liberated from Sainsburys.
Hector does not possess a Tandoori Oven. If any are going spare please contact. The Chops were sealed in Oil and Gram Masala, meanwhile the Masala was cooked separately as has become the Hector way. Fresh Coriander and Dried Methi were added early. A Generous Dessert Spoon of Karela Pickle was the only variant. Last time I overdosed on this, hopefully this quantity will add rather than dominate. The Tin of Crushed Tomatoes was the only Liquid added. Minimal Red, minimal Liquid. Dry.
The two parts were joined and simmered for about half an hour. The Chops being quality Lamb did not require hours of cooking. The Par Boiled Potatoes and Fresh Mushrooms were the added Interesting Vegetables. I have always claimed to be able to make a Curry look like anything served Professionally. This looked the part, now to wait for Marg.
A small quantity of Boiled Rice would accompany, not ideal and so two Chapattis were prepared. The instructions were followed but they ended up too Crispy, Disaster for Scotland, sorry, that's tomorrow night. .
Marg's first reaction – The Methi!  She didn't spot the Karela Pickle, I had this bang on. The Tang of the Pickle and the Bitterness of the Karela and Methi – Gosh!
Marg's next comment was to claim the Dish was – Too Spicy? She did complement the Quality of the Lamb.

No way! This was surely well within acceptable parameters?
Another verdict is required. I know someone who may enjoy 2 of the 8 remaining Lamb Chops.
To be continued…
C-Day plus 1.