Summer has arrived in Glasgow! The Trains are off, no explanation offered, no help to get into town, no change available for the Bus, start again.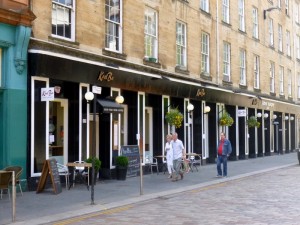 Had I taken a Train I would have arrived at Koolba (109 Candleriggs, Glasgow, G1 1NP) much earlier than my normal 3pm Curry Time. Neil contacted me at six minutes to three to say he was joining me. He was just arriving as I crossed the road to take The Photograph. I only know of Koolba by Reputation, I was anticipating a walk upstairs, but now know that is another Venue. When one enters an Award Winning Restaurant, one's expectations are high. The Young Waiter asked if I had a Booking. Do I need one at three o'clock in the afternoon? – was my bemused reply.
We were shown to a table which sat four in the middle of the room. The other settings were quickly removed. This is a Bright, Airy Room. Seven Diners were in situ, two more would be sat at a smaller table right beside us. Cosy.
A Drinks Card was presented, I did not bother to look but Neil drew my attention to the availability of Quality Bier, but at £4.75 for a bottle of Weihenstefan Weizen, this was dismissed. Something made me ask for Soda Water instead of my usual Sparkling Water. Perhaps subconsciously the sight of Fonts at the Bar had made me think that Squirty Soda would be available. A Pint would have been in order given the outside temperature. In the end I was given a 200ml bottle of Soda. Neil ordered Still Water and received the normal 330ml Bottle. The Prices of these was unknown at the time of ordering.
What I assume was a Lunchtime Menu was dismissed. I am always happy to pay the Full Price to eat a la Carte, unless of course the recently experienced order anything at Buffet Price, is on offer. The horrible thought of possibly being given less than a Full Portion comes to mind. The Menu revealed that the Dishes at Koolba are on the Pricey side. It would be £11.95 for my Main Course. Given the Merchant City location one expects to have to pay that bit more, I suppose.
I had narrowed the Choices down to two, Lamb Karahi or Sabzi Gosht. The latter featured Tender Lamb and Mixed Vegetables, it sounded ideal. Neil chose the Karahi. I asked for the Sabzi Gosht to be served as Dry as the Chef could manage. Not knowing the style of their Dishes, I was determined to avoid Soup. I ordered two Chapattis (£1.35), Neil the Basmati Rice (£2.75).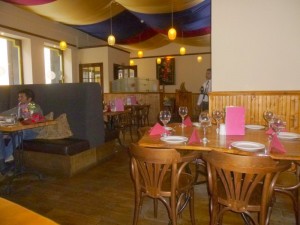 Whilst we waited and did our best not to hear our Neighbour's Conversation, Neil considered that that this Venue may have been a Persian Restaurant Originally. I am told that Glasgow has one Iranian-owned Restaurant, is this it? Unless there is an upstairs, I estimated that Koolba could sit around Fifty Covers simultaneously.
Koolba have been Following Hector on a well known Social Media Application. I Tweeted to say – Hector is here, now!, there was no response. Koolba are holding a Blindfolded Curry Night later this month. I had given some thought to attending this but how can I take Photos if I am Blindfolded? We shall see. (sorry)
The Curry was presented in a Soup Plate, this is ideal when eating with Chapattis.
Neil's Rice was served in a smaller Bowl leaving the dilemma of what to do with it. Cover his Karahi, mix in a bit at a time? In the end Neil chose neither. His Dinner.
It's Curry Jim, but not as we know it – was Neil's observation. A Spicy Tomatoey (?) Stew, as one might experience in the Mediterranean, with Rice on Top – was his verdict.
I counted Six pieces of Lamb in the Sabzi which I immediately halved else I would have been finished in minutes. Cauliflower, Carrots, Peas and Tiny Pieces of the Dreaded Capsicum made up the Vegetable Component of the Dish. I could taste all of the Vegetables as individual Tastes as I ate, remarkable. The Lamb was Tender, the Dish Spicy. The Masala was thankfully Minimal. The Chapattis came individually, a Decent Size, Fresh and Flowery, there was a Crispiness unfortunately forming as I reached the end.
This was a perfectly Good Curry, but there was nothing outstanding that would make me want to rush back.
The Bill
£32.85. Given the Price of a Main Dish this was as expected. However I started to do the sums for the Soda Water. At £1.80 a Bottle this is in effect £9.00 a Litre. Maybe a Bottle of Weissbier (£9.50 per litre) is not so over-priced, but the Soda?
The Aftermath
The Calling Card was received with apparently some interest as I could see one Chap on the iPad as I left.
How was your Meal? I was asked.
It was OK, not outstanding. – was my honest reply.
Across the River Clyde at the Allison Arms waited a Fridge full of Deutsche Bier at a much more Modest £3.60.