With a CAMRA meeting in Rutherglen this evening there was the opperchancity to put this town in Curry-Heute. Having passed through Rutherglen for decades and never having set foot in the town, Hector was determined not to let today's Lunchtime Curry Extravaganza put him off. The Bombay Leaf (209 Main St, Rutherglen, Glasgow, South Lanarkshire, G73 2HH) was too big an attraction to miss. There are positive reviews everywhere, was I in for a treat?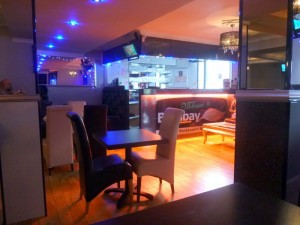 A Party of some Fifteen People sat in the middle of the Restaurant, complete with about Five Weans, more Weans. I was shown to a side Booth out of sight of the Party but certainly within earshot. The Menu was brought by Mein Host and the order for Sparkling Water given. There is a BYOB Policy operated here with no Corkage Charge, decent. The Soft Drinks (Cans, I believe) were priced at either £1.85 or £1.95, ironically a Litre of Sparkling Water cost the same, but there was none. Soda Water it was then, served by the Glass. This may well be how they make their profit. Bring Bier.
The Menu was not lengthy but I did have a choice of four Dishes. The Karahi Bhuna stated – an abundance of Capsicum and Onion – so lets not go there. Keema Mutter was also available, but Hector has plans for Friday. Methi Murgh was a possibility, but as Methi Gosht of course. This would be the fall-back if the strangely titled – Lamb – was not available. Lamb was in the Chef's Specials as Lamb on-the-bone – when available. It was, oh good. Two Chapattis (80p) would accompany.
A Young Waiter brought a Large Karahi, one could not help but sit up. Large Bones were visible, however, there was no doubting the size of the Portion. Other Venues take note, no need to skimp when Lamb is on-the-bone. The Chapattis were bang on too, Large and Substantial. There was a lot of eating in front of Hector.
The Lamb was particularly Tender. The Masala was by no means Runny, it was Thick with Strips of Onion. At first I thought I had discovered a brand new Taste Experience, however, there were Undertones of Asmaan, The Onions had been Caramelised. Sliced Green Chillies had been added to give the Kick required. Mein Host came over and enquired as to whether the Dish was too Spicy for me. No way. But given recent verdicts by others as to what is Too Spicy, maybe this is simply The Norm to Hector. The Young Waiter also checked on me. Given the staff were trying to turn out the order for Fifteen at the same time, this was good Personal Service.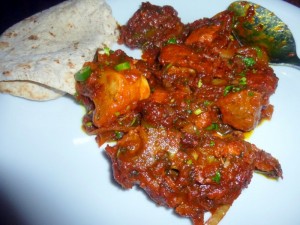 I soon came to accept that this would be a 1.5 Chapatti Curry. The quantity of Lamb was most impressive, the Flavours were subtle. The occasional Coriander Blast came out.  One hoped for – The Wow Factor, but not quite. Still, this was well above the average. Three Tiny Slivers of the Dreaded Capsicum revealed themselves, not a worry. It is Wednesday Night and Hector is eating an impressive Lamb on-the-bone in a Venue previously unknown. I am impressed.
A thought passed through Hector's mind, it does occasionally. This is easily the best Curry I have had this month, so far. Perhaps it is time I started a Curry of the Month Award?
When it was clear I had finished, Mein Host returned again. He knew he had never seen me before and asked where I was from. I suppose Lone Diners do not typically arrive midweek and ask for this Dish. I told him I had come to Rutherglen to eat Curry and offered the Calling Card. He assumed I was selling something and so showed the Website to prove otherwise. I am a Curry Enthusiast, not a Professional. He of course recognised the Recommended List. A pleasant chat such as this always enhances the Hector Curry Experience.
A worthy venue with impressive food. Watch out for The Weans.  I would like to think that I shall return, one day. Methi Gosht, on-the-bone?
The Bill
£11.25. This was great value. The Soda was a little over the £1.00, I think.
The Aftermath
Yes there was the CAMRA Meeting, but then there was the problem of getting home. For the second time in five days, No Trains. WTF?