Watching Rick Stein in India last evening put Hector in the mood for Fish Curry. A rare mid-week outing would permit indulgence, the Ravi Machi at Café Salma was the intended venue. If I knew I had forgotten, Tuesday is Rest-day.
Where to now?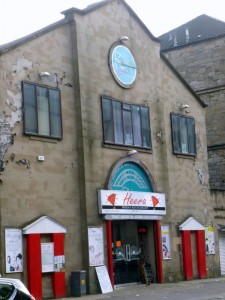 I had recently noticed that PJ's (15-17 Kent Road, G3 7EH, Glasgow) formerly known as the Madras Palace and more recently Panjea, had changed. Whether this was a Re-branding (again) or a Takeover was unknown. On entering the mystery was immediately solved. I was greeted by the Waiter who thinks I write about Curry for the Daily Record, yes, Him! I enquired as to the change of name and was told that PJ was still here, in fact he has just won Chef of the Year in the Scottish Curry Awards under his full moniker – Purvalz Mohammed.
Seventeen Diners plus two Weans were already seated. The Buffet at £11.95 was the attraction for them. Mein Host fetched me the Menu having established I would eat a la carte. The Sparkling Water was ordered, no repeat of the Pint of Soda that proved to be extortionate on a Curry Night some years back.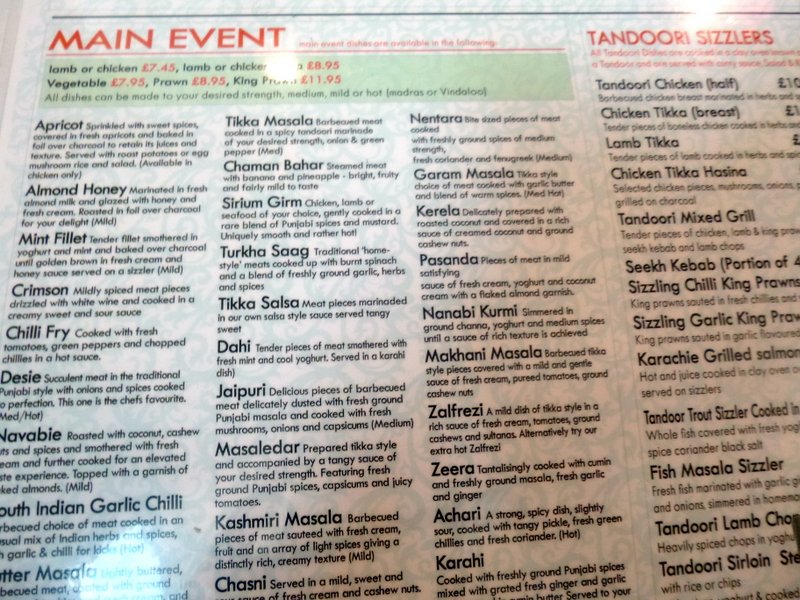 The Menu was on a Laminated Sheet and appeared new. I was given more time and then asked for advice. It was remembered I had ordered the Karahi last time. There was more on the back-side. I was shown the Tava Specials – Desi Palak Gosht, far from the planned Fish,but suddenly feeling attractive. This was agreed (Hot) and a Plain Paratha which I read the Menu as being inclusive in the £10.50 price.
I was promised Complimentary Poppadoms and (?), I don't know, they never came.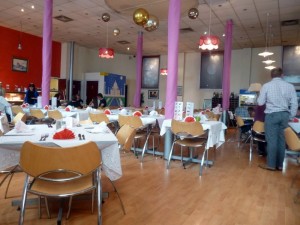 I sat taking in the scene. This is a very large room, and there's an upstairs. Four Mature Ladies were here for The Buffet. One had Mysterious Eyelashes, I couldn't focus, something strange, very distracting. Amusing myself, another Waiter came over to ask if all was OK. I was the only person in the room not eating –  I'm not having The Buffet.
After sufficient time to convince me The Buffet Pot had not just been Tweaked, a Large Rectangular Sizzling Platter of Curry and a very Decent looking Paratha was brought from the Kitchen. Was I glad I had declined a Starter, the Portion was Huge. I spooned out half on to my plate, I already had more than Seven Pieces of Lamb. The Masala was atypical, not the usual Green Gloop that many establishments serve, this had Character.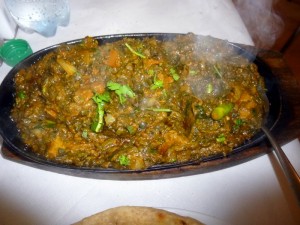 The Lamb was mostly very Tender, one Chewy Piece bubbled up. The Spinach to whatever other Green Herbs had been included was bang on. There was a sense of a slight Burnt Flavour but not excessively so. Pacing myself with the Wonderful Paratha, I enjoyed every Morsel. More seasoning, as ever, would my my only way of improving this Dish.
I only had a few mouthfuls to go when PJ, Himself, came over to chat. He confirmed his Chef of the Year Award. Who wins Awards? He realised he had to let me eat, and so gave me back my space.
The Bill
£13.50. The Paratha was not inclusive after all. Still this is the usual Price I pay to eat.
The Aftermath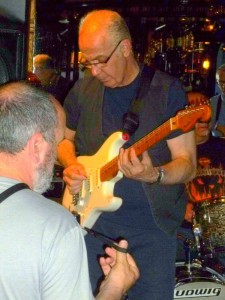 Tony was in town, he will never read this Blog entry but assures me he follows Hector on Bier-Traveller. It has been six years.
Bruce Somebody-or-other was playing Glasgow tonight, he cannot have been as impressive as the amazing Guitarist playing at The State Bar tonight.
En route to Charing X, I passed the King's Theatre, The Rocky Horror Show, and there at the Stage Door was the earlier Doris with the Funny Eyelids, also!