I don't know if I have mentioned it yet, but Hector is on Holiday!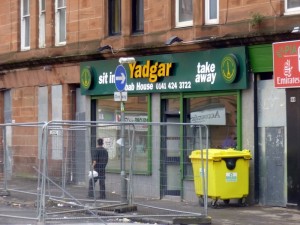 In the midst of the Mahogany (Teachers' New Year) Celebrations last evening, there was a realisation that Hector had not been fed since Lunchtime. This would have to be seriously addressed today – Curry-Heute! Dr. Stan was keen for a Lunchtime Curry, Steve would confirm by noon today. He is on Holiday too, I don't know if I have mentioned this already… Howard and Tracey were late additions. There was only one place to go when one is seriously Hungry – Yadgar (148 Calder St., Govanhill, G42 7QP). I texted Shkoor last night to asking he could Feed Three at 14.00. He advised that this could only be achieved at 15.30 at the earliest. At Noon I texted again to enquire – if there were Five Fish left in The Sea?
Arriving first today I saw why. The place was Stowed, I have never seen Yadgar so busy. It was a Friday Afternoon, this must have something to do with it… I am not normally at Yadgar on a Friday Afternoon, but then I am on Holiday!
When we ask To Be Fed, no Food Order as such is given, but Shkoor had verified that we would all eat Lamb Karahi al la Hector. Curry prepared in the Yadgar style with a Hector Refinement, what more can one ask for?
We were all assembled punctually, the Poppadoms, Hot Dip, Raita and Spiced Onion were brought out along with the Drinks. No Sparkling Water, what sort of place is this? Munching away on the Poppadoms I was approached by a Young Chap – Hi Mr. ******, you were my Geogr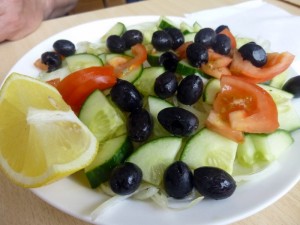 aphy Teacher back in S2. I recognised the Face but had to ask for the name – Kassif! My second visit to Yadgar in six days and the second person I have met with a Helensburgh Connection.
Ahmed brought an Olive laden Salad to accompany the Starter. When he laid a plate with massive Slices of Cod in front of Steve he gasped – What's this? I had advised Steve to eat nothing before coming today, he could now see why. One needs to have starved oneself for Twenty Four Hours do do – Being Fed, justice.
What type of Fish is this? – asked Howard. Scottish Cod, baked in Foil and covered in just enough Spice and Fresh Green Chilli to make it interesting. This is a Treat we keep for special Occasions…did I mention…? A Slab of Fish – was Tracey's remark. I'm full already!– was her next.
Dr. Stan and Hector are now old hands at this, we know that this is the perfect warm-up for what is to come. Fortunately Ahmed was on-side when I suggested a break was necessary between courses. This was after Naveed had passed the table and assured us our Mains would be here soon.
The Pending Renovations
Mr. Anwar Sr. knows us all. He came out to chat, this was a good opportunity to ask about the works going on all around. His observations about the progress was quite amusing. What will not amuse is when the Contractors decide the fate of Yadgar's Ceiling and Floor. Their fate has yet to be decided. I wonder if they do have to close for a lengthy period if the entire premises will get a makeover? Mr. Anwar discussed their consideration of Temporary Relocation but concluded this would be impractical. I suggested a Portacabin located outside. I was being serious.
Killed By Death
The Vegetable Rice arrived first. Two Portions between five, more than adequate. As is written, this is a meal in itself. Peas, Cauliflower and Potato to the fore. Sufficient Interesting Vegetables. One Large Karahi of Goshat Karahi on-the-bone (a la Hector) was placed at the far end of the table from Hector. Three looked on, I knew another was coming. Three Chapattis on a Basket accompanied the next Karahi, set between Dr. Stan and Hector. They know the score. Steve and Howard would demolish one Karahi, Tracey would assist. Meanwhile when Dr. Stan and Hector felt the Elegant Sufficiency was looming, we could offer any Surplus onwards. And so it was time – To Eat.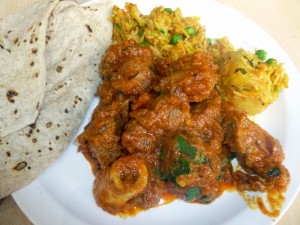 With a modest amount of Vegetable Rice spooned on to the plate and a Chapatti set aside I let Dr. Stan take the first portion. The Comfort begins before the eating. When one sees what remains and one knows the quality of what one is about to embark on … this is Curry, this is Pleasure.
Tracey remarked that only at Yadgar would she look at a Red-ish Curry with this level of anticipation. My conclusion is that Mr. Arshad must Blend some of the Onions to create the Thick Masala that Shrouds the Lamb. The Lamb of course was Perfect. Tender, but with sufficient Resistance. The Leg Bones invited Sucking, I did. It is well recorded that the Marrow from the bones adds significantly to the overall Flavour. Not everyone fancies Bones, they can be stripped and discarded. If you haven't had Lamb on-the-bone, then reconsider.
The Masala is what makes the Dish – a Curry. The Oil content looked a bit more than the Yadgar Norm, the Salt content was Sheer Perfection. No Salt = Bland Curry. That's the way I like it, baby, I don't want to live forever.
I remarked on the Seasoning to Dr. Stan who shares my Palate, I received a – Mmmm – he concurred. It became apparent very quickly that Splendid as Yadgar Goshat Karahi is, this was something Special. I can still recall my first Yadgar Curry and the Flavours that won me over instantly. This was another such moment, how can one improve on perfection? This Curry is as good as it has ever been – was my declaration.
Tracey somehow found another appetite. Steve sampled some of the Karahi which Hector and Dr. Stan had hitherto shared, just to ensure they were the same. Howard was dipping his Chapatti into the base of the Karahi knowing that in the Ghee is the source of another Magical Taste Experience. A Fourth Chapatti had been supplied just to ensure everyone was well taken care of.
Shkoor entered Yadgar and gave us his customary greeting. We were nearing the End Game, we were very quiet. I offered Euan's great quote – The Silence of The Lamb. There was one piece of Bone with an appreciable piece of Lamb attached, nobody would commit. We had been Fed.
Shkoor suggested that he should buy the Flats above Yadgar and let out Beds for people to recover. We could all have done with a Wee Lie Down.
The Bill
£75.00. £15 a Head was the expected Fee, this is what Shkoor announced. Tips are something I do not tend to report, but just in case anyone wonders, there is always a Tip.
The Aftermath
The Allison Arms was mentioned. A Bottle of Deutsche Bier to wash down the Curry. This also gave me the opportunity to get precise comments on the Food Served.
Dr. Stan is usually a Man of Few Words, today he was positively verbose – Brilliant Curry, one of the best I have had. Tracey was equally direct – Excellent as we have come to expect. Steve remarked – It's a same I had no more room in my stomach, it was very more-ish. Howard was giving dictation – Stunning, probably the best Yadgar Curry I have ever had! What stood out was the Spice content, it was significant without being overwhelming. The Length of the Flavour Lasted, a Real length of Spice, it kept on going.
Eh?
Dear Reader, it is fair to say that today's Curry-Heute must be regarded as a Lambmark (sic) Moment. There is no reason why Joe Public cannot phone in and ask for this. Simply ask to be Fed, Hector-style. Archie, name the day and I shall join you.
The next Curry-Heute will be interesting. How many Curry Houses are there in Tunisia?