Hector's First Curry in a Week, and his First since Andy Murray Won Wimbledon
Dum Pukht (3 Avenue du Boulevard,1053, Le Berges du Lac, Tunis) is the only stand-alone Curry house Hector has unearthed in all of Tunisia. Last week's Phenicien was a Tunisian Restaurant selling Indian Food. The Dum Pukht to be the Venue for our first evening meal in Tunis.
Les Berges du Lac is a new development with Hotels, Restaurants and Bowling prominent. Their cultural choices, not mine. I was just happy not to go more than a week without Curry in some form.
Dum Pukht, or cooking in a slow oven, is a term Hector first encountered in Scotland's first Afghanistan Restaurant – The Khyber. This is an alternative to their Excellent Karahi which is unlike anything else served in Scotland. If this was to be the style of cooking in this particular Tunisian Restaurant, we could be in for a Treat.
In the gloom of Dusk, Marg and Hector hailed a Taxi in Avenue Habib Bourghiba, just outside our impressive Hotel, The Tiba. I had copied the Goggle Map of my best found location for Dum Pukht to the Trusty Samsung. That the above address does not match the name given to the Main Boulevard through Berges du Lac did not help. That the Dum Pukht's Website says nothing did not help either. By the time this article is written, I would think that the number of words on T'Internet about this Venue will be more than doubled.
Passing the Main Roundabout we pulled in some 200m north of this obvious Main Roundabout. We were right outside Dum Pukht. For the second time today Marg was impressed with Hector's Navigation Skills (I had found The Tiba without looking at a Map today).
The restaurant has all the Hallmarks of being exactly what was required. Mein Host greeted us and passed us to a Young Chap who showed us upstairs. Upstairs was somehow on three levels, this was a Large Restaurant and we were the only people upstairs. Three more soon joined and I heard Fumeur mentioned. There were no ashtrays on any table near us and so when somebody did the nasty deed, they were relocated. Fine.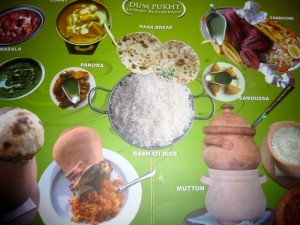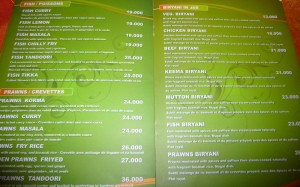 The Menu had the Classic Curry names with descriptions in French and English. A Beef Punjabi or the Mutton Karahi would be Hector's choice. The Centrefold had Photos of various dishes, some served in Clay Pots. This enticed Marg to order a Keema Biryani. Marg does not read Curry-Heute. A Pilau Rice and a Coriander Nan would be Hector's Accompaniments.
Mein Host advised me that the Mutton Karahi would be the better choice. I asked for it to be – Hot and Dry. He responded with – Not a lot of Sauce.  Marg asked for Medium.
The Sparkling Water would be our Liquid Refreshment, the first Venue in Tunis that we had found stocking it.
There was time to take in the Décor before a small Plate of Nibbles was brought to us by another Waiter. What bore more resemblance to Matzo than Bread was the Base to scoop up Home-made Lime Pickle and what was either Beetroot or Red Cabbage.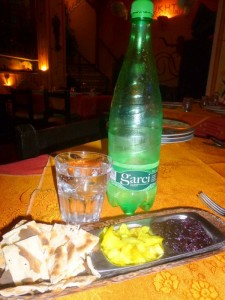 The Pickle was Seriously Tangy, the Red Stuff, Sweet. For those who cannot look at the Photos to see the Décor, it was Bright, never Garish and decidedly Different from the Norm. It worked.
The Decorative Plates which occupied every Place setting were set aside for smaller, white plates. (?) Marg's Clay Pot came first with the Bread Lid intact. The Waiter cut this open. Marg admitted afterwards that it was the Photo that had sparked the interest. She then embarked on a Dish which was Drier than anything served in Bradford. It was basically Spicy Rice with some Small Pieces of Beef through it. She was not over impressed, but accepts that this was her order.
I am not a Biryani Expert, but I am sure in the UK a small Accompanying Bowl of Masala usually accompanies a Biryani.
The Rice was in effect Peas-Pilau. This provided something of an Interesting Vegetable. The Nan was too Crisp, it was more Roti than Nan. Any Coriander had been Torched. Hector's Clay Pot arrived. Now if Marg had known this would be how the Karahi would be presented…
Photographic Rituals over, the Lid was removed to reveal a very Red Curry with some Yoghurt Stirred in. It was difficult to judge the Portion Size, but by the end I did not feel Hungry, and so the overall quantity of food ordered and presented must have been within acceptable parameters.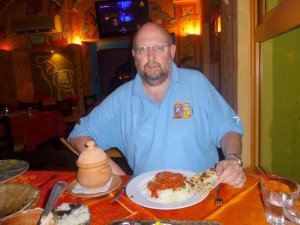 The Masala had been kept to a Minimum. The Lamb was on-the-bone – Yeah!
A couple of pieces of the Dreaded Green Capsicum popped up now and again, fortunately most of the Green was Fresh Chillies. The Lamb was Tender, if you can't get Lamb right in North Africa…
German Curry – was my first remark. The overall impression was that this was certainly nearer Curry than simple Lamb Stew. The Masala was not the thickest, if any Onion had been used in its creation, it had been pureed. As in last week, perhaps some Fundamental Ingredients were not to the fore.  The Kick was appreciable, at times.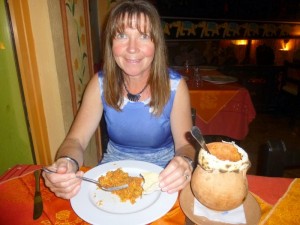 By the time I reached the Bottom of the Pot I knew I had a fairly Decent Curry. As I spooned the last bits of Masala on to my remaining Lamb, Marg was hoping I would have some spare. She knows how Hector eats. I can't say this was a Wonderful Curry, but in this Tunisian Wilderness it is way better than another night of Grilled Meat with Fries.
The Bill
49.500TND = £20.00. A Fair price.
The Aftermath
The Calling Card was offered as we paid. Mein Host accepted it without any query as to why it existed. Now that you have eaten are you still as angry? – were his final words.
That's a new one.