Behind the Scaffolding lies a Curry House – Yadgar!
Thankfully The Yadgar Kebab House (148 Calder St., Govanhill, G42 7QP) remains open for business despite the Redevelopment in the Tenement Block in which it is sited. Naveed suggested a Starter when I entered. This was declined. Despite not having eaten for some 28 Hours, somewhere over France at 30,000ft, Hector anticipated a Welcome Home Feast.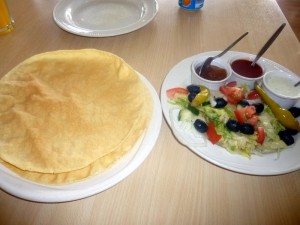 Mr. Anwar Sr. greeted me as I took my seat. Naveed brought out the customary Complementary Poppadoms, Salad and Dips. More Salad. I have seen a lot of Salad I the last two weeks, but not served with Pickles Chilli Peppers. The pre-ordered Karahi was no doubt in its final stages of preparation.
Officially, Goshat Karahi is sold by The Portion or The Kilo. The Hector Portion is evidently somewhere in between. With sufficient Masala to be considered Curry, the Large pieces of Lamb on-the-bone are always something to Savour, well worth the Photograph. The Vegetable Rice portion is also on the Large Side, but wait, what's this?
Somehow, pieces of the Dreaded Green Mushy Vegetable had been mixed in to the Rice along with the Potato, Onion, Mushroom and Peas. At least they weren't in the Karahi.
Chef #3
Mr Arshad was not on duty this afternoon. Another Chap was responsible for the Creativeness of the Goshat Karahi. Whilst still very much possessing the unique Character of the Yadgar Goshat Karahi it did not have the extra – Wow – Factor that was served up by The Maestro on the previous visit. When the Bar is set That High one cannot expect Curry of Olympic Gold Medal standards to be served every time. However, Yadgar Curry will always get a Medal Winning Place.
Capsicum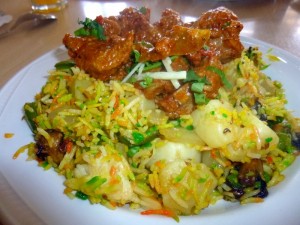 Shkoor entered whilst I was approaching the second half of The Massive Feed. A Brief account of the Tunisian Curry scene was described. He then noticed the presence of Capsicum on my plate.
What Have They Done?
This was put down to the fact that in recent times I have been ordering Chapattis as the Standard Accompaniment. However, when Vegetable Rice with this quantity of Vegetable is served, it cannot be ignored forever.
The Bill
£13.00. A Great Feed at a Great Price.
The Aftermath
Fish Karahi was discussed. Shkoor has assured me he will personally source some suitable Fish. Our Next Visit?
Our Next Visit
The Yadgar Kebab House will be the first Curry Venue to attain 50 Reviews on Curry-Heute!