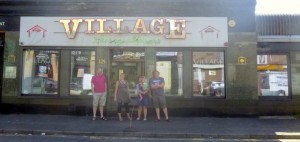 John, The Bradford Curry Blogger and his Family have been up in Glasgow this week. John and Hector have dined three times in Bradford with Curry enjoyed at the Sheesh Mahal (twice) and The International. Today was our first outing in Hector's Domain. It was John who suggested The Village 'Curry House' (129 Nelson Street, Tradeston, Glasgow G5 8BA) my second visit in five days. Just like The Old Days…
The Rendezvous was at 13.00. John, Lynda, Izzy, Ben and Juanita were already seated as Hector walked in as punctually as ever. The Bradford Crowd had been perusing the Lunchtime Menu, this was not for John or Hector. The Main Menu was requested, no problem. No we have choice.
Ben and Juanita, although now resident in Glasgow, had not been the recently refurbished Village. They could not fail to be impressed. It may have taken two years to construct, however The Village must be Glasgow's Premier Curry House for Ambience. Two other tables were already occupied, a few more groups would soon arrive for Sunday Lunch. The Food ain't too shabby either.
It was Ben who asked about The Buffet. He had spotted the serving dishes on display along the counter. I explained it was for the period of Ramadan (now) only. I also related that I was told they rotated the main dishes. Glancing behind I noticed the three Main Dishes that impressed me on Wednesday had been replaced by more interesting and contemporary dishes – Aloo Keema Mutter, Daal Mash and Bindhi Piyaz. One suspects the Buffet Fee would be worth it alone for The Village Potato, Mince and Peas Curry – as much as you can eat.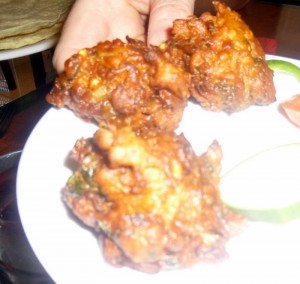 A Waiter I had never met before looked after us well. Sunday Lunch is not my usual time to eat in Glasgow. A Mixed Pakora and a Vegetable Pakora were ordered as Starters. Something with Chicken was ordered for Izzy too. She has yet to find Spice to be an acceptable sensation on her young palate. Hector kept his Appetite intact. Those who ate The Starers appreciated them. The Vegetable Pakora was three large pieces. I am to sure if this was due to Juanita and/or Ben choosing from the Lunchtime Menu.
Mr. Baig was passing the table and so I introduced him to my Bradford Counterpart. He was quite amused that we should be dining together. He should be appreciate that The Village was selected as our first joint Glasgow Venue.
The Mains
Ben ordered a Lamb Curry with Roti and Juanita the Vegetable Curry with Rice. At least one of these dishes was from the Lunch Menu. More Kiddies Food was ordered for Izzy. I had suggested that somebody should try The Village Desi Korma, the Dish that held Hector in raptures for years. Lynda was up for this, with Chapattis (95p) to accompany. There was no remark about having to pay for Chapattis. (Not The Bradford Way) John had studied The Menu before his arrival and was intent on having the Peshwari Lamb Chops with a Garlic Nan to accompany. I was almost tempted myself to join him but went Mid-Menu and found the Achari Gosht with an Aloo Paratha. Happy Memories of Tunisia and the Calcutta Restaurant Indien at Carthage must have been in the subconscious. I made a point of asking for it to be served Desi-style as I have been instructed to do for any dish I order at The Village. I was then offered Lamb on-the-bone, even better. An Efficient Waiter, in tune with his customers.
It was an honour that Mr. Baig joined our Waiter in bringing out the Main Courses and Breads. He returned mid-way through our meal to make the customary enquiry.
So, Hector, how is the food?
He assured us that they do their best. Hector is well aware of just how good their best can be.
The Achari Gosht was Stunning. It is quite some time since I have ordered this Dish at The Village, I could trawl back to see if I ever have. The Lamb was incredibly Tender and fell of the Bone. The Masala was in the Classic Village Style, a Viscous Texture with a decent Kick. Every so often I encountered some Lime Pickle, the Tangy Blast was extraordinary. I can count on one hand the number of times I have finished a Village Aloo Paratha, today was one such day. The size was substantial, I had the appetite just right, nothing to excess, eat all that is set before me, honourable. Later I the day I could contemplate a Half-Kilo if this. I must recommend this Dish, a New Classic Village Curry?
At the far end of the table Ben and Juanita were enjoying what hey ordered. Ben first commented on the quality of his Roti. I hadn't even seen it. The Tenderness of the Lamb impressed. Juanita remarked on the Chunkiness of the Vegetables – Very Spicy.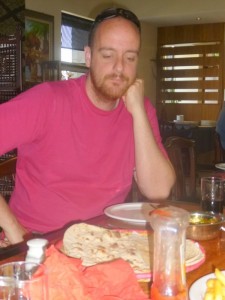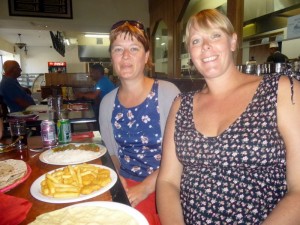 Lynda was glad to have taken the given advice. Her Korma was noting like a Korma served anywhere else. Excellent, good for a change. She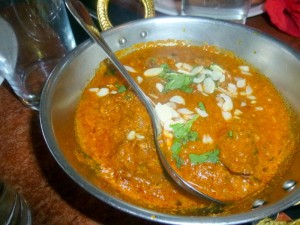 enjoyed the Tangy, Soft Lamb and would definitely have this dish again.
Today The Village Desi Korma was served in its Darker Form.  This Dish does vary from Chef to Chef.  When on form it is outstanding.  Hector was showing restraint and cannot comment on the overall flavour but the mention of Tangy suggests the usual Citrus was there.
The Bradford Maestro
John thoroughly enjoyed his Peshwari Chops. I had asked how many constituted A Portion. Four it appears. Now we both know that this is far short of what one receives at The International in his home town. It was also the most expensive dish from the standard portions. John stated that – it was good to have something different… Zingy and Fiery, Chunky Chops. The quality of the Meat was appreciated, its freshness and the cooking – Soft, with Crispy Edges.
This has the makings of another New Classic Village Dish, ordered by the Half-Kilo.
The Bill
£62.60. Five adults had eaten Main Courses, Starters were part of the order, not excessive.
The Aftermath
Ben, resident in Glasgow for some thirteen years, and Hector discussed the poverty of Outstanding Curry Houses in Glasgow until the dawn of Mother India. It is a pity that he is reluctant to travel too far across the River Clyde. Maybe he is not into Curry as much as his Brother.
John and Hector will hopefully dine together again in Bradford at the end of September.