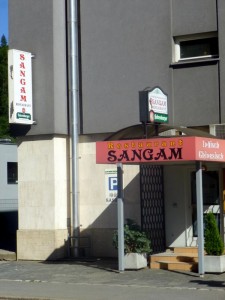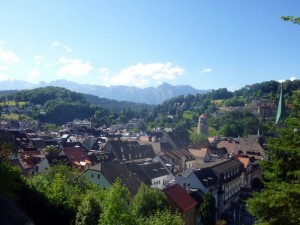 Liechtenstein was today's Primary Objective, they had built it, I hadn't been. En Route to Liechtenstein from the Bodensee, one has to cross the Eastern Periphery of Österreich, going there and coming back. Hector had done his Research, not very much has been written about the Restaurant Sangam Wok & Curry (Reichstrasse 171, 6800, Feldkirch, Österreich), but the little that had was a Magnet. I was nearly on my way here yesterday but fortunately spotted that Dienstag ist Ruhetag.
Easily found, on the main road outside the Bahnhof, Sangam had been opened at Lunchtime. I was tempted then but did the Liechtenstein Ritual instead. I found myself back in Feldkirch waiting for opening time. Yes, Liechtenstein was riveting, not.
The Research had revealed that this operation was run by Calcuttan-born Chinese. The Menu on offer therefore covered both Camps.
I was admitted bang on the 17.30 opening time, the Research was accurate, so far. I announced from the start that – I had come from Scotland especially to eat in this Restaurant. This was true.
Scotland is a long way to come. – was the reply.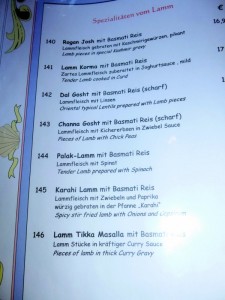 Mein Host and I discussed, in English, the Curry Requirements of Hector. That their Menu described the Karahi as a Stir-Fry put me off a bit. Maybe it does come down to that in the final stages, but there is much to be done to the Meat before that can be considered. I suggested the Lamm Rogan Josh, however, I was told this would have a lot of Masala. Why? Tandoori was suggested. Obviously Dry, but without some Masala it is not Curry in Hector's Book. We agreed upon the Lamm Karahi. I as ever asked for it to be served without the listed Paprika. No Capsicum. Not for the first time I suggested an Alternative Vegetable could be added. In places where I am not known I usually end up with masses of Large Cut Onions. Potatoes, I offered as a throwaway. In all my years of ordering Curry in a new venue, nobody has ever taken this on board.
The Soda Water was reasonable value at €2.70 per half litre compared to the price of Mineral Water.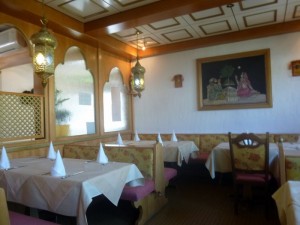 I had time to take in the surroundings. Whilst there was the usual attempt to recreate what people think a Curry House should look like, there was a Bright, Summery feel to the décor. I sat to the left of the door, an area which could have sat twenty plus. The other side replicated this, not a Small Venue.
The Karahi was brought on a Candle-lit Stand along with the European huge quantity of Boiled Rice. Did I see Cumin Seeds added to the Rice?
The Curry was Dry, Seriously Dry. Some Ghee had collected at the base of the Karahi. The Lamb was cut in a standard size and the quantity was Substantial. A Green Herb was mixed in, Fresh Coriander one hoped. The anticipated Large Onion Chunks were visible, but – What's this – Potatoes! A First!
One can start a Curry with so many Positive Waves and then be disappointed. This Curry did not disappoint.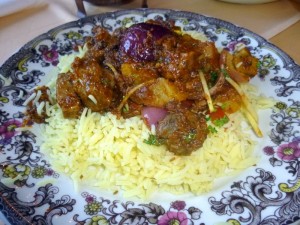 Presumably the Tender Lamb had been pre-cooked and indeed had now been Stir-Fried with the other Bits. The Seasoning was very much at the Upper End of The Scale. Shades of Erlangen. There was no way this Curry could now be Bland.
The Spice content was not high, I hadn't asked for Spicy. Black Pepper may have been the root of the Kick that was. The Herby Flavours emerged slowly, both Black and Green Cardamoms were present, Aromatic too. The Minimal Ghee was intriguing, a couple of Spoonfuls was scooped over the Lamb, oh yes. The Earthy Taste I crave was there. The Potatoes stood out, they were Stir-Fried – Bratkartoffellen – by any other name – Superb, and another First!
The Lady who had put this Dish together appeared halfway. I verified my enjoyment, she was of course happy to hear this. I felt this was a good time to mention Curry-Heute, a good move as it turned out. I established at this time that the People serving me were Brother and Sister.
The Bill
€20.60. This has to be considered above the average price one would expect to pay in the UK.   Switzerland and Liechtenstein are only a few kilometres away, prices there are high, here too.
The Aftermath
My strategy of approaching the Counter paid off. The Calling Card was presented. Why – Curry-Heute? In another German Speaking Country this definitely pays off.
I was told about the Calcutta Connection and how quite a number of Chinese had migrated to North East India. I asked who the Chef was – My Husband. Another Chinese-Calcuttan. I was challenged as to my Scottish accent.  Did I have one? The Daughter is at St Andrews University. There are Scots there?
These were Lovely People selling Impressive Bespoke Curry. I wish them well and recommend that anyone travelling in this Border Territory drops in.