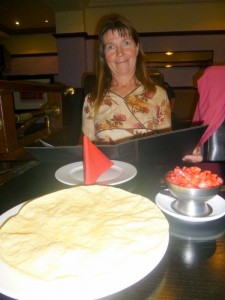 Marg thought it would be a wonderful gesture not only to pick Hector up from Edinburgh Flughafen, but take me for a Curry-Heute. And why not?
A Grand Yadgar Curry is arranged for tomorrow, so it was time to re-visit what is now indisputably the Best Charing Cross Curry House. With Café Salma closing whilst I was in Foreign Parts, the Punjabi Charing Cross (157-159 North Street, Glasgow, G3 7DA) must deserve the #1 Spot.
Ram greeted us on entry and showed us to what has become our Stammtisch. Four other Chaps sat opposite keenly awaiting their order. The Complementary Poppadoms and Onion Chutney were brought in a flash, Marg ordered the Drinks. After two week s in Tunisia, she has become a fan of Sparkling Water.
Do you have a Large Bottle we can share?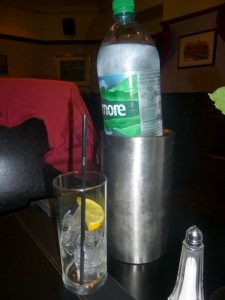 Ram brought a 1.5l Bottle and placed it in an Ice Bucket – Superb! Respect for the Sparkling Water.
Hector declined the Menu, Marg looked for something new. Lamb Chilli Ginger was her choice.
Ram came up to take the order. Marg delivered hers, Hector asked for his usual – Lamb Gurmeet.
There was a moments hesitation.
Chef Gurmeet is not on duty is he?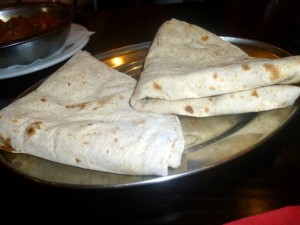 Ram asked how I could tell. It was the hesitation that gave it away. By now the Kitchen must know this Dish, I am not the only person who orders it.
Two Chapattis to accompany and a Keema Padora to Start.
During the wait I noticed that the Specials Board has now changed. The Mussels have gone and Sea Bass and Deep Fried Mars Bar have been written. Dr. Stan and Hector have had the Sea Bass. The Mars Bar might appeal to Ricky next time he is up from Bradford.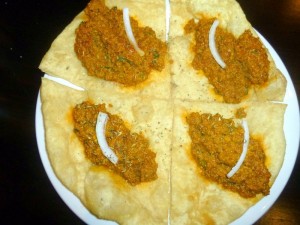 The Keema Padora had more Mince than I believe has been served in previous encounters. Marg took one Quarter, Hector scooped the rest. The Sheer Hit from the Methi was right on the button, this is a flavour I did not get in any of my European Curry Venues. It was good to be home.
The Dryness of the Mince coupled with the Methi has made this Starter irresistible. It is also Filling hence the cutback to One Substantial Chapatti (75p) each.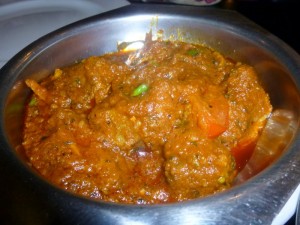 Marg's Chilli Ginger had an acceptable quantity of Masala, the Punjabi does not serve Soup. The Lamb had the look of Well-Cooked. Marg immediately commented on ow Tender it was. She described the Masala as – Rich and Fruity with a good level of Spice. Too Spicy and Marg struggles, this appeared to be spot-on. I the end she had to admit defeat and a Doggy-Bag was requested. There may be an update on this to come.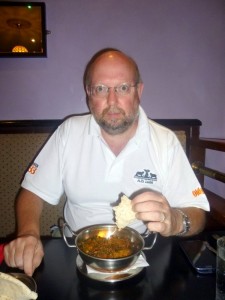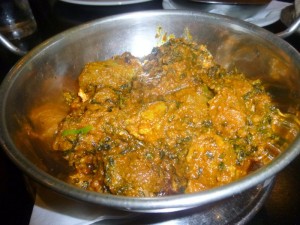 The Lamb Gurmeet was served on-the-bone. I hadn't specified, happy to take what came my way. The Methi was again to the fore. The Masala was very thick, the Herb content adding to this. The Perfect balance between No Masala and Hunting the Lamb. In the last few days I have eaten outstanding Curry in Deutschland and Österreich. The different Interpretations of whatever Curry is means that I have no hesitation in contemplating Curry Every Day. Ram had asked where my travels had taken me. My preference for eating Curry every day is something he admits even he might struggle with.
People say – Hector don't you think you're living here in paradise? This was another Classic Curry Moment. The sheer joy of being back in one of my Favourite Venues eating what they do best – Lamb Gurmeet!
The Bill
£28.60. Still great value considering the Keema Padora is a meal in itself, almost.
The Aftermath
There was a brief stop at KRK in Woodlands Road. Yvonne has advised Hector that Frozen Methi is available in the South-Side Grocers. Alas they had none. However, Mustard Oil was purchased for the first time. Now who inspired this?