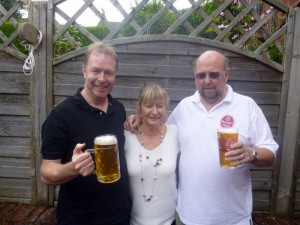 The schedule was tight, Deutschland one day, Deutsche Bier the next. Craig and Yvonne were the Hosts. Jonathan had fetched the Barrel of Pyraser Landbier all the way from the Hilpoltstein Hinterland, and Dr. Rick had provided the means of Chilling said Bier. Hector's contribution was to arrange delivery of Goshat Karahi (off-the-bone) for Twelve from none other than The Yadgar Kebab House (148 Calder St., Govanhill, G42 7QP). Ordering Curry whilst in Friedrichshafen for consumption in Glasgow – ah the Technological Age. The Remaining Seven simply just had to attend.
Cauliflower Sandwich
Dr. Stan was presented with a Cauliflower mid-afternoon to commemorate our last Grand Outing in mid-July to Staveley. Yet another Epic Speech from Hector – There you are!
An Interloper appeared who would not be drinking Our Bier or eating Our Curry. He tells me he has found references to the Curry-Heute website in obscure places but, as yet, has provided no links.
Shkoor delivered the Curry punctually. This is just as well because the Bier had run out minutes before. Twelve Mouths for 30 litres? Not much of a challenge, and those who were not present could have made matters worse.
The Bill
£120.00. A Tenner a head.
Yvonne had prepared the Rice and so the portions of Goshat Karahi were laid out with the accompanying Chapattis. Chicken Tikka on-the-bone, was also provided, brought hot, whilst Samosas and who-knows-what Vegetable Patties were placed in the oven. That these Starters were brought cold was a good idea. Everyone ate their Curry without distraction. Those with room afterwards were sated.
Too Hot to Handle?
My memory at the time was of two people stating they thought the Karahi was too hot, however, close scrutiny of the records show this not to be the case. Which two, of three, could they have been ?
Mags – Really enjoyed it – then upgraded her remarks to – Thoroughly enjoyed it.
Alan remarked – The Meat was very Tender, not Too Hot, and a Fine Texture.
Robin who does not eat the quantity of Curry that he used to knows a good one when he has it – Very Tasty, not in Your Face Hot, but Spicy Enough, I enjoyed it.
Some Like it Hot
Craig, aka Mr. Vindaloo – H – H – H – hit was Superb, right on The Edge. It was Delicious, I'll be putting The Fire out for three days!
Meanwhile Yvonne who has not set foot in Yadgar for too long said – Absolutely Brilliant! They thought it was Too Hot, I didn't.
Meanwhile, The Professionals were much more calm. Hector was sitting with Howard, we made an ongoing analysis as we ate. Hector could taste the Distinctive Yadgar Flavours, one could pick this out of a thousand Curry servings. Hector's Seventh Curry in Seven Days. Howard described – The Intense Lamb Flavours, and Very Spicy, Superb, another Yadgar Success. On Hector and Howard's last visit to Yadgar we were served up with one of the best servings of Goshat Karahi, ever.
Once I had eaten I went on a sojourn for more remarks.
Dr. Rick – A Spicy Delight. The Lamb was a Face Planting Experience. Perhaps he had done so already, a visit upstairs was required soon afterwards to wash his face.
Dr. Stan – I concur. (Hence the overdose of Pictorial Evidence as to Dr. Stan's level of enjoyment.)
Steve – Very Good. Have you watched it all over again? Or was he now discussing Breaking Bad?
Tracey – That Lamb will have a Noble Reincarnation because it was so good in this life.
Jonathan – Starting with the Main Course as one had to, the Lamb Karahi was Superb as always. The Dessert Starters were also good.
I have no idea what The Patties were, but I suspect Someone will tell me soon.