A Prog Rock Recommendation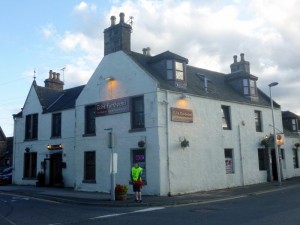 The Echt Tandoori (Main St., Echt, Westhill, AB32 6UL, Aberdeenshire) was recommended by whichever person is responsible for posting information on the Pallas information page on a well known social media website. An alternative was sought to what is becoming a disappointing Curry Scene in the City of Aberdeen.
Marg and Hector collected Sandy and Tracey and drove the 25km into the Aberdeen Hinterland to rendezvous with Kenny and Ms X for whom Echt, is local.
We had made a reservation a week before, just as well, at 19.30 the place was stowed. This is a Tuesday Evening? On entering it was noticeable that very table except ours was occupied and would remain so for the next ninety minutes. There was a strong Aroma of Dark Red Chillis permeating the Restaurant, one immediately felt that this was going to be a serious evening of Curry Eating.
The Four who arrived first were offered Poppadoms. This is typically Aberdeenshire speak for – You will be charged for each one and The Dips. In Glasgow and Bradford the better Curry Houses simply bring them. Drinks were sorted. Courtesy of Marg, Hector had a Sparkling Water before he even managed to open his mouth. One hour later with the Mains still undelivered I decided that as we were clearly here – To Dine – a Bier was in order. A Cobra was brought, I wish I hadn't bothered.
We are here for The Curry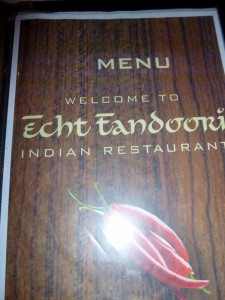 The Menu was quite substantial and being unfamiliar with the contents it had to be studied. Sandy and Kenny ordered Starters, a Vegetable Pakora each. This of course meant that the remaining four would be sentenced for The Long Wait.
Sandy chose Chicken Jhalfrezi, Tracey – Chicken Bengal Exotica, Miss X a Chicken Rezzala and Kenny a Lamb Tikka. (*)
Now Marg had not only studied the Menu closely she was determined to make a decent choice after some pretty poor ones of late. At the foot of the list of House Specialities she found the Shali Lamb Special. This was described as – Tender pieces of Lamb, cooked in double strength sauce, garlic, ginger and green chilli. Below this was the Lamb Deshi Masala – Cooked in strong chilli sauce with methi, cumin, lemon juice. Tangy flavoured. The intended negotiations over a Lamb Karahi were abandoned, the Deshi Masala looked like a Dish fit for a Hector. Methi and Tangy? The Tawa from The Village would provide a useful standard for comparison. The Waiter noted that I wished this to be served as Dry as possible. An Aloo Gobi on the side would hopefully provide Hector with an alternate Taste Experience.
Marg and Hector stayed with our traditional three Chapatti (75p) order. A Garlic Naan, two Plain Naans and a Boiled Rice completed the order.
The Vegetable Pakora
More Bhaji looking than Pakora, the Starters didn't last long. Presented with a remarked upon small pot of a Yoghurt-based Sauce, those who partook demolished the fare with gusto.
The full hour after the order was taken the Mains were brought. The Presentation of the two Lamb Dishes was well worthy of the Photos. The Young Waiter delivering was amused by the photo record of every Dish. I did stop at the Boiled Rice.
Marg had already started her Shali Lamb Special whilst I was getting myself sorted. She knew she was on a winner. I'm enjoying this – was her opening remark. Curry-Heute does not offer scores out of ten but Marg and Sandy were already outbidding each other.
Sandy had given the Thumbs-up an was impressed by what had been served. This was the Best Curry he had had in some time. The Dishes were covered in Slivers of Fresh Ginger and Threads of what I initially thought was Ginger but now realise could have been Onion. Caramelised Onions featured in the Shali Special, their relative Sweetness appealed to Marg.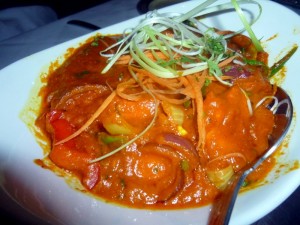 I heard Tracey mention the word – Dry.
Dry is good – was my immediate response. Tracey was possibly the least impressed by her order and did not consider her Dish to be particularly Exotic.
Curry-Heute does not consider Chicken Tikka to be an actual Curry Dish. Kenny had been given a reasonable quantity of Chicken but covered in Onion that was on its way to being Pulped. A Side Salad and a Bowl of Soup were also part of this Dish.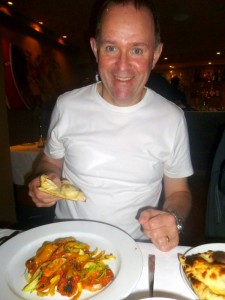 Kenny stated that he was as impressed with the Restaurant as he was with the food. Sublime – was his major comment.
Lamb Deshi Masala
From the moment it arrived I knew this Dish had the potential to be Memorable. The Masala was Dry and Thick, exactly how Hector considers Masala should be. With the Fresh Ginger mixed in and the Mysterious Threads, the Texture was unlike anything I have seen. The Lamb was Substantial in Quantity and appeared to have Burnt Tips suggesting Tikka Lamb. However, as this Dish was not in the Tikka section of the Menu I still consider it to have been normal Tender Lamb. If indeed it was Tikka Lamb then it is only the second time this year I have been served done to Perfection.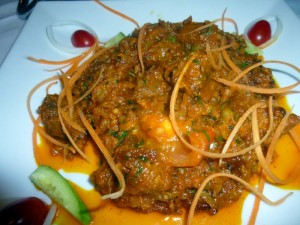 The First Dip of the affordable Chapatti revealed a set of Flavours which were brand new. Methi and Cumin had been mentioned in the Menu, two of my Favourite Ingredients yet I could taste neither individually. This truly was a Melange of Flavours wrapped into a Singular, and New, Taste Experience.  No Comparisons with any other Venue required.
Aloo Gobi
There's more. As I was not risking being served a Dish without an Interesting Vegetable, the Side had to be included. The Contrast in Texture and Flavours was the Perfect Antithesis to the Lamb. Very Well-Seasoned, this Dish could have held its own against most Mainstream Curry Dishes.
One and a half Chapattis proved to be an Elegant Sufficiency, this was a true Hector Feast.
The Bill
£142.80. We were out – To Dine – in Aberdeenshire. The Base Price of the Curry Dishes and Accompaniments was well within Acceptable Parameters.
The Aftermath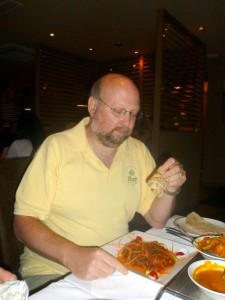 I took the Cash up to the Counter along with The Calling Card. The Card was well received and there was an appreciation that I had come up from the West of Scotland to sample their Curry.  I had to explain that Curry-Heute is a Hobby and not a Profession.  If only…
Overall, we left with very positive impression. We know that booking is necessary, else the wait could be a long one.
Hector will certainly be back. The Bhoona looks worthy of investigation and I must wrestle with the ubiquitous Capsicum listed in the Karahi.
* Originally posted as Chicken Tikka, my notes said Lamb and Tracey was convinced it was Lamb.  Kenny confirmed.  Now how did Tracey remember this level of detail?