Photos of Ghosts
That Kenneth has not featured in Curry-Heute before means it is four summers since my last stopover in Stirling and my last Stirling Curry. Traditionally we have always gone to The East India Company now re-branded Shimla Pinks (7 Viewfield Place, Stirling, FK8 1NQ). This evening this not the original choice, when I spotted the Green Gates I was immediately drawn, we don't live in the past. Unfortunately at 22.02 they did not want us. Closed. Unbelievable.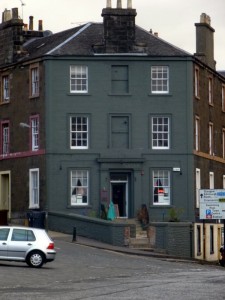 Our late arrival was down to watching The International. We knew the outcome before Kick-Off, but twice Scotland took the lead against the Auld Enemy before the inevitable.
Meanwhile at Shimla Pinks Four Diners were present, just finishing. The Waitress, Lisa, told us we were too late for The Buffet. This of course did not matter, we required The Menu. Kenneth likes Pakora and so it was ordered. He also likes Chicken Tikka Masala, no comment required. Pilau Rice to accompany.
Three out of Four
The Karahi Lamb Tikka Bhuna looked as if it was closest to the Ideal Hector Curry. A couple of Tweeks would be required. I asked Lisa if the Karahi had to have Tikka Lamb, it didn't. I then tried the Austrian Manoeuvre – Can I have Potatoes instead of Capsicum? Not a problem.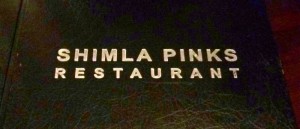 Chapattis were priced at a Modest £0.85, but after the disappointment of the lack of Vegetables in my last outing, a Vegetable Paratha felt appropriate. Lisa returned moments later to inform me that there was no Tender Lamb left. She did suggest the Staff Curry – Minced Lamb, but I told her that – Keema Mutter had been my last Curry, well last but one. Note the Translation, Lisa must have too as shall be revealed shortly. I went with the Tikka.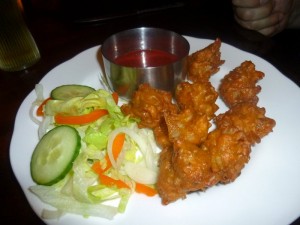 There was time to take in the Surroundings. The Décor resembles that of a Drawing Room, very Pukka. The History of Scotland is reflected in the Portraits hanging on the walls. Hector must still be feeling Patriotic. The Fellow Diners were Spanish. Today was their first day in Scotland and already they have had Curry, Superb!
Kenneth's Pakora arrived. I permitted myself One Piece for Review Purposes only, that left Kenneth with Six Pieces. The Pakora was very Fresh, none of this half fried and re-fried nonsense that is the custom of many venues.
Tasty and Robust – was Kenneth's Informative Description of his Chicken Tikka Masala. He ate every Grain of Rice and cleared his Plate. People do like this Dish. Maybe one day Hector will re-visit this, maybe not. Calm, Ahmed!
You Cannot Make This Up
The Vegetable Paratha looked very attractive, Sufficiently Filled with Potato and Something Red it did the trick. Kenneth had never seen one and had a Nibble too. Impressive. The Karahi Lamb Tikka Bhuna was not the Largest Portion ever set before the Hector, enough, just. The Masala was Thick and contained the listed Chopped Onions, but on the Side was the Potato, Wonderful! The Tikka Lamb was perfectly cooked but here lies the issue. Tikka Lamb can only meet the Masala late on being cooked in a Tandoor. Tender Lamb, one hopes, is cooked for Hours, Days in places, in the Masala. Tikka Lamb has its own Distinctive Flavour which can dominate. More Seasoning and Methi and this Dish would have achieved The Wow, it was still Pretty Good.
Lisa came over, not to ask the Usual Question but to Bring Hector More Curry! The Chef insists that you try the Keema. I decided to keep it to the end. One Curry at a time.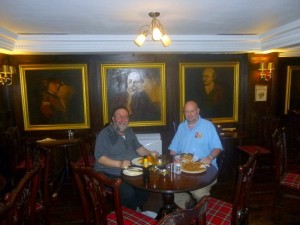 The Keema had some Spring Onion on top instead of the customary Peas. Very Dry, Very Pleasant. Again Methi would have put it Up There, but come on – This is Service! At this time I hadn't met The Chef, but one suspected that he was keen to make his Customers Happy.
The Bill
£31.00. The price of the Curry Dishes was fine, around the £9.00 mark. But £6.20 for a 330ml Bottle of Cobra and a Glass of Sparkling Water, mmm.
The Aftermath
By now The Reader should have deduced that The Calling Card was very well received. I introduced Curry-Heute and Lisa told us about the Restaurant and a bit about herself.
The story of the change of name goes something like this: A Mr. Singh of Nottingham owns this as part of his Curry Empire. The current Management gave up the East India Company. It was briefly operated by others but they took it back. With the exception of that year, Lisa has worked at Shimla Pinks for some Sixteen Years. She must have served us before. There is no connection with Glasgow's Shimla Pinks.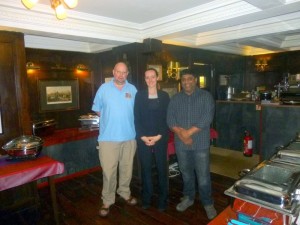 In exchange for asking her why so many Venues insist on adding Capsicum, Lisa informed me that she does not like Coriander, most unusual. The Capsicum Question remains unanswered. Living in Glasgow's Southside she knows Yadgar and the Sheerin Palace very well, a Regular.  The Kofta and Egg served at the Sheerin Palace is her favourite though she prefers Yadgar 's Chapattis. I must get back there.
Glasgow to Stirling, what a Commute. We Talked Curry. Hector was in his Element, Kenneth sat bemused. When The Chef appeared there had to be in Farewell Photo.
Hector was Fed Quality Curry and More. I shall be back.