Get Well Soon, Omar
It was an Unfortunate Circumstance which brought Marg and Hector down to Cheshire at the start of the week. A stop-off in two of our favourite places in Yorkshire en route home was called for. Marg had Coffee and Cake with some xmas shopping to make her visit to Haworth comply with The Ritual. A Bradford Curry at the now Open-All-Day Sheesh Mahal (6 St. Thomas's Rd, Bradford, BD1 2RW) was Hector's Treat.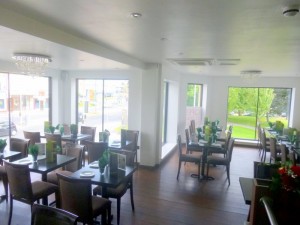 Sadaqat was sat without Customers and without Fuel. He informed us The Gas would be on within half an hour, we decided to wait.
The Wait was less than anticipated. The Complementary Poppadoms, Salad and Dips appeared, negotiations then began about The Mains. Marg fancied a Lamb Chop Curry, or was it simply Lamb Chops? Sadaqat was in Overdrive having had little to do since the start of his shift.
I shall make you a Curry you will never forget. The Full Monty, Asian-style! I reminded Mein Host that he had already tried me on Brains, Tripe and Testicles.
No Liver, I'll try anything else.
A Special Salad was also mentioned.
As our stay was to be now longer than anticipated the car had to be moved. We were told that the Derelict Site beside the Westgate is available for Sheesh Mahal customers despite the Painted Wall warning people off.
Soup Served in Bradford?
Sadaqat brought Two Bowls of Soup. The British like Soup. Now the number of times I have referred to the Masala that too many Curry Houses present as the Integral Part of Curry, as Soup … this was the Revenge. Clearly this was from The Sauce Pot, it packed a Little Kick and a Beautiful Taste. Ah, Bradford.
The Salad had an Apple Cider Dressing. The Green Chilli Peppers still had a massive Kick. Fresh and Tangy – was Marg's verdict, though she stayed well clear of the Chillis.
A Karahi containing Five Lamb Chops in a Sizzling Masala sat before Marg. We were both wearing White T-shirts…not clever.
Sadaqat brought The Full Monty. A Plate-Full of Something. Hector was asked to guess. I could spot Egg, Onion, Tomato, Spring Onion, but The Meat? The possibility of Today's Joke being – No Meat? – crossed my mind.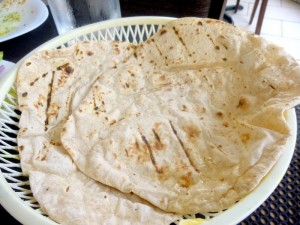 It is normal in Bradford to have the choice from Four Complementary Chapattis, a Paratha, A Naan, or Rice. Today, Two Chapattis, One Naan and One Plain Paratha were brought. One suspects they were testing the Tandoor. Sadaqat admitted that he had been carried away with his Creation and did not expect me to finish. We could take as much away as we wished. He then described the Meat as being a Combination of Lamb, Chicken, Keema, all Reduced, plus Boiled Egg and Scrambled Egg all Blended. All I had to do was eat it.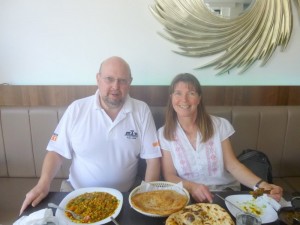 The Classic Bradford Taste was Apprehension, this was my only concern. My Last Curry was Kofta-Egg, this was I suppose a Variant, but like comparing Coal with Diamonds. A Fine Creation, an Experiment, I was The Victim.
Meanwhile Marg was swapping between Chapatti and Paratha to engage The Chops. The Masala was on the Thin side. Marg enjoyed Three of Five Chops. Oh good, that means…
The Bill
Whatever. Sadaqat said he could not charge for my Curry Creation, there was no Price for it and it had cost virtually nothing to make. Now there's an Honest Statement. 99p was his Ball-park Figure. In the end £10.00 felt an Honourable Sum.
The Aftermath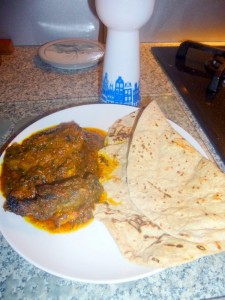 Two Chops, 1/3 Creation, One Chapatti and one Untouched Naan headed North.
Anyone want to sample The Creation?
Three and One Half Hours Later
The Remaining Chops and Chapatti were reheated. Gosh. Bradford Curry does it every time for Hector.  Is it The Seasoning?  I suspect its The Oil.  What do they do to it?