Back to work, Aaaargh….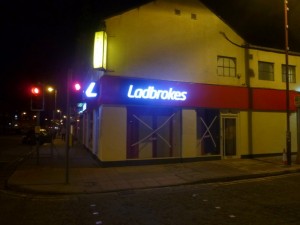 Marg, Eleanor and Hector left the Throng of Assembled Colleagues, time for much needed Food. The Akash (45A Sinclair St, Helensburgh, G84 8TG) remains the Only Place in Town, though word has reached Hector that an application has been made to convert the old Teak & Ash to a Curry House, Flue permitting. The premises below The Akash are no longer a Pizzeria being presently converted to a Bookmakers.
There were only two other customers as we entered Helensburgh's Legendary Curry House, our usual table on the top left was selected. Mein Host and the Head Waiter greeted us, Hector's Fifth Visit since The New-co took over. They have done their very best to accommodate Hector's Curry demands but maybe have not quite achieved this on previous visits. I was considering going Traditional and ordering a Vindaloo or Rogan Josh, but having photographed The Menu I never had a chance to open it. The Waiter came over and stated – I know exactly what you want. So that was it, I was in his hands. For the second time this week I have been tasked with eating what comes. One Chapatti would Accompany, but first there had to be the Customary Chicken Chat.
Marg chose the Lamb Karahi and Eleanor a self-declared indulgence,  Butter Chicken. Rice with Cashew Nuts would Accompany this. A Vegetable Pakora was also added along with a Chapatti for Marg.
The Vegetable Pakora at The Akash is always impressive – Served to Perfection – and – No Remorse – is what was recorded. The Chicken Chat now bears no resemblance to the Classic Akash version. With abundant Capsicum and the Chicken served in Large Pieces it filled a Gap but perhaps it is time to consider something new and leave the memory of The Classic Chicken Chat intact.
I have little to say about the Butter Chicken and the Lamb Karahi. The Masala content was way more than I would hope for, the consistency was fine, not runny. I didn't get to sample either, I was too busy addressing what was set before me.
The Waiter approached smiling, a Magnificently Dark and Thick Lamb Dish was presented. The Methi content was complemented by the Fresh Coriander sprinkled on top. This is what they managed to bring at a second attempt when The New-co took over. The Kick was – Wow – demanding to say the least. I was in the mood for a Vindaloo, this hit the spot. There was a Citrus Burst too, one wonders – Do Hops 'Curry'? The Lamb was Tender, I recall it not being as good as this on recent visits. This was as good as once could hope for. I had to be impressed.  A Methi Gosht Karahi to remember.
The Starter was taking its toll. Rather than force the last Morsels down I decided to take a Doggy Bag with the Masala that remained. This may well find its way into a Hector Curry Creation at a later date.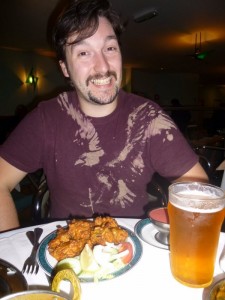 Jamie arrived and joined us for a Pakora. Very, Tasty, Very very Tasty, I would buy this again.
Mein Host came over and thanked us for coming. We expressed our Appreciation. The Akash is Back!  There will be at least another Five Visits this Session.
The Bill
£54.40. Complicated, but in effect Three Mains and Three Starters with Two Coffees and One Bier. Well within Acceptable Parameters.
The Aftermath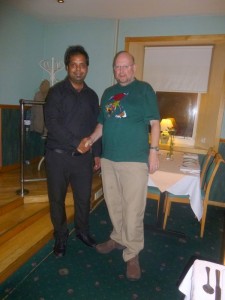 There had to be a Photo with The Head Waiter who had spontaneously offered Hector this Memorable Curry.
The Nights are fair drawing in, but it still wasn't that dark as Marg drove up Sinclair Street…