Today we gathered to celebrate Peter's 65th Birthday. Craig and Yvonne hosted a Barrel of Pyraser Landbier and Löwenbräu (Buttenheim) Annafestbier. Not only has Peter covered the cost of the Bier so carefully driven from The Sources by Jonathan, he treated us all to a Curry from his favourite Takeaway – Danny Singhs (26 Minard Rd, Glasgow, G41 2HN). Danny himself brought enough to feed the Assembled Sixteen at the arranged time of 17.00.
There was great anticipation about the promised Stornoway Black-pudding Pakora. Chicken Wings, Vegetable Pakora and Onion Rings were the other Starters provided. A Mass of Chapattis accompanied Naan Bread, Yvonne provided the Rice.
An Assortment of Mains was provided, no two the same. There was an Orderly Queue which Hector managed to avoid by taking charge of setting everything out.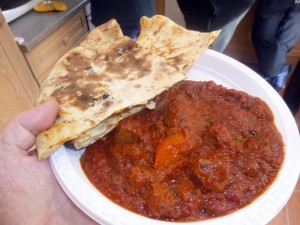 The Chef's Curry was spotted but on opening the container it was Chicken, no thanks. The Jalandhar had Lamb and heaps of Masala. Three quarters of this and two pieces of Naan were plated and taken out into the late summer sunshine. Tracey remarked on the Redness, I remarked on the Slight Sweetness. This was very much a Mainstream Curry, not the sort of Dish I would normally choose.
The Stornoway Black-pudding Pakora went down a Treat. Most people took Bits of Everything, Buffet-style. Not my style.
It was Curry, I like Curry. Hopefully next time the Takeaway will come from Yadgar.
The Aftermath
Steve admitted that he too had Curry for Lunch making his first visit to Shahed's. He was impressed. Some challenged Clive and Hector to go for a third Curry later this evening, I'm not in Bradford.
Update – September 2017
This Takeaway has closed, the business will now operate  solely from the Victoria Rd, Restaurant – Danny Singh's Gandhi.