Cafe Reeshah (455 Shields Rd, Glasgow, G41 1NP) is definitely off Hector's well trodden paths. There is a cluster of Curry Cafés in Pollokshields. I still have a couple to investigate but that will be made all the more difficult given the quality of Curry served here. I phoned yesterday to ensure they would be open at lunchtime, they are in fact open every day at Noon. Lord Clive is in town, the very man who was mentioned in my last report from these premises. There would be no Floor-show today, just the serving of some very impressive Curry.
Having purchased a Day Bus Ticket last night, we took the Bus across the River to the eastern side of Pollokshields. The walk along Albert Drive revealed two more possible Venues for Hector to visit. The walk from Shields Rd. Subway Station could well have been shorter, but today was a Bus-Day.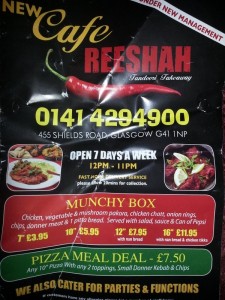 Arriving at 13.30, some thirty minutes later than planned, the sign on the door said – Open. The two tables were unoccupied as anticipated. I asked for permission to sit and then took in the Dishes on Display at the Counter. Asian Style Curries – is how the New Menu describes the desired fare. Chicken on-the-bone, Lamb on-the-bone, Mince, Daal, Aloo Gobi and Channa are available everyday. We have everything today – was how Mein Host summarised the Food on Display. They will also cook the Standard Curry Dishes that one would find in any Curry House, but why have that when the Authentic is available? Maybe next time I'll phone in an order for a Karahi in advance and see what they can create.
A Repeat Performance
The Keema Mutter was the stand-out Dish on my last visit, but the Aloo Gosht looked irresistible. Hector is nothing if not consistent. I ordered a Portion of Aloo Gosht (on-the-bone) and a Half Portion of the Keema Mutter, exactly as I had ordered last time. Meanwhile Clive was studying other Dishes. Palak Gosht (Boneless) was his first choice, then Mein Host mentioned – Starters. Once the words – Shami Kebab – had left his lips Clive was excited. Clive can never refuse the offer of a Shami Kebab. We had Chapattis in mind but were persuaded to try the Peas Rice and reduce the Chapatti order to two.
Sparkling Water does not feature in many Southside Curry Cafés, Rubicon Mango does. That should be enough, we took our seats.
The Other Chap brought Clive's Shami Kebab very quickly along with a Plate of Raita which neither of us touched. Spicy – was Clive's immediate remark. The Shami Kebab disappeared very quickly, he should have ordered two.
From the Counter Mein Host asked if I had been at Cafe Reeshah before. When I showed him the Curry-Heute Website on the Trusty Samsung he remembered me and even pointed to where I had sat. That was back in March… I had intended to be back long before this but such is the quality of what is served in Glasgow currently it takes a long time to get round my Favourite Places. Mein Host told us that he had only taken over Cafe Reeshah at the start of 2013, and was only in his second month when I first visited. Business has been good.  As described on my last visit, the welcome is a Warm one, they give their Very Best.
A Modest Portion of Aloo Gosht and a very Generous Half-Portion of Keema Muter accompanied the delivery of Clive's Palak Gosht. We had enough Curry in front of us. The Rice was to share and there was plenty to do so. The Chapattis were brought individually as they were cooked, the realisation hit us very quickly, one Chapatti would have been enough. The second was left intact.
Six pieces of Lamb, two of which were more Bone than Meat sat in a Splendid Masala with a Mass of Potato. The Aloo Gosht was in the Shorva style, well almost. The Masala was a good bit Thicker than most Shorva style Curry Dishes I have encountered to date. Close to the Classic old-fashioned Oily, Spicy Masala, this was pretty impressive. The Lamb was very Tender, and eaten with the Peas Rice, most enjoyable. Had I only been eating this, a second portion would have been summoned.
The Keema Mutter had to be eaten with a Chapatti, again very impressive. With more Methi it would have been stunning. The Topping of Fresh Tomato was a lovely touch. Hector was filling rapidly and was tested further when Clive offered me some of his Palak Gosht.
Clive was thoroughly enjoying his Dish, Excellent – was stated more than once during his visit. He was most impressed and appreciated that I had taken him to this out of the way (for us) Venue.
The Bill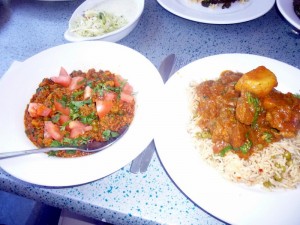 £15.00. Now where did he get that price from? We had been stuffed with Quality Curry and he only charged this Modest Fee? I shall certainly be back, and so will My Wife.
The Aftermath
I was asked for my Calling Card but inexplicably had none on me. That's only the second time I have ever been asked for it and last time I was without also. Marg had to bail me out. I wrote Curry-Heute.com down for them. I introduced Clive and informed Mein Host that Clive was up from London (Crawley felt too specific). We were thanked for coming. Clive thanked me again for taking him.  I thanked him for treating me.
It's a greater pleasure for me…
The next Curry is scheduled to be eaten in three hours.  I kid you not…