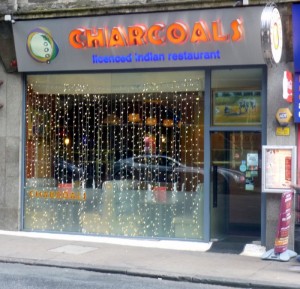 Once again, it was Dr. Rick's choice of Curry-Heute venue. The last time he suggested Charcoals (26A Renfield St, Glasgow, G2 1LU) they couldn't take us. This time we had a Reservation, in Rick's name. We arrived from opposite directions bang on the agreed time, 18.30. Dr. Rick identified himself to the Waiter. Ali, Mein Host, was straight across, Hector had been recognised. We chatted for a few moments in the still narrow entrance. The premises have been totally re-designed internally since my first visits. Much brighter, and with an increased seating capacity, there is more of a Restaurant Feel, however it is in no way pretentious.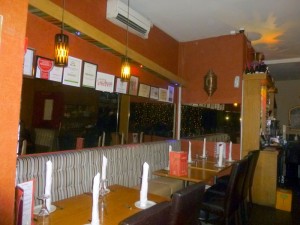 The Unnecessary Tablecloths are nowhere to be seen. I mentioned the new Charcoals outlet on Trongate which has opened in the last couple of weeks. It is a Tapas -style Curry House selling something different. One day soon hopefully.
We were given the second table on the left in the narrow entrance, we would witness the arrival of every potential diner for the duration of our stay. Most had Bookings, one group was advised there would be a time limit on their visit due to a later Booking. Dr. Rick informed me that we had to vacate by 20.30, that should not be a problem.
Dr. Stan, The Enigma, was due to join us. We told Ali that we were waiting for Our Third. He presented a Plate of Poppadoms with an Array of Bits. The Poppadoms had been Roasted, not Fried, a very pleasant Variation, no Grease, an almost Smoked Taste. A Chana Salad and Spiced Onions were accompanied by three small portions of Dips. Dr. Stan arrived as we were tucking in and assumed we had ordered. We hadn't, and were given time to enjoy the Complimentary Starter.
Three Dishes caught Hector's eye. The Adraki boasted Herbs and Ginger. Rara Gosht featured Lamb with Mince. The Lamb Desi was on-the-bone and also promised Herbs. This had to be Hector's choice. Dr. Rick had already decided upon the Rara Gosht before Dr. Stan's arrival. Dr. Stan chose the same Dish.
Paratha would be the Accompaniments, two Aloo and one Plain. An Aloo Paratha at £3.50 felt better value than a £1.20 Chapatti. The Desi can be whatever The Chef serves, this would at least guarantee a Vegetable.
Ali appeared once more and explained why he had not taken away the side plates. He placed a two Generous Helpings of Pakora before us. Ali said he didn't wish us to be bored whilst we waited for The Mains. The plate nearest Hector had long, thin Pakora, Fish I assumed. It was Chicken. The other plate had very large chunks, almost Bhaji-like. It was a Vegetable Pakora unlike any I have experienced at this Venue and I have had a few Pakoras from here over the years. Three Hungry Chaps destroyed the Pakaora. A Treat indeed.
The Mains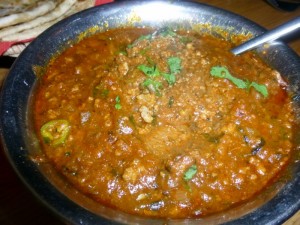 The Rara Gosht came first. Two Pots of Dark Brown Curry with a Masala that looked very interesting. As Dr. Stan remarked – the Sauce is just Mince. I hope that came out correctly. He enjoyed the combination of Lamb and Keema. Dr. Rick chose his words carefully, as ever.
Well balanced Spices in a Mix of Mince and Lamb, although Medium, it was still Spicy, a lot of Food.
The Desi again had a Brown Hue. Ali had told me not to worry about too much Masala. Suitably Thick it was Very Rich. A Really Old-Fashioned set of Flavours. Although there was a presence of Bones, it was not excessive.  Plenty of Seriously Tender Lamb. Last time the Curry served on these premises was familiar, as I cook Curry. This was markedly different, and refreshingly so. More seasoning and even more Herbs, how often do I write this(?), and this Dish could have hit the stratosphere. It was very good indeed.
There's More
Ali brought a Fourth Bread. Kulcha(?) Naan, lost in Pronunciation perhaps, is what I think he said. The Breads were all pre-sliced and decidedly Flat. This was the poorest part of the of all the Presented Food this evening. The Aloo Paratha was unremarkable.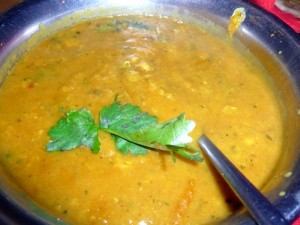 Another Dish arrived, Tarka Daal. This was shared out, a New Texture and new set of Flavours, a good touch. Much Appreciated.
The Bill
£42.50. £5.00 of this was for two small Bottles of Sparkling Water. Is that how they can be so generous in other ways?
The Aftermath
We bade Farewell to Ali. The Doctors went home, Hector joined The Chaps briefly to watch some of Scotland v Belgium. Who were these Chaps in the Blue Shirts?
I recognised fewer than half of them, the Score was sadly all too familiar…