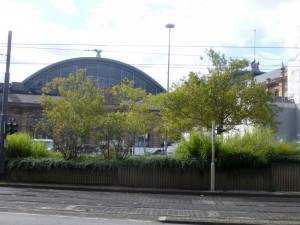 The Day after Wolf Strassenfest
On the equivalent day last year, DB managed to delay Hector's trip to Frankfurt am Main to such an extent that there was no Curry-Heute. Today everything went smoothly and so Hector was in the Business Capital by 14.12; my first Curry in this City since 1976.  That was a memorable day, my first Curry Abroad.  Cinnamon was very much to the fore, I remember it well.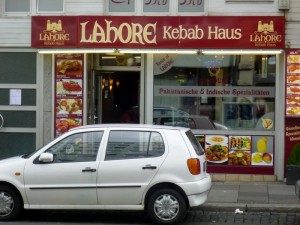 The Lahore Kebab Haus (Münchener Strasse 39, Frankfurt am Main, 60329, Hesse) had two major attractions, it is the nearest Curry House to the Hauptbahnhof and most importantly, it was open.
The Dishes were all pre-cooked and on display at the Counter is is the style of the typical Curry Café. There was a lot of Chicken on offer and so I asked for Lamb, not a problem. A classic Lamb Curry was pointed out. As it was Meat and Masala only, I asked for a Half Portion of Aloo Gobi also. Rice was offered and accepted, inclusive no doubt. The Portions were assembled and placed in a Large Panasonic Microwave, oh no. In my experience, Microwaves Kill Curry!
Once delivered a Bottle of Sparkling Water was negotiated. The Presentation of the Food was fine, it looked just the job. Sadly that is almost the end of The Positives.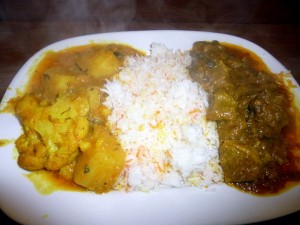 The Lamb was plentiful into double figures of good sized pieces with a couple on-the bone. The air of Optimism continued. The Lamb was well-cooked and very Tender, unfortunately it lacked any Depth of Flavour. Garam Masala may have been the only Ingredient that may have been used to make this Curry. The Masala was of the Thin Variety, a throwback to a bygone time. There was next to no Kick either, what I had was a Slightly Spiced Lamb Stew.
The Aloo Gobi fared little better. Again well-cooked, the Cauliflower still had a bit of firmness, alas the only Flavours from this Side Dish were Potato and Cauliflower.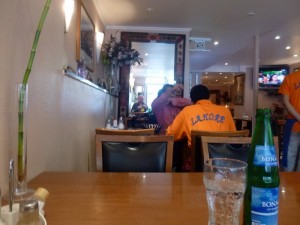 Hector ate well, half of the Rice was leftover.
It was Curry, just.  Had I inadvertently asked for – The Blandest thing on The Menu?
There was a steady stream of Customers buying Takeaways and the occasional Solo Diner. An Asian Family came and most appeared to order Chicken Tikka Masala. For once, this may have been the better option.
The Bill
€11.00. I have to be happy with the price, at least The Curry Hound was fed.
The Aftermath
No Calling Card was offered, I didn't think they deserved it. On balance this visit was disappointing.  Not as memorable as 1976!
Thirty Minutes free T'Internet at Frankfurt Flughafen, nice, but it Disnae' Work! Back to the Trusty Samsung and Roaming.