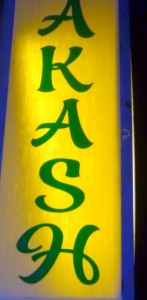 Another Staff Social, another Curry-Heute. Jamie, Steve and Hector descended upon the Akash (45A Sinclair St, Helensburgh, G84 8TG) sometime around 22.30. Steve had mentioned the – C – word earlier in the evening, there was no going back even though there would be no public transport to take Hector Home. So it goes.
The Hector Special
Although this Wondrous Dish is not on the Menu, I am told people are coming into The Akash and asking for it. Maybe it will merit inclusion in the next reprint? Steve was determined to try The Hector Special, he has not sampled this Precise Order since it was first presented on the Opening Weekend of the New-co. He asked for it to be – Spicy – but was assured by The Waiter that it would be. A Dry, Thick Masala, Rich in Methi, served with Tender Lamb; a Methi Gosht, but refined. One assumes the Chef uses some Spinach also, but this does not dominate. The Balance in the Leaves is Everything. Herbs, the difference between a Bradford-style Curry and The Rest.  Steve added Mince Rice and a Garlic Nan to complete his order.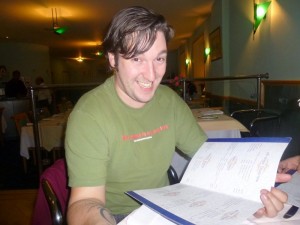 Jamie, a Regular at The Akash, has been sampling Lamb Curry of late but has yet to cast aside his love of the traditional Bland White Meat. The Akash Mazadar was his choice, a Dish featuring Chicken Prawns and Lamb. Halfway to paradise? Jamie and I agreed on two Chapattis (£0.75), we meant Each, but only two ever turned up. As it would turn out, we had enough food without overloading on Bread, or would we?
The Complementary Poppadoms, Spiced Onion and Mango Chutney were brought to the table. This is how it should be, how I loathe establishments which effectively add a Fiver to The Bill through sharp practice. The wait between courses was not noticeable, the Curry came soon after.
Jamie's Mazadar was much appreciated – Extra spicy, with lots of Flavour – was his verdict. I have to highlight the lack of needless Masala, this looked an Interesting Dish.
The two Methi Gosht looked inviting. Just how Special? There were pieces of Lamb which were decidedly Round and very Tender. Hector is not a Butcher, so does not know from part of the animal they came, but this was definitely the Best Lamb I have had served to me on these premises for some time. More Seasoning would have made it Perfect, but this is Fine Tuning. This was a Quality Curry.
Steve waxed lyrical – This was an Excellent Curry and I've been coming here a long time. Better than the old Dinnis Days.  Quite a statement by Steve!
The Garlic Naan caused so much amusement there was no record made of the Mince Rice, though the latter looked good enough to order again. The Garlic Naan was enormous, approaching Alishan proportions. One thing is for certain, never order two for a table. The Pair of Chapattis now turned out to be quite sufficient.
We were not long into our Curry when a Fourth Curry was presented – On The House. An Aloo Gosht with a more Traditional Masala. The Kick was even greater than The Hector Special. A Dish certainly worth ordering if the Hector-style of Curry does not appeal.
Could they have done any more? I doubt it very much. We were well looked after and served with Curry at a very high standard.
Hector is puzzled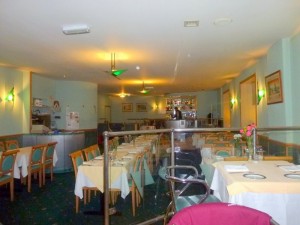 We were the only customers. This was worrying. OK, the Pubs wouldn't shut for some time yet, but surely in a town this size, the Better (by far) of the Two Curry Houses should attract more custom than this? As we departed, so did The Chef. So no more late Night Curry Sessions at The Akash? The number of times I have spent the small hours in the company of the local taxi drivers after their shift… but that was a long time ago.
The Bill
£48.10. Somebody had a Lager, so still around the standard price.
The Aftermath
The Masala Twist was mentioned by Hector. Mein Host appeared unaware of a New Curry House opening shortly. I doubt if The Akash have to worry too much about which House will serve the Better Curry, however The Masala Twist will have Lamb Chops…