This could well turn out to be a Weekend of Curry Madness, three nights in Bradford. This will mean Copious Quantities of Curry, and one or two ales along the way. Driving South with Robin as Co-Pilot, we arrived at the Sheesh Mahal (6 St. Thomas's Rd, Bradford, BD1 2RW) mid afternoon. Sadaqat came out to join in the ritual photography. As we took our choice of tables in the Empty Restaurant, he promised me Something Special. Alas he was reigned in very quickly. After Brains, Tripe, Sweet Breads, and Scrambled Egg in recent visits, I was determined to get back to basics – The Wonderful Curry that this venue serves. Lamb on-the-bone with Methi was Hector's choice accompanied by the standard Three Inclusive Chapattis. Robin played safe and ordered a Lamb Korma again with the Chapattis.
This was not we would eat. A Salad, and Chutneys were brought out to accompany the Complementary Poppadoms, and then even more Dips. Not content with this, Sadaqat served up the House Onion in Batter, not quite a Bhaji but worth a Nibble.
By the time our meals arrived two other sets of Diners had arrived. No Dr. Stan, Jonathan or Mr. Holden who had gone straight to Shipley where the evening's entertainment at the Saltaire Brewery would soon be under-way.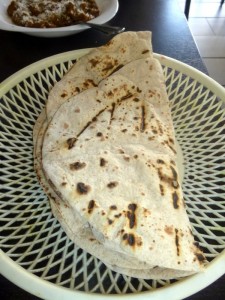 I have put something else in your Curry. – Sadaqat informed me. See if you can guess. Whatever it was it had to be another Herb or something else blended into the Thick Masala. It turned out to be Potato, always a welcomed inclusion. As ever the Flavours were Complex and Unfathomable, this Dish is held in the highest regard by Hector. The Oil collected in the base of the Karahi, here the unique Bradford Curry Flavour is at its most intense. For once I have a criticism to deliver. The number of Bones was in the extreme. Curry on-the-bone packs a lot more Flavour, however, when they are this small and plentiful one tends to spend too much effort dealing with the ever increasing pile.
Robin's Lamb Korma was unlike any Korma we had ever seen. Served seriously Dry and with a Sprinkling of Coconut this would be Interesting. The Lamb is just breaking up in my mouth – said Robin. Very Tasty, just the right Heat for me. Another satisfied Customer.
The Bill
£15.00. A Feast for Two at this price? Superb!
The Aftermath
Omar is reportedly well and back at work. Perhaps we may be back here for a Late Night Curry. How the weekend will unfold remains unknown.
And so to Shipley, Casketeers!