Why was Hector Aagrah-phobic?
Lord Clive had made it clear in the days running up to our Weekend of Festivities in Bradford that he wished to visit a Curry House in Shipley, part of one the Great Chains, not Akbar's but Aagrah (4 Saltaire Rd, Shipley, Bradford, BD18 3HN). An Elephant was as much of an attraction as the food. Having studied the On-line Menu, Hector had found four possible Interesting Dishes in this Award Winning Restauarnt. Award Winning, enough to put me off, or at least not raise my hopes. Such Curry Factories rarely produce the goods, I must admit that Akbar's does. Ricky remembers the first Aagrah Restaurant, however he and Dr. Stan had departed before Clive and Hector declared it Curry O'clock. The Man from Bradford chose to eat elsewhere this evening. His Input was missed.  All The Locals we asked at the Saltaire Brewery told us to a Man, or Woman, that Rajpoot is the best place in town. Maybe one day?
The Saltaire Brewery Open Night came to a close, Clive and Hector walked up the hill and found Aagrah with ease. A building this size cannot be missed. The same building has in effect Two Curry Houses. Downstairs is a la Carte, upstairs is a Buffet. No prizes for guessing which we chose.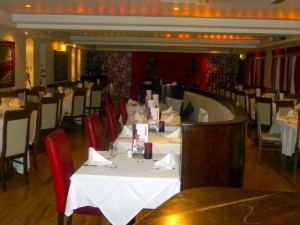 We would be the last two customers of the evening. Eight other diners were finishing as we settled in. Eight other customers were nearing the end of their Curry Experience.
We were asked if we wished Poppadoms. Here we go… This means we will be charged. I declined, Clive opted for two, four came. I decided not to eat any out of principle. We shall see how we are charged. I confirmed that they would be charging (90p) for Chapattis. This is Bradford, this is not how it is done! Two Chapattis would suit Hector, Clive would choose his Favourite Accompaniment, Keema Nan.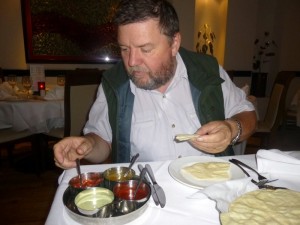 Chicken Dhansak, only in Clive's Company is such a Dish ever ordered. He knows it will be Soup, yet he prefers Dry Curry, but he persists.
Hector described his requirements. The Capsicum had to be excluded, the current tactic of – Any other Vegetable of the Chef's Choice – was employed once more.
Hector's Curry was suitably Bradford-Dry, the Chef's chosen Interesting Vegetable was Okra, cooked to Perfection. The Meat was cut Small again in the Bradford-style.
The Oil content of the Dish was decidedly Minimal, perhaps here lay the root cause of the lack of Overwhelming Flavours. I had asked for Medium-with-a-Kick, this was seriously Spicy, but not a Problem. More Seasoning was definitely required. A Fine Curry, but not one to Enthuse about.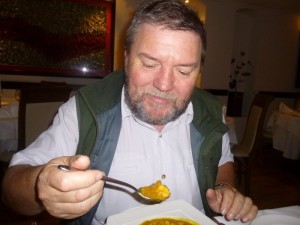 Clive indeed was presented with a Plate of Chicken and Soup. The Notes reveal Clive describing his Curry thus: The Dhansak has no Special Requirements. Spicy without being Hot, not a Challenge. Clive reminisced about our last Curry together at Glasgow's Cafe Reeshah – Full of Flavour and didn't blow your head off. The Keema Naan had Clive in Raptures. This is the Best Naan I've ever had! The Mince content was far greater than in any Naan Clive has ever eaten. Success then.
The Bill
£24.25. The Waiter was quick to tell us that we had only been charged for Two Poppadoms. With Table-Cloths the Price goes up. Who needs a Table-Cloth? Bhuna Gosht is apparently what I had been given.
The Aftermath
We required a Taxi back to Forster Square, the Staff were happy to phone for one. We were the last out, A Suited Gentleman had by now appeared. The Boss! I had to engage him, a Photo Opperchancity. The Calling Card was accepted. Clive had to ask about the Elephant, it is now somewhere else, and is Life-Size. When they lowered the Ceiling to put in the Upstairs at this Venue, the Elephant had to go.
Our Taxi Driver took us past the Rajpoot. That is the best Curry House in Shipley – he told us. Maybe one day…