Hector nearly walked…
The Plan was for the Traditional Breakfast served at Mughals (790 – 792 Leeds Road, Bradford, BD3 9TY). Ricky's Plan involved a Rendezvous at Bradford Interchange at 10.45. This meant an early rise on a Sunday Morning, for Curry. Clive texted at 08.30 to say the 09.00 meeting outside the front door of The Travelodge was off. With time at a premium, a Taxi to and from Mughals was the only way to guarantee fulfilling the Breakfast Objective.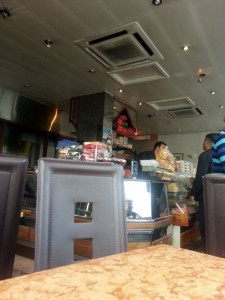 Hector entered the Curry Café just on 09.30 and took the Corner Table. A Family sat at the adjacent table, so they were first. After some ten minutes they were served, meanwhile the Young Waiter made no eye contact, and certainly made no effort to say – I'll see you in a minute. The Main Chap was busy behind the Sweet Counter dealing with an endless stream of customers. Turnover was swift. The Family had their Food, the Traditional Breakfast and Two Seekh Kebabs. Still no service for Hector. On my other side were two Mature Gentlemen, one of whom was clearly a Well-Kent Face. All departing Customers came to pay homage. Was I invisible?
The Main Chap found a moment and brought a Jug of Water and a Glass. No Menu. Now what? I was informed Breakfast was all that was on offer – Fine. Breakfast please.
The Kitchen Staff were working flat out. The sound of Bread being slapped into shape was continuous. A Tall Pot was being ladled every few minutes, The Breakfast. Soon it was my turn to be fed.  The Young Waiter finally came across, with a Jug of Water and a Glass.  Oh!
He returned with Hector's Breakfast.
A Plate of Chickpeas with Potato in a Yellow Masala was accompanied by a plate with two Puris. A third, Puffy Puri, came moments later. Here we go… When I produced the camera, a Chap in the Queue looked across and gave a knowing smile.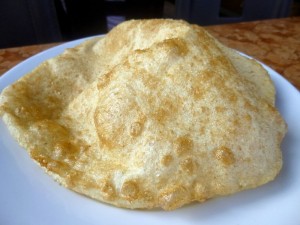 No Cutlery was offered and none asked for. Let's stick to Basics. The Sweetness from the Puri complemented the Drier Flavours from the Chickpeas. The Masala, although Yellow, was definitely more Complex than a Curry Powder Creation. The few pieces of Potato gave a good change of Texture. How far was this removed from my usual Lamb Dishes?
Hector cannot eat Three Puris this early. I left contented and full. A Simple Meal.
The Bill
£3.00. Worth every Penny.
The Aftermath
A Taxi was outside, the Driver had just left Mughals. It was He who got me served as it turned out. He had asked why I had not been served. He also told me that Mughals is open for Breakfast at 07.30. A New Challenge. Somehow I don't think Clive will ever be up for this…