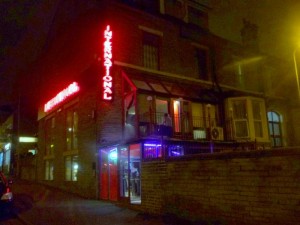 A Evening Curry at The International (40-42 Morley Road, Bradford, BD7 1BE), always a highlight of any Bradford Trip. So far Hector has had Good Curry and Not so Wonderful in the past couple of days.  Tonight would be one of those Memorable Curry Experiences. The Menu has much to offer in the Classic Karahi-style. Lamb on-the-bone is available as well as boneless. Hector had a Plan – Lamb Chops Achari. This is not on The International's Menu and was first experienced in Glasgow's Finest Source of Curry – Yadgar!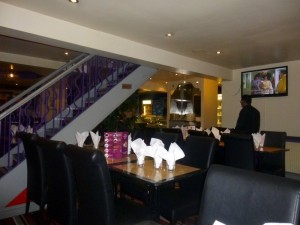 At 21.00 on a Sunday Evening, the place was remarkably quiet. Mein Host acknowledged Clive and I as we entered. One of my two Favourite Waiters was out to greet us, Behold, a Beard!
Four Complementary Poppadoms and Chutneys were brought in a Flash as a Prelude to the Main Event. My order was accepted. Clive followed with Lamb Chops Karahi. Two Grown Men ordering Grown Men's Curry. The Inclusive Chapattis were a matter of course, however, Hector decided to follow Clive. Two Keema Naans! We were offered the Chapattis too but persuaded our Glorious Waiter that they would go to waste.
The International operate a Two Portion Size System. What came this Evening could only be described as Massive. A Glass Dish, not the usual Metal was employed. The Masala was visible under Six Large Lamb Chops. These Chops were Bigger than Anything served to Hector, Anywhere, Ever! I sense a lot of Exclamations! I know the level of Perfection I am trying to Report.
Clive remarked upon the quantity of Masala under the Chops. He was expecting Dry. My use of Dry tends towards describing Thickness at times. I suggested he Dip his Keema Naan in the quite Oily Masala. Sheer Joy, this is where the True Bradford Curry taste comes from. Clive got the hang of it.
There was a Serious Kick. The Citrus-Achari was to the fore but not – in your face. The Seasoning exactly at the Required Level. The Marinated Chops had the Expected Knock-out Blend of Complex Flavours. The Combination of the Rich Masala, the Keema Naan and the Lamb Chops… this was one of these moments when whatever Curry is, proved it is The Best Food Man can eat.
Clive said – That was Pretty Good.
Hector replied – That was **** Outrageous!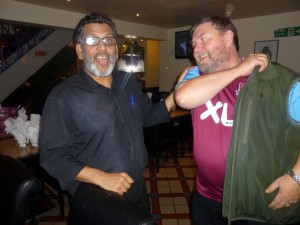 The Bill
£23.40. The Full Bhuna, as it were, with two Keema Naans. One pays for the latter.
The Aftermath
The Other Waiter appeared, where had he been?
That was Curry!