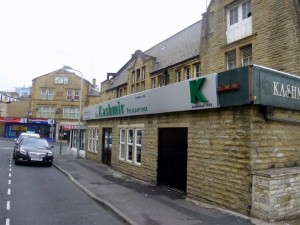 Breaking Fast
The Kashmir Restaurant (27 Morley St, Bradford, BD7 1AG) was not the intended Curry Venue this morning.  More Wonderful Food from The International at Noon was the original plan until Clive discovered his train was earlier than originally perceived.  We needed a Curry House that was Open early!
Robin, (who takes no part in this saga) Clive and Hector drove up to the Sheesh Mahal to find them not open at 11.00.  There is a large sign in the upstairs window saying 11.30, oops.  We drove around to Lumb Lane to try the Sweet Centre.  There was no parking place to be found and so we headed back to the Sheesh Mahal.  There was no sign of life after the Officia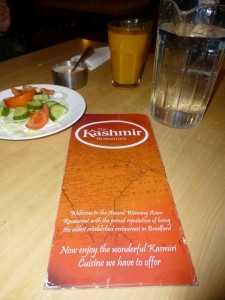 l Opening Time – Back to Kashmir!
Well it couldn't be Fish or Chana for Breakfast again, it had to be Keema.  Keema Mutter for Hector, Straight Keema for Clive and Jonathan arrived in time to add Keema Aloo.   Chapattis of course.
There were no Poppadoms this morning, but a Salad and Raita did amuse us briefly.  Once more, in the spirit of Breakfast, Clive ordered Fresh Orange Juice.
The wait was not long, it must have been easy for The Chef to turn this out, even allowing for the Variations.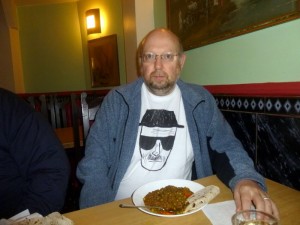 Breaking Bad
A Healthy Plate of Mince and Peas, what better way to start a day?  Perhaps a bit more Seasoning, no better not, still too early, the Taste Buds must be massaged back into Life after Last Night's  Onslaught. A very acceptable breakfast.
It is also the day to record the Denoument of Heisenberg.
As Jonathan and Clive summed up the Visit – Excellent, One really can't expect much more.
The Bill
£17.80.  And this was for Three.
The Aftermath
Robin was sitting patiently in the car.  Hector drove back to Scotland.
Now for a lot of writing.