There could have been a problem after last weekend's Bradford Curry Extravaganza, how does one follow that? Hector was happy when Alan suggested that we book a table for this evening at Akbar's (573-581 Sauchiehall St, Charing Cross, Glasgow, G3 7PQ), Glasgow's outlet for the Bradford Curry Chain. Unbelievably some eleven months have passed since my last visit. This must say something about the overall quality of Curry available in the City of Glasgow. I note also that my previous visits have been in clusters, so don't be surprised if Hector finds himself back here soon. If only they opened earlier.
BHHIP
Mein Host greeted us with his customary warm welcome and immediately asked where I had been. We were shown to the Bar whilst our table was sorted. Whilst we were making up our minds whether to pay for this first round or add it to The Bill, Mein Host came over and instructed the Serving Waitress to put this round of Drinks on The House. This is not the first time this much appreciated gesture has been made. Being Hector has its Privileges.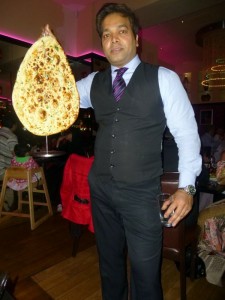 Three Starters between the four of us should suffice. Marg would sample some of Hector's Machi Masala. Alan and Tracy ordered Lamb Chops and Chicken Wings respectively. Our Waiter for the evening was new to us. He had the balance perfect between being attentive and not being in one's face which has been a bit of a problem here. We were not pressurised into ordering Poppadoms. If they're not brought, why order them?
Tracy chose Chicken Tikka Desi for her Main Dish, and Alan the Karahi Gosht. I did persuade Marg that she should try my normal stalwart the Roshan Lal and in the Desi style. I promised her it wouldn't be too Spicy. Now how close to the Perfect Curry could this Venue serve? I decided to negotiate a Dish not on the Menu. Lamb Chops with Extra Methi in the Achari style. This would appear to be Hector's current Curry Obsession. This was not a problem. Marg and Hector would share Three Chapattis (£.0.75). Alan and Tracy would share a Garlic Naan with Extra Garlic and Extra Butter. We were told exactly how long the wait would be for each part of the order. By the time we would finish the Starters the gap between these and The Mains would be sufficient and in no way excessive. A good touch, and they kept to the schedule.
A Complementary Salad accompanied the Starters. The Machi Masala was cooked to Perfection. Cooked in Batter, it was truly Fresh and had a suitable Kick. As good a Single Fish as one could hope for. But where was the Masala?
Tracy enjoyed the Chicken Wings but did say it wasn't Nandos. Evidently. Alan was keeping his reviews to a minimum – OK. He would become more verbose after his Karahi Gosht.  The Lamb Chops portion looked Plentiful.
Behold The Naan
Yes, there are quite a few photos of The Naan in this Bulletin. Akbar's pioneered the Vertical Skewer, quite a visually impressive presentation. But does the Naan Covering drip off? Even more Garlic and Butter – was the comment made by those who ate it.
The Roshan Lal was up to standard, I know because I was permitted more than just a sample. Marg did find it to be Spicier than she would have preferred, but the days of her ordering Korma are well in the past. She coped but cue Doggy Bag #1.
The Hector-Creation was Wonderful. People say – the Meat just fell off the Bone. I have never witnessed this before with Lamb Chops. The Bones retained some of their Meat, however, about half was on the base of the Karahi. The Best of Both Worlds. The Chops had been Well Marinated as one would expect. The Masala was so Thick it was indistinguishable from the Lamb at time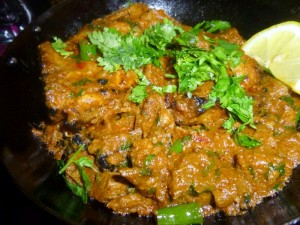 s. Fresh Chillies had been added, a Kick too. The Bradford Flavours? Oh yes!
The Third Chapatti was becoming tired and starting to Crisp. I summoned Our Waiter and ordered a Fourth Chapatti. I certainly would need this to do Marg's Roshan Lal justice. It came in minutes. Now given the Restaurant was mobbed this simple request could easily have become lost in the hustle and bustle. We were being well looked after.
Across the table there was more than Naan eating going on. Tracy tends not to finish a Main having had a Starter. Cue Doggy Bag #2. I'm looking forward to Breakfast – was her positive take on her Meal. The Karahi Gosht was – Alright – said Alan. He then began to wax lyrically. That's the Best Curry I've had in Glasgow since… Alan has been a great fan o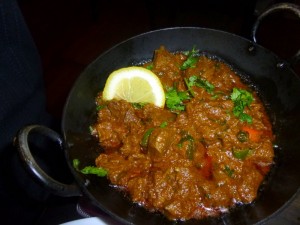 f the Harlequin Chain but one by one his Preferred Venues have disappeared. He is now a convert to Akbar's. Now how do we get Alan and Tracy down to Bradford?  Cue Doggy Bag #3.
With certainly one (Masala Twist) and possibly two (site of Teak'n'Ash) New Curry Houses opening, our next Couples' Curry may well be in Helensburgh.
More Naan References
A two year old girl magically appeared at the tabletop  beside us. She could barely reach the table but somehow did reach the bottom of the Naan to which she started helping herself. Our Waiter was over in a Flash, her Parents were mortified. How did she get off her High Chair? Weans and High Chairs…
There's More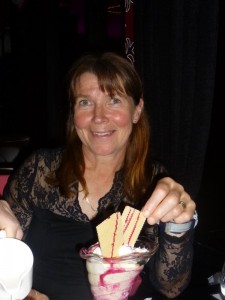 Three Coffees and an Ice Cream brought the Meal to a conclusion.  We are here to Dine – Alan reminded me for the n'th time this evening.  Now where did he get that expression?
The Bill
£76.05. Alan couldn't believe it, even allowing for an extra round of Drinks, Coffees and a Dessert. Great Value.
The Aftermath
Mein Host asked me how I had enjoyed the Experience. This was not an automatic question. He genuinely wanted to know if I had any suggestions as to how they could improve. The Bill was lower than it should have been, the service Excellent. For a Venue of this appreciable size, I think they have it spot on.
Café Salma has re-opened as The New Café Salma. I popped in. The Waiter recognised me and introduced me to Tahrir, the New Proprietor. Some of the Old Favourites are on the New Menu, but some very interesting Fish Dishes have been added. Tahrir said he would contact me, hopefully he will soon.
With the Bon Accord chosen as our Place of Retreat, we had to pass Hari at the Punjabi, with three Akbar's Doggy Bags in hand. Maybe tomorrow – I told him.