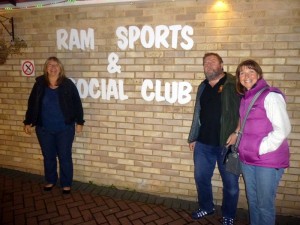 A Saturday Night in Crawley, it has to be one of Two Venues. The Ram Sports and Social Club (West Green Pavillion, Ifield Ave, West Green, Crawley, Rh11 7LX) as it now has been called for two consecutive visits has not so much gone through Evolution but Revolution since Hector's first visit. (That's not bad for a composition at 07.57 on a Sunday morning München bound flight.) Formerly The Lal Akash, then a brief flirtation with SWAGAT, the name of this Venue has a more local feel. The interior has developed from an ad hoc Curry House attached to a Cricket Club to a Full Blown Curry Operation. The place is hardly recognisable now. One still has to pay an Entry Fee if one is not a Member, and don't even think of turning up without a Reservation.
Lord Clive of Crawley sorted out his Membership at the door as we entered. Little did we know that The Door would feature prominently in this visit. No, we were not shown The Door. Far from it, we had to make our excuses to be permitted to leave.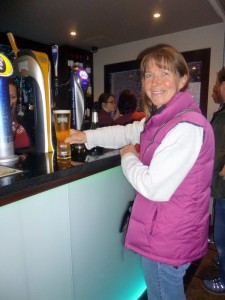 Clive's Reservation was in the name of Clyde, fitting as he and Lady Maggie were entertaining two Scottish Diners. Drinks had to be secured at the Refurbished Bar. Cobra was Clive's call, it was a Saturday Night and Hector has been virtually abstemious this Holiday so far. Halfway through I was already missing the Sparkling Water. We found our table, the furthest one possible, and in a corner out of sight. A table of about ten were adjacent, the place was mobbed. It is unusual for Hector to report from such a Busy Venue.
It is written
The Lamb Mishkaki was the Dish which put this Venue on the map.
On my first visit Clive had arranged for us to have this Starter as a Main Course. Dry Lamb Tikka which Dances on the Palate. With Anticipation leading to Salivation, this would have to be Hector's Starter of Choice. One might also trace the Appreciation of Lamb Chops back to this very Venue. Hector had never ordered Totally Dry Meat prior to his first visit here. Marg considered a Share of this but then the Candidate changed allegiance and gave in to an Indo-Chinese Starter involving Vegetable Balls and a Chilli Sauce – Veg Manchurian. An Indo-Chinese fusion recipe mixed vegetables formed into balls then fried & lightly tossed with onions, ginger & garlic, soya sauce.  No Cheese then as I had thought whilst glancing at The Menu.   Maggie fancied Garlic Mushrooms, and surprisingly, Clive asked for Shami Kebab, even though it was not on The Menu. He knows, you know.
Behold Doris!
We're in Crawley, so she must be Doris. Doris was Tall, Foreign, and this was her First Day working in a Curry House. She knew Nothing. What was about to befall us? A Well-known and Reliable Curry Website informed Hector, that on his last visit here, there were two Lamb Karahi entries on The Menu. Lamb Karahi and Gosht Karahi, the latter being the Dry version. The SWAGAT Menu is no more, tonight there was only the Solitary Karahi, I would have to ask, to reason…. Marg ordered Lamb Karahi and asked for the Capsicum to be withheld. The Lady now shares my disgust at the inclusion of this Alien Vegetable. I asked for the same but Dry. When Doris then asked for the Dish Number on The Menu, the heart sank. It was about then that she realised the Karahi would be Main Courses. Maggie, still inspired by her recent Trip to India, ordered Handi Lamb. Clive added another Lamb Karahi – Wot? No Chicken Dansak?
Four Roti, (£1.25) a Keema Naan, Aloo Palak, Boiled Rice and Mushroom Rice would be the Accompaniments. That was very nearly the last we saw of Doris.
Minutes later, a Smaller but more Assured Doris came over to tell us that Shami Kebab was not on The Menu and was Not available. Cue another Lamb Mishkaki. That was the last we saw of Assured Doris.
Thereafter
I believe we must have been served by every Male Member of Staff in the Establishment during the remainder of our visit. One Chap would stand out in the end. The Starters were presented.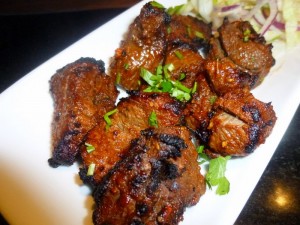 The Menu said Lamb Mishkaki had Eight pieces of Lamb for £4.95. How many times has Hector counted Fewer than Eight in a Main Course? Marg took one piece, Hector tore into the remaining Seven. Two of Seven were decidedly on the Too Chewy end of The Spectrum but still had the Knock-out Flavours. Five of Seven were Spot-On! The Lamb Mishkaki is an Absolute Delight and will keep the Ram Sports and Social Club on the Curry-Heute Radar as long as it is served.  All Eight of Lord Clive's Lamb Pieces were Succulent he assured me. Why wasn't Howard here? He would surely have been given my portion…
Marg's Veg Balls were Numerous, excessively so, she knew she was beaten at the outset. We all had a share. Far too close to Chinese Food for Hector's liking. The Palate could not cope with these Flavours accompanying Real Food. Too much Sauce for Marg's liking. The Garlic Mushrooms came with Onions and some Capsicum. It was essentially a Vegetable Curry. Given that the Starters were all served in Significantly Sized Portions we knew we needed a rest. So, when the Chap who cleared the table asked if we were ready for our Mains we were in two minds. We said yes, the table of ten was still being dealt with, logically they would distract The Chaps pro tem.
A Minute Passed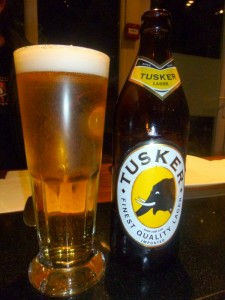 Followed quickly by another Minute. In fact The Full Robin had elapsed before another Chap spotted our table had been void of Food for some time. We did see Original Doris again, Clive asked for more Bier and we were told we had to go to the Bar ourselves. So it goes. A Bottle of Kenyan Tusker came back courtesy of Clive. Poor, to the point of me wondering again why I had strayed from the Reliable Sparkling Water.  Saturday Night…
The Helpful Hero
A Chap, who became Our Chap told us that Doris had put our Order Slip in the Wrong Place.  One can only speculate.  We had been lost in the system. Eventually a Our Chap came with a Tray of Assorted Curry Dishes. Now things take a turn for the worst. He didn't know what he had brought.
We are looking for three Lamb Karahi, two of which have No Capsicum and one is also Dry.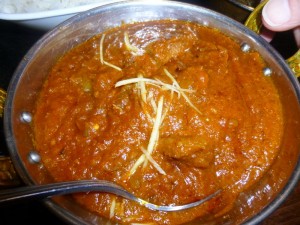 The Portions of Curry were placed on the table along with the Aloo Palak. Another Chap presented the Roti,  Naan and Boiled Rice. Maggie had to ask again for the Mushroom Rice. The Fourth Curry was Lost in Translation, Hyperspace, a Black Hole. Our Chap came back with a Lamb Methi and it sat beside the Three Original Curry Portions. Maggie was given a Curry which looked no more Handi than Andy. But then, as with – Desi -, they can serve whatever they please under this nomenclature.
Hector now had a choice of Curry, I know the Lamb Methi here is Outstanding. I was considering opting to commit myself to this when Our Chap whisked the Methi away. I chose the Driest of the Three Karahi, the Dish which was also Oblong as opposed to Round. When the mushroom Rice arrived Our Chap asked if we were Happy. I told him I had asked for a Dry Lamb Karahi without Capsicum. I had at this moment just isolated the Fourth Piece of Mushy Vegetable and placed it on the Plate beneath the Karahi. He apologised and took the whole lot away.
The wait for the Replacement was not over long which makes me wonder if this Venue has dropped its standards. What came was pretty much identical to what Marg and Clive were having. Dry only appears to exist in the world of Mishkaki, not Karahi. Our Chap was so Apologetic he actually sounded Sincere. Apparently the Regular Staff were out Elsewhere and the Four/Five Stand-ins had not shown. He admitted he did not know one Curry from another and that was why he was unable to recognise the Individuality of the Order. Amusing, if not Farcical.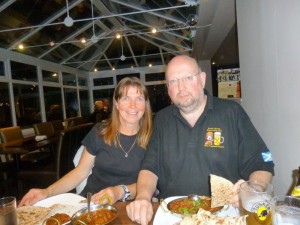 Hector's Dry Lamb Karahi without Capsicum contained Tender Lamb which became the Focus of the Dish. The Masala was excessive but was Better than Bog Standard. No Interesting Vegetable, simply Meat and Masala, not how I prefer to eat Curry. This does not of course imply a Criticism, it was still Curry. One had hoped for something Outstanding after the quality of The Starter. But then Regular Readers will not be Surprised that The Mains did not live up to the Standard set by The Outstanding Starters, when do they ever?
Chapattis were not on The Menu, hence the order for Roti. They started to Crisp up, however, as they were served Quartered in a Basket, the pieces nearer the Base retained their Softness for much longer. Three between two of us would have been enough in terms of Quantity, the Fourth meant we had decent pieces to eat.
Clive ate Three-Quarters of his Keema Naan, the Boiled Rice was never touched. The Mushroom Rice appeared to go down well on the opposite side of the table. Clive stated that –  The Karahi lacked the Sweetness of other Karahi, there was too much Sauce. Very Saucy, but still Very Good. Maggie left a considerable quantity of her Masala which appeared to be a more Oily version of that which accompanied the Karahi Dishes. Maggie described the Handi as – Traditional Indian, lots of Levels of Spice but not Too Hot.  Most was off-the-bone despite The Menu saying it was on-the-bone. What was, fell off easily.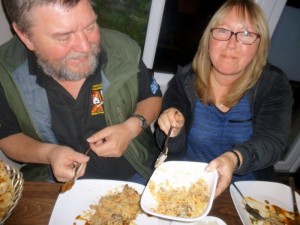 Which part of Dry do People not understand? We don't want Soup! The Spinach content of the Aloo Palak was appreciated, – Tasty. Maggie described the Mushroom Rice as – Mediocre.  Marg surprised me by eating all of her Karahi, she was Hungry and the wait between Courses had let the Veg Manchurian Digest. It was not Too Spicy, the Right Heat for Me, and the Meat was Very Tender.
The Bill
£60.65. Note, all Drinks were paid for separately.
The Aftermath
Our Chap returned and was again full of apologies. He admitted to being The Doorman and had been thrust into delivering the Curry. He offered us Starters, Dessert, Drinks, Anything! On-The-House. Alas, we had an Appointment at The Swan and a very Early Rise, 04.30 to be precise.
Next time I have a suggestion: Starters at the Ram Sports and Social Club, Mains at the Downsman?
To Bamberg (via München?), Casketeers! Now what might be avoided in Bamberg and celebrated in München?