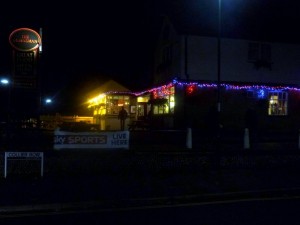 Once upon a time The Downsman (Wakehurst Drive, Southgate, Crawley, RH10 6DH) was just a Pub. It still is, however, not a particularly outstanding one in terms of Ale. Now it is one of the Foremost Curry Venues in this New Town. It was Hector's choice that we return to The Venue which once served me a Lamb Methi which I recorded as one of The Best, Ever. No guessing what Hector was having this evening. As we entered, the Curry Fumes caught the throat. I hope we are having whatever I can now taste – was my opening remark. Maggie concurred. This was brutal.
Two Ales were on offer, London Pride, no thanks and Courage – Directors at a modest 4.8%. No Sparkling Water this evening, it was 21.00 on a Friday Evening and Hector and Marg were in Crawley en route to München. Yes, we are on Holiday, again. The Fitba' was on the tv, Engerland were losing to Chile. The Natives were Restless and very Noisy. Time to keep a low profile, The Noo.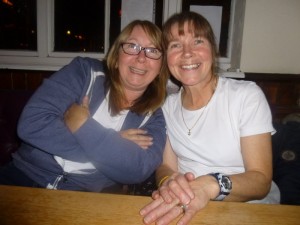 Lord Clive and Lady Maggie had collected us at Gatwick and driven us straight here, they were hungry too. Starters were called for, two Portions of Lamb Chops to share. I'll have one – Marg assured me. After last Saturday's Overindulgence in Lamb Chops I thought I might not be able to stare at another one – in-the-bone – for some time. Six days, as it happens. Marg was going for the Lamb Rara, Lamb with Lamb Minced Lamb. She changed her mind and went for the Keema Mutter. Maggie was going for Chicken something another but then opted for Lamb Rara. Hector was erasing notes as fast as he was creating them. Meanwhile Clive was still surveying the Menu with his Optical Device. In the end I read the Menu to him and described the five best choices. Lamb Hasina was listed under the Tandoori items, this was an unknown Dish and therefore had to be tried.
Marg said she was having Chapattis until I noticed they were not on the Menu. Erase Chapattis. Two Tandoori Roti (£1.50) would suffice. Maggie asked or Mushroom Rice and would share some of whatever Bread Clive ordered. Having had his first Paratha at the Indian Mango (München) last month, he was keen to try another. The choice was Plain or Aloo. My recent Keema Paratha made me want to enquire as to the availability.
There are no Staff taking orders at The Tables in The Downsman, one goes to the Bar, order and prepay. Doris was meticulous in her recording as I read my Notes. You like Lamb – was her comment as she wrote. What is better than Lamb?  Mein Host confirmed the availability of Keema Paratha, on delivery the Chap confirmed they had never made these before.
The Bill
£55.75. All Drinks were purchased separately. No Tipping was expected. Their loss.
Doris appeared at the table a few minutes later to inform us our Meal would be Forty Minutes. Including The Starters? – enquired Clive. She had forgotten these were in the order possibly. It was confirmed that they would come sooner. All was well, the chance of recovery after the Lamb Chops. Marg had said – I'll have one.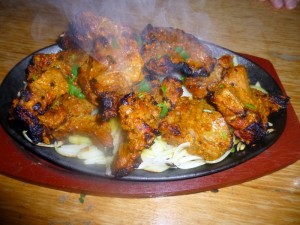 We were on the Second Bier when a Chap brought a Platter of Chops sitting on a Bed of Sizzling Onions. Is this One Portion or Two? I had to ask. Piled high, this was still less than what I had eaten last Saturday. Three People took a Chop each, Hector secured Three on to his Plate. One looked Silly. Gosh. Marinated then Cooked to Perfection, Very Tender despite having met the Tandoor. Clive and Maggie were on their Second Chop when Stock-taking was required. They would have Three each, Hector would have Four. Marg had Two. I'll just have One – said Marg convincingly at the start. Hector had suspected otherwise. What is better than Three Lamb Chops? At £7.95 for Six Chops, good Value too.
There was a Sufficient Break between Starters and Mains. The passage of time also meant we would not be going to The Swan as is our custom. Here we would stay. Bottles of Hobgoblin replaced the Directors which had gone off. Euaned in Crawley. London Pride? No thanks.
The Lamb Hasina was a Decent Portion of Lamb Tikka. Being permitted a Sample, it was close to Lamb Mushkaki, the wonderful Dish served at The Ram Sports and Social Club and enjoyed last month on our last visit to Crawley. Quite enjoyable, reminiscent of the Lamb Chops but without the bones, and better meat. – was Clive's observation.
Marg's Keema Mutter was served Bone Dry. No Masala, no Oil, just as it should be. I had a bit once I had finished my own Dish. More Methi and More Spice required for the Hector Palate. Marg only managed three quarters of her Dish. The serving was Substantial and she shouldn't have had the Second Lamb Chop. Lovely, Very Tasty, Dry, but I didn't mind that. A good Kick for me. – was Marg's verdict. Marg offered a Postscript regarding the Lamb Chops – I liked Gnawing the Chops, they hit The Spot.
Yes, Marg, they, not it.
Maggie's Lamb Rara took Hector back to the Dish Dr. Rick enjoyed on our Last Curry together at Charcoals. Rara Gosht it was called in Glasgow, so the name must have true meaning. The presence of the Lamb Mince guarantees the thickness of the Masala. Again I managed a little Soupçon. It tasted just like it said on the tin. Maggie remarked that this Dish – … was a Strange Concept. It was better than just Sauce, a Definite Kick, Very Tasty. (I think I am going to have to ban the latter description.) What is better than Tender Lamb in a Curry?
And so to the Lamb Methi
After the Chops, the Methi was a bit Subtle on the Palate, however, this remains an Outstanding Curry. The Masala was Rich with the presence of Cream/Yoghurt. Green was visible, stirred in, Fresh Methi. The Lamb was seriously Tender. I borrowed a bit of Marg's Roti to get the true Methi Gosht Experience, sadly this was not achieved with the Paratha. The Kick was adequate, but on tasting Marg's I have to re-rate the Kick higher.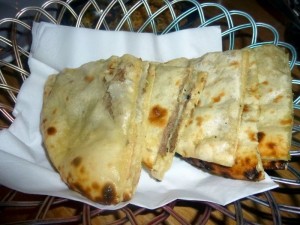 Last Friday's first ever Keema Paratha at the Rawalpindi was remarkable. It was pieces of Dry Mince evenly spread across the interior of the Paratha. This offering looked as if a Slice of Donner had been placed inside, it was Excessive, it was the Wrong Meat, it was Very Poor. I advise them not to serve this again. The Keema that made up the Eponymous Dish is what was expected.
We had eaten well and at £14.00 a Head this had to be Excellent Value. I have given the Calling Card here before but given the infrequency of my visits, I considered another to be appropriate. Unfortunately the T'Internet died, unable to show this Modest Website I passed. It must have been something to do with the second Chile Goal.
One had enough Lamb this evening. And two Portions of Chile too.
I bought another Round with a Scottish £20 Note.  It was noticed, my night as made.