Today may be an Historical Landmarq Day, Fifty Years of Dr. Who. It could also be around this time 50 Years Ago when Hector was introduced to Curry.
There is a lot happening today. Some of The Chaps are at Fyne Ales, the rest are meeting at The State for some Hawkshead Ales late afternoon. This evening Hector is meeting up with some Former Charges dating back to the 1980s. Before any of this, there has to be Curry-Heute. The New Karahi Palace (51-53 Nelson Street, Glasgow, G5 8DZ) is a Venue I could eat in every week. Shahed as is now customary extended his hand across the counter in welcome. Rasheed was in place in the Kitchen, Karahi Karela Gosht was available, all was well. Two Chapattis were the accompaniments, I didn't even think about experimenting with Keema Paratha, here the Chapattis are Top Quality, Large and a Perfect Thickness. Eating Two is almost achievable.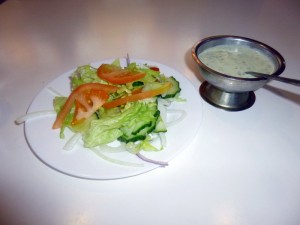 Two of the Four Tables in the small Downstairs Seating Area were occupied. At 15.00, quite unusual. One Chap was finishing his Curry, a Couple were waiting for … Chips … The Takeaway Business was Brisk, this Venue is doing well. I hope in some small may I make my contribution.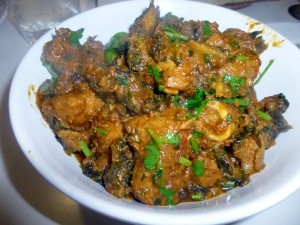 The Trusty Samsung kept Hector amused for the Ten Minutes or so it took to get the Curry sorted. A Modest Salad and a  Portion of Raita was provided to cleanse the Palate. Shahed brought a Large Bowl of Lamb, some on-the-bone. The Masala was Minimal and Thick with Karela. Some Liquid was forming on the Base of the Bowl, here would lie even more of the Killer Taste.
The First Chapatti was dipped, Gosh! The Lamb was wonderful, one Chop Bone and one Slice of Leg Bone would be all that was leftover. A Bit more seasoning and this Curry would have been Off the Scale. The Karela gave the Customary Bitterness that Hector has come to expect. This was a Feast. Howard would ask later if I had the Half-Kilo. There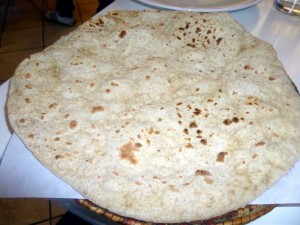 is no need, the Portions here are Fit for a Hector.
The Bill
£9.50. This included a Can of Fizz. No Sparkling Water available.
The Aftermath
It was a Wild Night, well done Neil and Bod.